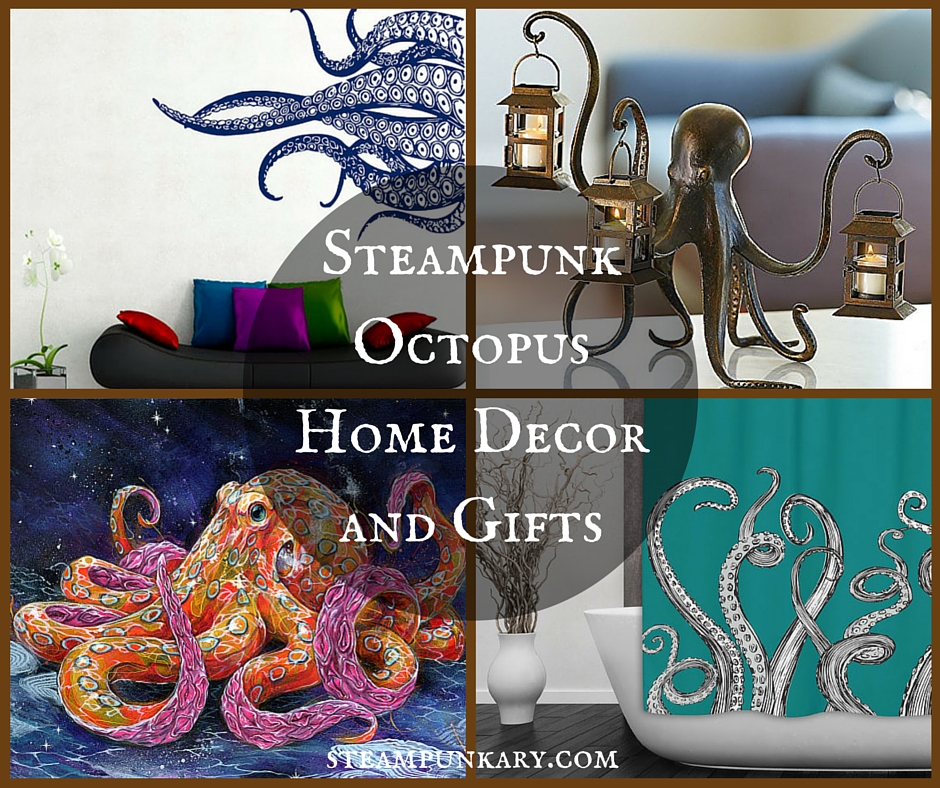 The octopus is one of the most mysterious denizens of the deep, one that many people fear and are fascinated by at the same time. Octopuses are shy creatures, and not too many get as large as those we see in our darkest nightmares. For those who are drawn to these interesting marine animals, there are some amazing home decor items that you can add to your steampunk decor. This is a gift guide for octopus fans, with a wide range of price points and styles. Enjoy swimming through these tentacled waters as you take a look at the steampunk octopus home decor and gifts for any suitable occasion including Christmas, Mother's Day, wedding gifts or housewarming gifts. There is definitely a gift for every octopus-lover on your list here on this page. (Updated for 2018)
Bronze Sculpture Octopus Coffee Table
This incredible table by artist Kirk McGuire is not for everyone. However, it is worth taking some time to discover. This is a limited edition piece cast in bronze by the artist and combined with a beveled glass table top. There are numerous customizations for this table. You can buy two bases and have a larger piece of glass for the top or buy it without the glass. Simply stunning and completely perfect for a steampunk home.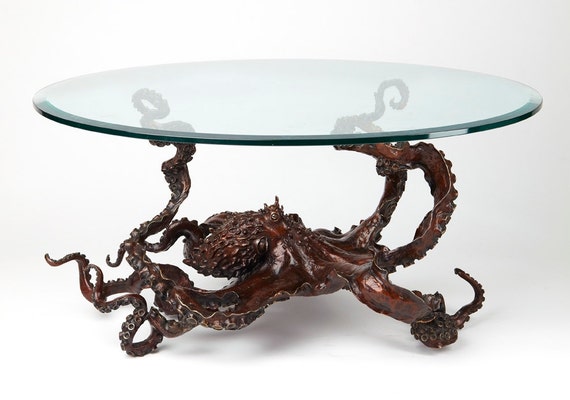 Bronze sculpture octopus coffee table

Resin Octopus Bottle Stopper
This adorable little bottle stopper is a great hostess gift if you don't want to spend a lot of money, or you can add it to a larger gift including a nice bottle of wine. It is cast in resin from a clay sculpture. This artist specializes in sea creatures so you can find a lot more squiggly gifts in her Etsy store.
Release the Kraken Sculptures
These are two designs by Elstwhen in glass featuring the kraken holding on to a functional piece of glass. They come in a bunch of colors and several other shaped glassware pieces. To see more designs, browse through their shop.
 The Cyan Seas Kraken

 The Lava Creeper Kraken

Octopus Wall Decals for the Nursery
For the children in your family, you can decorate a playroom, nursery or bedroom with these adorable and colorful undersea wall decals. Once they outgrow the designs, remove them for a more grownup look.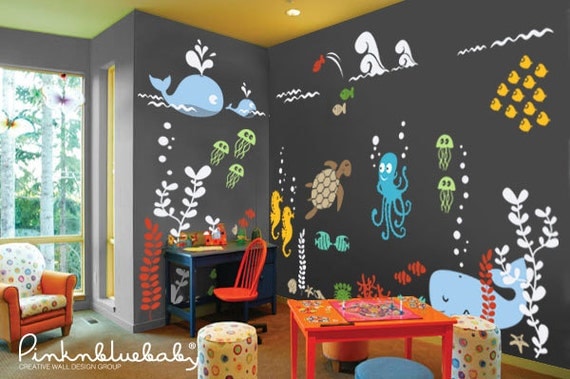 Underwater Wall Decal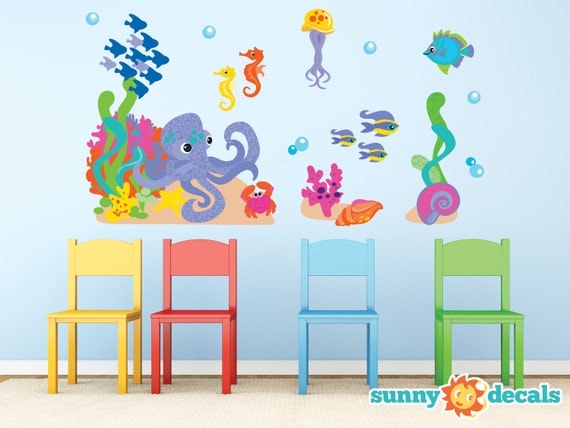 Ocean Fabric Wall Decal Set

Printable Octopus Nursery Wall Art
Print these cute marine animal art prints out at home to frame and hang in your child's bedroom. You can use these in conjunction with the wall decals above or by themselves. Cheap and easy for a DIY decor project.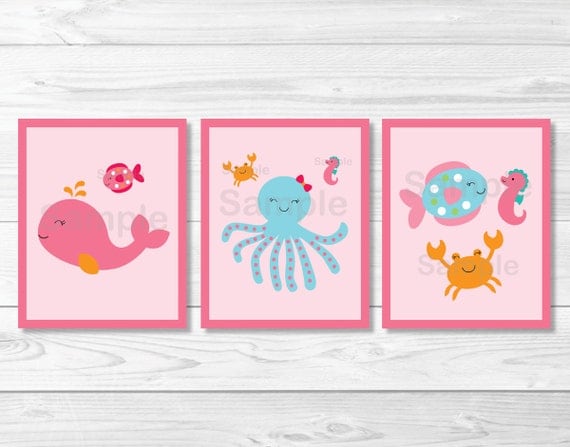 Pink Under the Sea Nursery Wall Art

Octopus Knobbed Butter Dish
This knobbed butter dish is as useful as they are pretty and is a perfect gift for all Octopus lovers. This dish will hold one stick of butter. The plate pattern contrasts with the lid to make a beautiful art piece, which will look great sitting out on your kitchen counter. Click through to see all of the color options.
 Octopus Knobbed Butter Dish

 Octopus Knobbed Butter Dish

Green and White Octopus Coffee Mug
This cute ceramic mug will keep coffee or tea wrapped up in its tentacles. A great idea for an office co-worker or best friend.
Navy Blue Octopus Ceramic Platter
Perfect for a wedding gift, this tentacles platter is really stunning with its navy blue on white design. Give as a wedding gift or keep it yourself to use for entertaining guests in your home.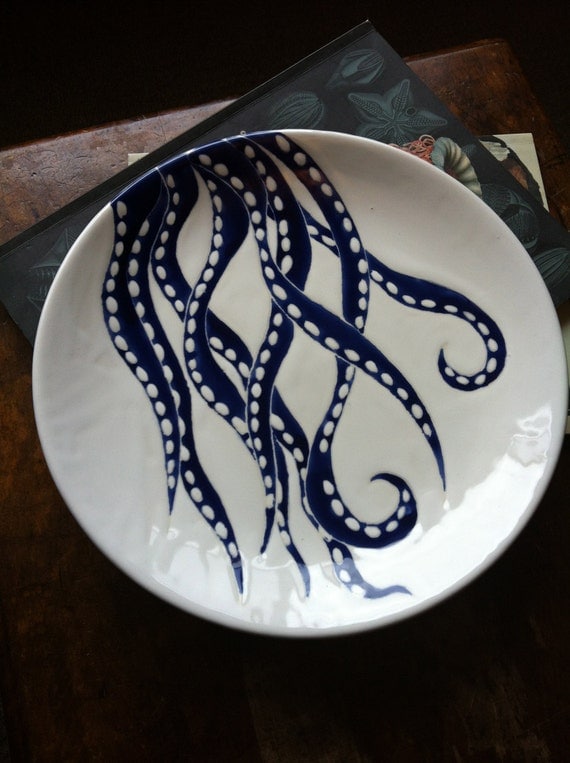 Navy blue octopus ceramic platter

Cast Iron Octopus Shelf Bracket and Hook
This shelf bracket is perfect for any room in your home. You can keep it as is or paint it once you receive it. You can also get this great cast iron octopus hook for towels or other items you need to hang in distressed or non-distressed colors. All of the measurements and information on are the product page when you click through.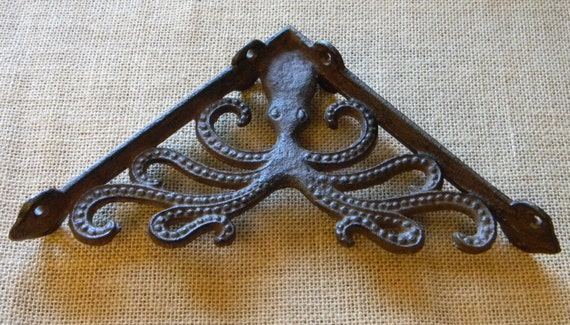 Cast Iron Victorian Style Octopus Shelf Bracket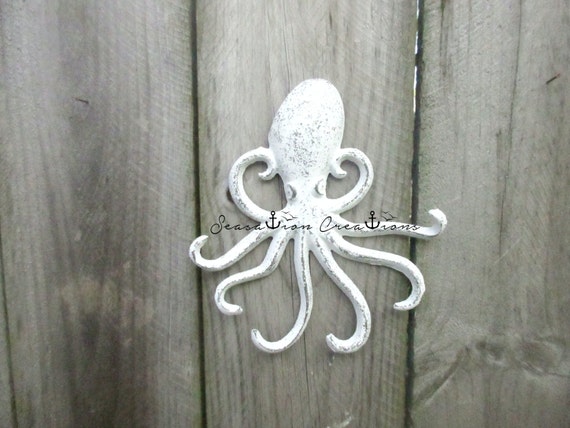 Cast Iron Octopus Hook

Octopus Tentacle Shower Curtain
Where else would you expect to find an octopus if not in your bathroom. These lovely designs feature octopi and tentacles reaching up from the great beyond. Be careful stepping into the tub.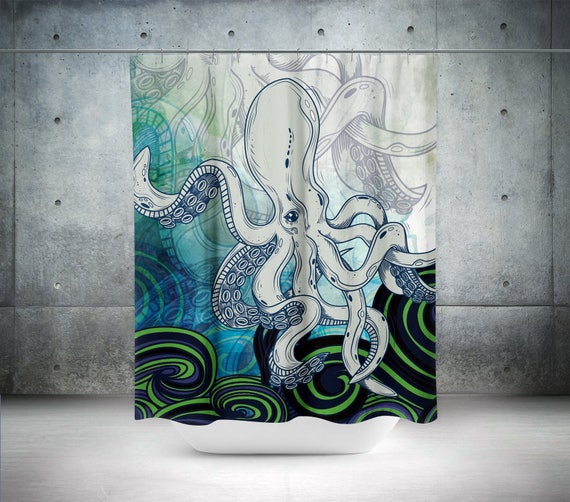 Octopus Shower Curtain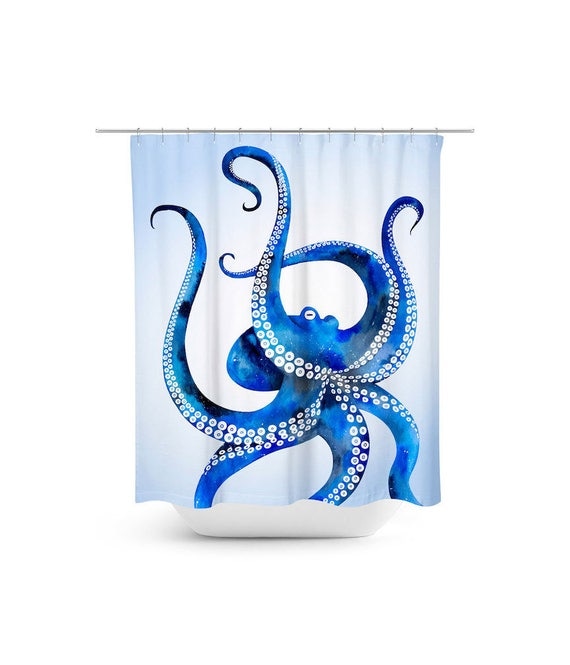 Octopus Shower Curtain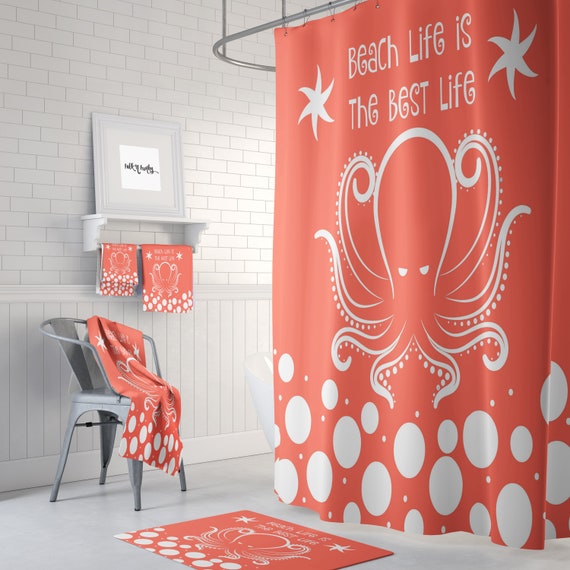 Octopus Shower Curtain, Coral, Blue, Green, Purple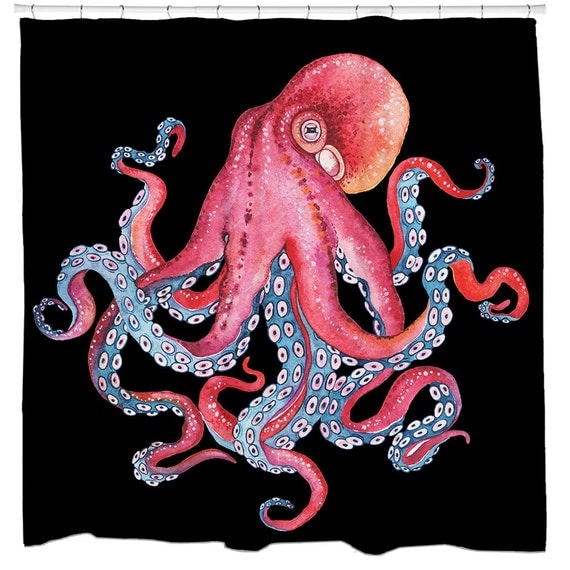 Octopus Shower Curtain

Wooden Octopus Signs
Both of these signs made by different artists are perfect for a rustic decor setting, and would work well in combination with copper, bronze or brass decor in a bathroom. They would also look great in a beach house.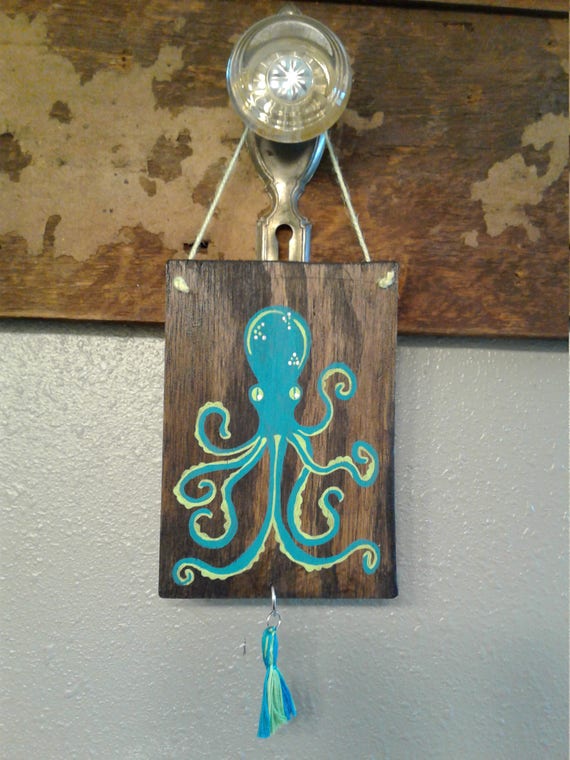 Octopus Art~Hand Painted Wood Signs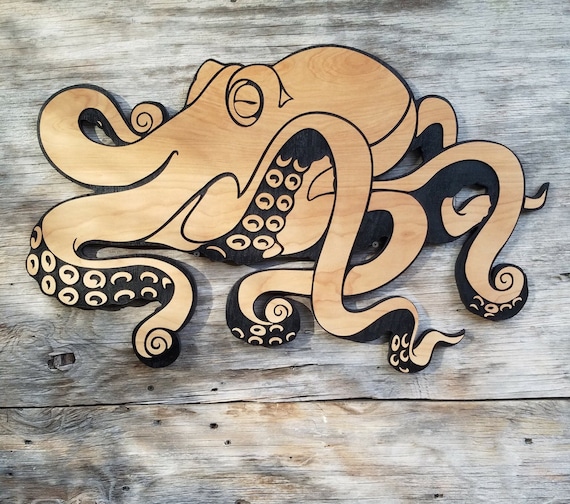 Wooden Octopus Wall Hanging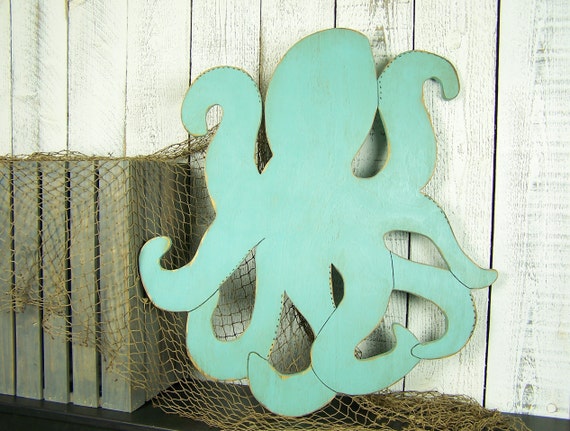 Wooden Octopus Wall Art

Octopus Wall Art

Octopus Tentacles Wall Decal
Watch out for those tentacles when you sit on this couch! A wall decal that you can put in any room to give the illusion of an octopus right around the corner.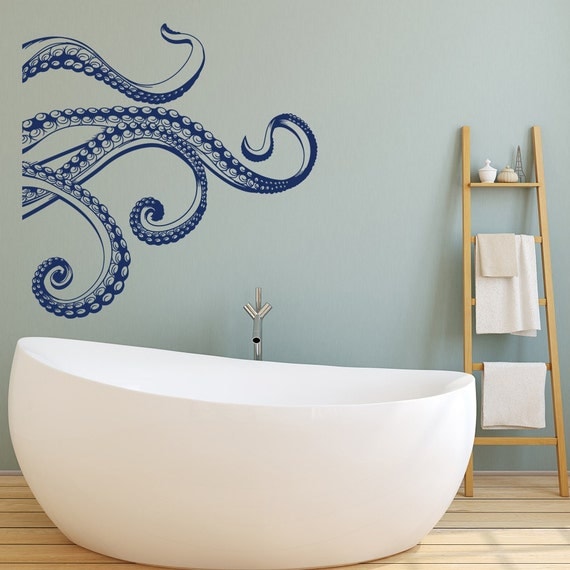 Kraken Octopus Tentacles Vinyl Wall Decal

Octopus Tapestry
This gorgeous tapestry is a great highlight for your wall, featuring the octopus in a bright mix of colors against a dark watery background.
Steampunk Octopus Candle
A nice accent piece for an office or on a bookshelf in your home, this candle makes a lovely gift for a gift exchange or just for your favorite steampunk fan.
Embroidered 12 x 16 Octopus Pillow
These tentacles are not just printed on this octopus pillow, they are embroidered for a great addition to a couch or bedroom decorated in sea life motifs.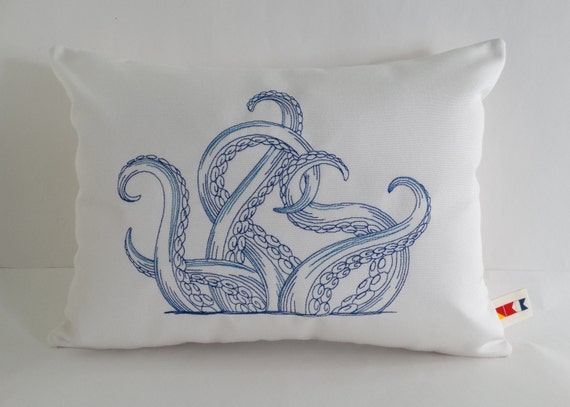 Embroidered 12 x 16 Octopus Pillow

Facebook Loving Coffee Drinking Octopus Art Print
A very cute depiction of an octopus reading and drinking coffee (or tea?). Great for a kitchen decoration.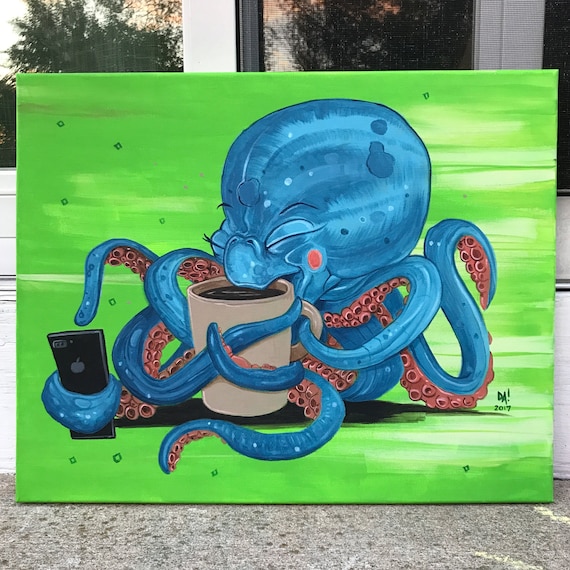 Facebook Lovin' Coffee drinking Octopus

Tentacles Throw Pillows
Need some tentacles on your couch? Here are some of the tentacles throw pillows available from Zazzle from various designers. Many of these pillows can be purchased in more than one color background and have other related products with the same designs. Click through for more information on these throw pillows.
 Boo Octopus Cute Purple Kids Clothing & Décor Throw Pillow

 Nautical octopus tentacles

 Vintage Octopus Tentacles Black Blue Grey Throw Pillow

 Briny Depths Throw Pillow

 Electric Octopus Throw Pillows

 Otto the Octopus Pillow

 Merry Steampunk Christmas Octopus Top Hat Pillow

 Octopus Tentacle Pillow

 Nautical Octopus Stripes Pillow

 Steampunk Painted Nautical Octopus Kraken Squid Throw Pillow

 Octopus Tentacles Throw Pillows

 Tentacles (Orange) Pillow

Unique Octopus Decor and Accessories
Kalaou Cast Iron Wall – Coat Hook
Great for a bathroom, or the back of a closet door, this little hook can really be helpful and finish your room off in fine detail. Use it as a bathrobe hook or hang accessories such as purses from these tentacles.
Kalaou Cast Iron Wall- Coat Hook- Octopus- 5.5″ By 6″
Tea and Tentacles Mug
Don't worry, you can drink coffee and cocoa from this adorable mug. Great for an office gift, for Mother's Day or Christmas.
Pink Octopus Ceramic Coffee Mug with Tentacle Handle
Octopus Decor Curtain
If you have windows in your steampunk office or just need a bit of octopus in your bedroom, this curtain will do the job. Don't have to worry about anyone coming in your window at night, because your marine friend will guard your windows for you.
Mini Octopus Sealife Wall Home Decor
Whether you hang signage from this wall decor or just put it in your beach house, it will definitely make a statement. Perfect for a home by the beach.
Mini Octopus Sealife Wall Home Decor
Octopus in the Tub Upcycled Vintage Dictionary Art Print
A great steampunk art print for your office or bathroom, this octopus diver will add to your steampunk decor.
Octopus In The Tub Upcycled Vintage Print
Stoneware Octopus
Add this stoneware octopus to your bookshelf, your desk or on a TV room end table for a marine accent or conversation piece.
Decorative White Bisque Octopus
Unique Octopus Accessories
Here are even more unique octopus accessories for your home to add steampunk flair. From a trinket box to ceramic mug to a steampunk diving bell clock, you will find something for everyone. Click through for pricing and details for each gift.
Octopus Salt & Pepper Shaker Set
Steampunk Octopus Trinket Box
Octopus Absorbent Coasters, Set of 4
Octopus Pillar Candleholder
Handmade Hand Painted Octopus Tentacles Mug
Octopus Lantern
Ocean Octopus Nightlight
Swimming Octopus Art Glass
Steampunk Octopus Diving Bell Clock
Octopus Ice Tray
Octopus Pirate Treasure Chest Trinket Box
Octopus With Anchor Door Knocker
Steampunk Octopus Statue
Octopus Key Holder
Blown Glass Octopus
Black and White Boho Tea Towel, Octopus
Octopus Wine Bottle Holder
Octopus Tentacles Drink Coasters 3.5 inch
Pin this to Save it for Later
Like this page, but don't need anything right now? Pin it on Pinterest to save it for later.

(Visited 29,069 times, 1 visits today)