We have so many Octopus fans on this site, that we decided to do some research on Etsy to find some truly outstanding Octopus Metal Wall Art to give as a gift. What we ended up with is a long list of unique pieces that can go on the wall in an office, home office, den, living room, dining room or bedroom of anyone who loves and collects Octopus art. This page is additional to our original Steampunk Octopus Home Decor and Gifts page (one of the most popular on Steampunkary). So have a great time swimming through these selections, greeting each denizen of the deep. Watch out for tentacles!
2-Foot Long All Steel Octopus
For a beach house or to remind you of a beach, this colorful Octopus sculpture looks great on any wall. Shown here with distressed wood behind it, this wall hanging can be ordered in several colors and finishes. You can also get the 2-Foot Octopus without any paint and a torch finish. Made of steel and machine-cut. Ships from New Mexico (yes, within the U.S.).
Octopus Metal Wall Art
Also made from metal, this aluminum Octopus Metal Wall Art is a beautiful addition to your indoor or outdoor area. Perfect for your pool deck or patio, den, living room, or even a beach house or child's nautical-themed room. This guy is 24 inches x 24 inches in size, so there are more places he can live in your house. If you click through this link, you can find a myriad of details on how to order.
Plasma Cut Octopus Steampunk Metal Wall Decor
Shown in front of a television cupboard (not where you should hang this monster), this Plasma-Cute Octopus is 38 inches x 36 inches of polished aluminum ready to go on your wall. Each piece is made to order so check with the shop to see if you can get it before the holidays. The finish is permanent, showing the metal instead of a paint color. Click through for more ordering information.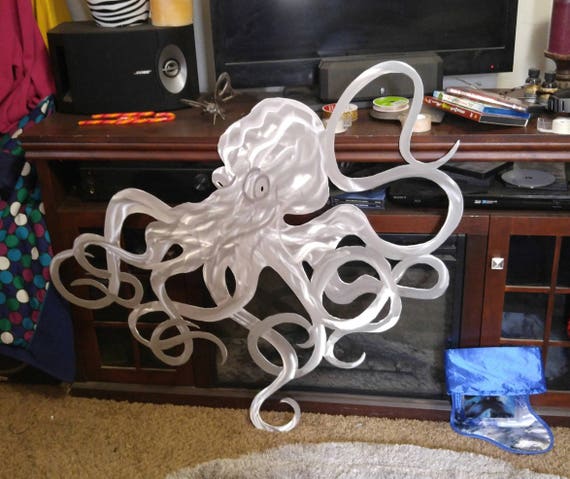 plasma cut octopus steampunk metal wall decor

Octopus Metal Wall Art
This beautiful, airbrushed, and hand-ground octopus is made from aluminum and is one of a kind! Finished by airbrushing and then powder-coated with clear to protect the finish from oxidizing. No worry about keeping this outside, enjoy it anywhere. Each on of these is different and made-to-order. Understand that made-to-order means that each piece will be slightly different than the picture shows. Available in a range of sizes.
Octopus Beach House Decor
A beautiful octopus wall hanging for your beach home or the octopus lover in your life. Makes a great housewarming gift. This piece can be hung indoors or outdoors and is made from 16 -gauge raw steel. The steel the octopus is made from has been ground to reflect light and comes in various finishes. Shown here in metallic purple. The zize is 23.5″W x 16″H.
Octopus Metal Wall Art
This stunning Octopus is cut from 14-gauge steel. Next a chemical process and a torch are used to achieve the different colors you see. Each piece comes with a heavy-duty hook welded to the back and is clear coated to protect the finish. Suitable for indoors or outdoors walls. Each piece is slightly different and that's what makes them unique. This design truly looks like a denizen of the deep with mysterious eyes. If you like this design, click through below for more information.
Octopus Wall Hanging
This Octopus Wall Hanging is cut from steel plate about the thickness of a U.S. penny (16 gauge). Each piece is cut in-house and given a highly-polished finish. The next step is to heat the metal to bring out the natural colors of steel when heated. The colors range from a light bronze to a deep purple. It is given two coats of protective clear enamel paint to protect the finish. You can really make a statement with this piece. It's great for just about any room.
Octopus w/ Martini Glass – Wall Hanging
This Octopus w/Martini Glass began with 14-Gauge, cold-rolled steel sheet metal. The basic design is plasma cut into the sheet and then hand-ground it to add smoothness and detail. Once the design is complete, copper plating and rainbow effects are added. Every application is done by hand to ensure quality and uniqueness in your piece. No two finishes come out the same! To prevent rust and increase durability a clear gloss acrylic finish is added, making it more scratch-resistant and suitable for outdoors. It is fitted with hardware to facilitate hanging unless otherwise specified. All you need are nails.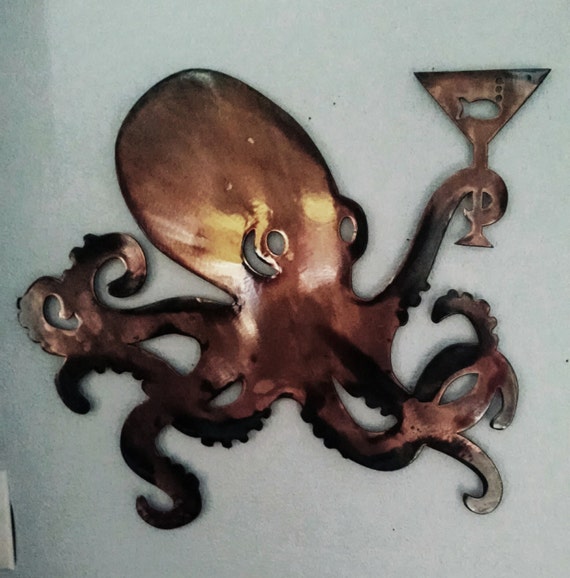 Octopus w/ Martini Glass – Wall Hanging

Octopus Wall Hanging Sea Life
This is an original design Octopus Wall Hanging, made of marine-grade 5052 aluminum, .80 thickness. This light-weight aluminum design won't rust and can be mounted inside or outside. Each sculpture is hand-drawn, sculpted, and cut with water at 50,000 PSI and hand-burnished to achieve shiny finish. Various sizes can be ordered. Click through for ordering information.
Octopus Wall Art Sculpture
This art form was created in the mind, reinvented in the computer, cut by CNC, and then a fine brush finish is applied. Each piece is then hand-finished and signed by the artist. This is the finest touch to your home, or office. The "Octopus" Metal Wall Art Sculpture will captivate all those who step foot into your home. The sophisticated textures of the piece has a lightly-brushed finish and the metal construction reveals the phenomenon of illusion of depth and dimension. The size is 23-inches square, but can be made in other sizes.
Midnight Blue Octopus Tentacle Light Switch
This light switch plate was hand-sculpted and painted over a standard one-gang toggle-switch wall plate. The surface features a textured base with dark metallic blue tentacles. The tentacles reaching out from behind create unique swirls and shapes reaching onto your wall. The piece has been sealed with two coats of high-quality indoor/outdoor matte/satin varnish to prevent wear.
Your switch plate will arrive with two screws for installation, sealed and painted to match. Because this item is handmade it may vary slightly from the listing photos. Click the listing below to see this and related pieces.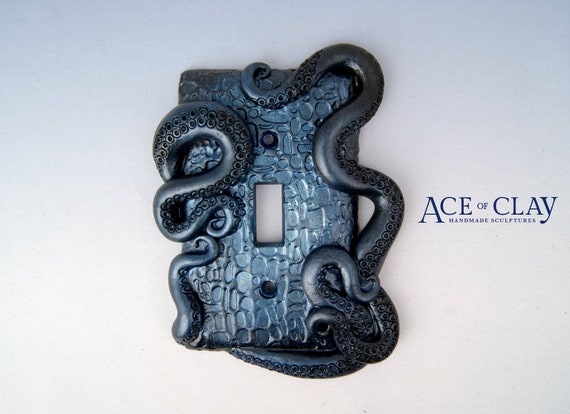 Midnight Blue Octopus Tentacle Light Switch

Octopus 48-inch Handmade Metal Wall Art
This Octopus sculpture is great for your Tropical Beach Coastal theme. Shipping in the U.S. is free. This octopus is made of steel. Each piece of a sculpture is cut with a plasma cutter by hand, then shaped by using a brass hammer and a block of wood. Next it is welded, and cleaned and readied for finishing. This Octopus has a custom-painted copper with a aqua patina. The sculpture is protected with 2 coats of a interior/exterior satin clear finish. Because of these techniques, every sculpture is unique and a work of art. Size is approx 48-inches x 13-inches.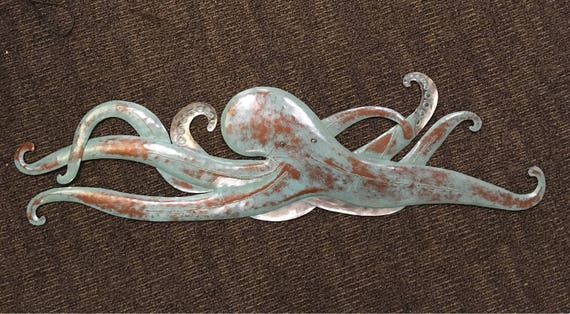 Octopus 48in Handmade Metal Wall Art

Octopus Art | Nautical Decor | Ocean Decor
This metal Octopus has a multi-color patina and is 30 inches x 26 inches in size. It is cut out of 16-gauge mild steel using a high-definition plasma machine. It is then colored using a chemical patina and finished with a high-quality automotive clear coat. It is durable for outdoors or indoors. This piece can be made to order in size or finish. Each piece of artwork is custom-made and may have variations in the finish. Click through for more details and to see other pieces in this shop.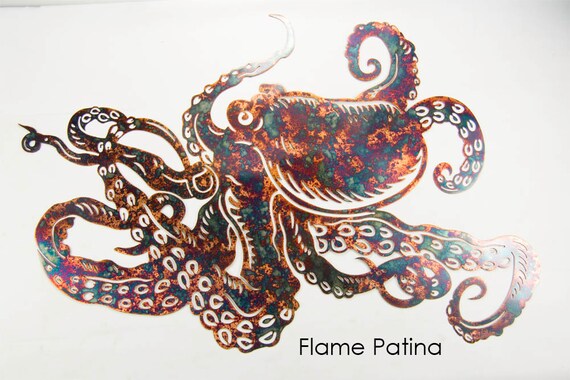 Octopus Art | Metal Octopus | Beach House Decor | Nautical Decor | Ocean Decor

Octopus Art Sealife Beach House Wall Art
A whimsical bright turquoise metal wall art sculpture Octopus, Otis is all hand-cut, filed and hammered from recycled metal. Hand-painted (many coats) with an outdoor acrylic metal paint. His eyes are made from our kiln-fired glass. There is a hook on the back for hanging. This piece is fun for that special ocean theme or maybe a kids room. Looks great in the bathroom. Measures 13-inches tall by 15-inches wide.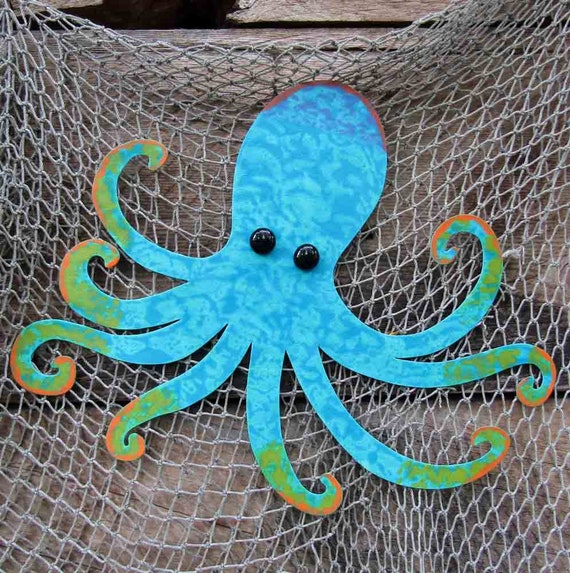 Octopus Art Metal Wall art Sealife Beach House Wall Art

Octopus Wall Plaque Decor
Handmade Haitian metal art crafted in the cool shade of a massive tree by a cooperative of family and friends in Haiti. Each piece is created in keeping with generations of tradition, using recycled steel drums and simple tools. Original folk art to make a beautiful statement in your home or garden. Click through for more octopus pieces.

Octopus – Metal Art
This Octopus is cut from 16-gauge steel, hand-painted with alcohol ink and clear-coated to protect the finish. It is designed for indoors but can be hung outside as long as it is not in the direct sun. Direct sunlight will fade the ink. It measures 17-inches x 12-inches in size. Click through for more details.
Have No Fear of the Depth Art Typography
This unique piece of metal art is printed directly onto the aluminum using dye sublimation. It is a stunning piece that is available in several sizes beginning with 4-inches x 6-inches. This piece has a old-fashioned style perfect for a Steampunk or Victorian space, but could clearly go in any nautical space as well.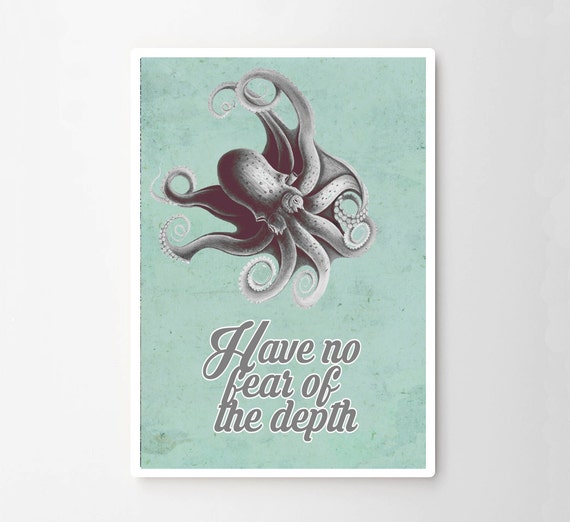 Have No Fear Of the Depth Art Typograhy

Octopus Metal Wall Art Decoration
This Octopus Metal Art Decoration measures approximately 13-inches x 8-inches and is crafted from 14-gauge steel. It is then polished by hand for a brilliant finish. It is great to decorate or give as a gift to someone you love. A lovely piece for an Octopus collector. For more information on this or any pieces on this page, click through the links. Remember that for custom-made pieces, you may have to include lead time in your order, so don't wait too long.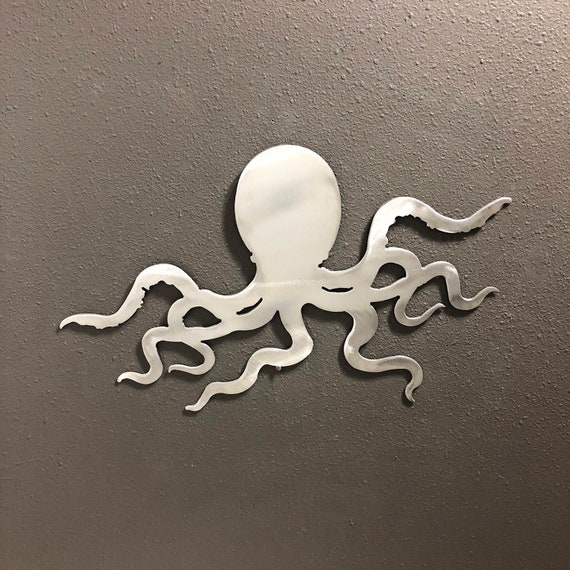 Octopus Metal Wall Art Decoration

Pin It for Later
Don't need any Octopus Metal Wall Art right now? Then save the idea for later by pinning this image to Pinterest.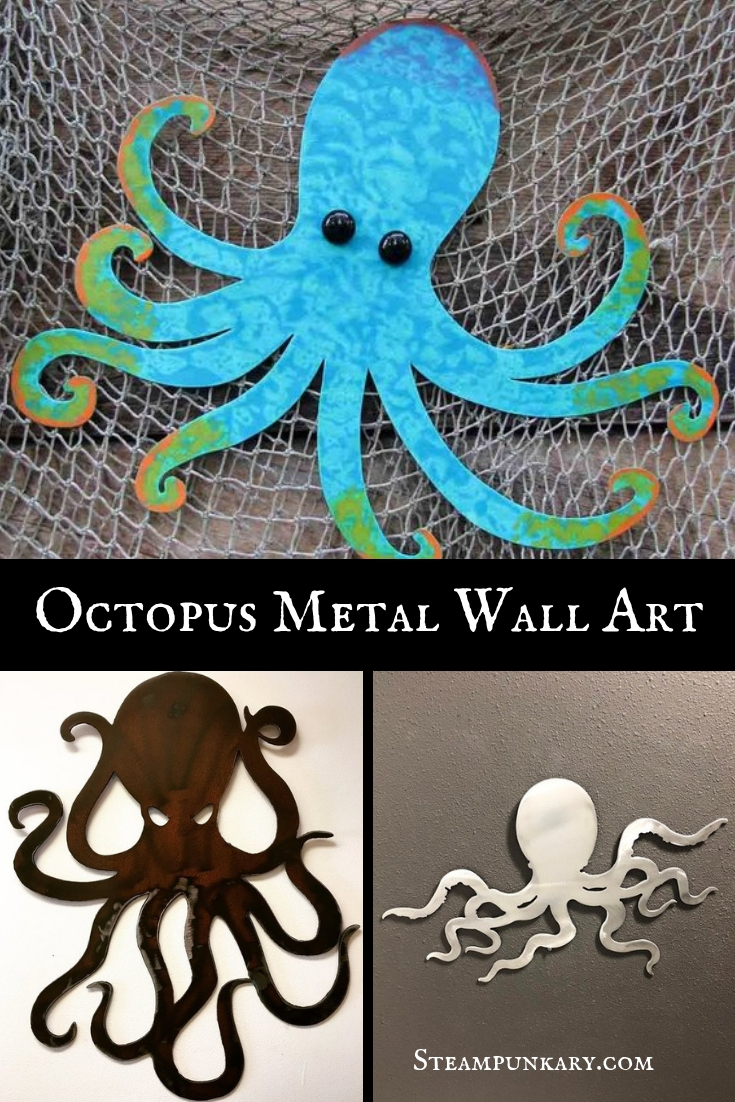 (Visited 1,301 times, 1 visits today)