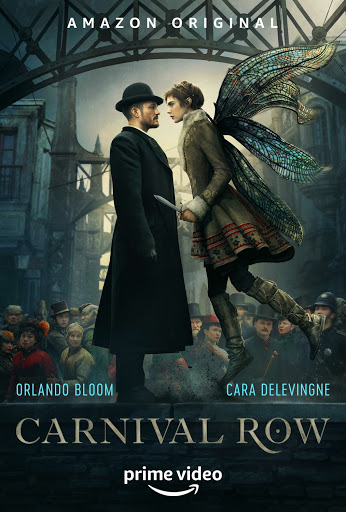 If you haven't had the chance to watch Amazon's fantasy series, Carnival Row, you are missing a unique show with an entire pre-history and backstory along with loads of interesting characters. The show is slated to come out with a second season very soon, so this is a great time to watch the first season. While Carnival Row isn't focused on Steampunk, if you watch it you will see lots of cool Steampunk elements that lend themselves to costuming and cosplay. We've dug through our sources and we would like to present you with some of our finds to create the perfect Carnival Row Victorian Steampunk Costumes.
Victorian Period Background
Carnival Row takes place in a completely made-up world which we only learn small bits about throughout the first season. Vignette Stonemoss, one of the main characters, is a faerie refugee who's been chased from her own land, Tirnanoc, like many others of her race. She is living in a new land in which faeries are second-class citizens. Rycroft Philostrate, the other main character, knows Vignette from his military days when fighting against The Pact, and is now an investigator searching for a serial killer in the Burgue.
These two characters, along with a long list of secondary characters, all live in a Victorian-style world. Victorian themes are embedded in the story, from wardrobe to lighting to social strictures. Within that Victorian world, we can also see a lot of Steampunk elements included. You should watch Carnival Row just for fun. Then watch it again for costume ideas.
Victorian Costumes for Burgue Residents
Clothing in the Burgue is familiar to us, because it is Victorian in nature. You can take most Victorian costumes and add faerie or Steampunk elements. In fact, you may have a Victorian costume already that you can adapt. Here are some basic Victorian Costumes you can use. Note: We are showing you ideas from Amazon first, but there are also ideas from Etsy if you scroll down.
Victorian Men's Costumes
These are some basic Victorian costumes for men that you can add to for your Carnival Row character cosplay. The show features aristocratic characters in fine dress and refugees in older, worn down clothing. Philo is shown in neat clothing including an overcoat and bowler or derby hat. Any of these jackets is a good base to work from.
 Mens Gothic Steampunk Frock Coat
 Mens Gothic Steampunk Vest Waistcoat
 Mens Black Tailcoat Jacket Gothic Steampunk Victorian
 Men's Steampunk Vintage Tailcoat Jacket Gothic Victorian
Women's Victorian Costumes
These Victorian costumes for women are also great for basic wear. Shown here are various long dress styles that can be used for the basic woman character in Carnival Row. There is also wide range in female characters' clothing depending on if they are aristocrats, servants, prostitutes or religious figures. You can adjust your costume to depict each character with accessories such as hats and scarves, boots, or jewelry. These costumes on this page are just a brief glance at Victorian style costumes. You can find more Victorian costume ideas here.
 Women's Boho Maiden Smocked Maxi Dress
 Women's Rococo Ball Gown
 Sexy Steampunk Victorian Dress
 Women's Medieval Costume Dress (L, T-Blue)
Reference Books for Making Victorian Costumes
If you prefer to create your Victorian costume from scratch, these books are a good place to start. You can use an existing pattern or make your own pattern to get the look you want.
 Making Victorian Costumes for Men
 Making Victorian Costumes for Women
 Costume in Detail: 1730-1930
 Authentic Victorian Dressmaking Techniques
Carnival Row Faerie Costumes
The most interesting characters on Carnival Row are the Fae due to their unique natures. While we see primarily two of the races, there are more that we see glimpses of. Many of the Fae are pixies that have wings and can fly. Their wings are large and beautiful, and are their most prominent feature.
Faerie Pixie Wings
Any of these wings can be used for a Carnival Row costume.
 Costume Fairy Wings
 Jumbo Butterfly Costume Accessories for Adults
 Fantasy Fairy Wings, Purple and Silver
 Unisex-Adult's Firefly Wings
Faun Ram's Horns
Another prominent group are the fauns or pucks. Their main features are ram's horns on their heads and rear feet that are similar to a horse's with hooves. Any of these sets of horns would work nicely for a faun costume.
 Sheep Horn Hoop Headband
 Black Sheep Horn
 Adjustable Gold Ram Horns
 Ram Horns Costume Accessory
Carnival Row Costume Accessories
Of course, the right accessories are what really make a costume perfect. For Carnival Row costumes, you can't go wrong with any of these hats or accessory sets.
 Black Top Hat
 Novelty Black Felt Top Hat
 Unisex-Adult's Derby Hat
 Derby Hat 100% Wool
 Gentleman Costume – Victorian Accessories Men
 Men's Herringbone Newsboy Hat
Handmade Puck's Horns and Faery Wings
We also did some browsing on Etsy to see what costume makers had available for Carnival Row costumes. And as you can see in the pictures below, we found a lot of fun wings and horns that you can order for your assembly. Here are some of the favorites from  our search.
 Dragonfly Fairy Wings

 Koza Horns – MADE TO ORDER

 Iridescent white bridal fairy wings

 Custom Iridescent Blue Fairy Wings

Carnival Row Victorian Steampunk Costumes
As to unique Carnival Row Victorian Steampunk costumes, we found this costume artist, ChrysalisNYC, who makes a good selection of costumes that can be used for Carnival Row and other Steampunk, Gothic, Victorian venues. They are based in New Jersey so shipping is reasonable and relatively quick. Here are four costumes to take a look or click through to their Etsy shop.
 Carnival Row Costume

 Carnival Row Costume

 Witch Gothic Costume

 Carnival Row Saloon Costume

Save This Idea for Later
Like these Carnival Row costume ideas but can't use them right now? Save this page for later by pinning the image on the top of this page on Pinterest.
(Visited 1,002 times, 1 visits today)