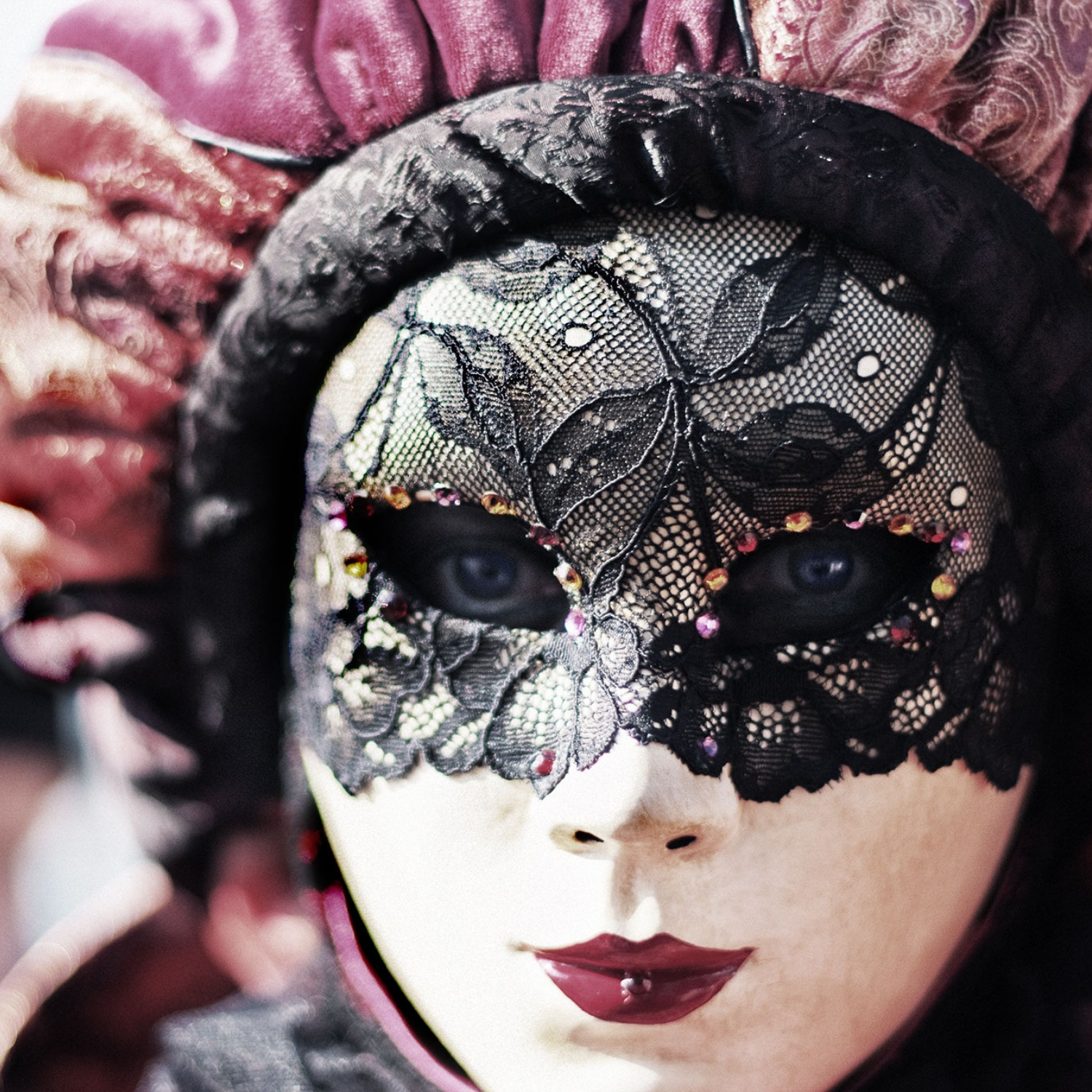 It's very rare that both Mardi Gras and St. Patrick's Day are both in March. Mardi Gras is generally in January or February. But since we are inching closer to spring, it's natural that cosplayers will be out in force during this year's spring holidays. But unless you are very creative and sew your own costume, it's pretty difficult to find Steampunk Mardi Gras costumes (or for that matter Steampunk St. Patrick's Day costumes) ready-made. Therefore, we thought we'd offer some easy costumes and accessories to combine for Mardi Gras. (We have shown you some Steampunk St. Patrick's Day costumes here, and Pirate costumes work well for Mardi Gras.) Mardi Gras is on March 5, 2019, so don't miss this chance to cosplay!
On this page, you will find some of our favorite costumes ready-to-wear from HalloweenCostumes.com, along with some easy-to-add Mardi Gras accessories. If you're not familiar with HalloweenCostumes.com, you should be. We have worked with them for years, and have not had any complaints. You can find many exclusive-to-them costumes to add to your collection.
HalloweenCostumes.com Steampunk Costumes
Just a quick note that some of these costumes can be purchased on Amazon, sometimes cheaper, but not always. One of the biggest benefits with Amazon is Amazon Prime shipping if you are in a hurry. Check our other costume pages Steampunk Child and Teen Costumes, Steampunk Pirate Costumes for Adults, Alice in Wonderland Character Costumes, Quick Cosplay with Steampunk Costume T-Shirts for more ideas.
HalloweenCostumes.com has loads of costumes all year, but these are our favorite complete Steampunk Costumes. These come in adult and teen/tween sizes, and plus sizes for the women's costumes. Several are also available for children. Click through for sizing and prices.
 Women's Steampunk Costume

 Steampunk General Costume

 Steampunk Gentleman Costume

 Girl's Steampunk Costume

 Women's Victorian Steampunk Costume

 Mens Steampunk Jack Costume

 Tween Steampunk Girl Costume

 Adult Steampunk Adventurer Costume

 Plus Size Steampunk Lady Costume

 Women's Steampunk Fantasy Costume

 Sexy Detective Costume

 Jack the Ripper Costume

 Adult Gunfighter Western Costume

 Adult Sherlock Holmes Costume

 Child Sherlock Holmes Costume

 Keystone Cop Costume

 Plus Size Riverboat Gambler Costume

 Adult Director Costume

 Saloon Madame Costume

 Saloon Bartender Costume

 Adult Old West Bartender Costume

 Plus Size Pirate Wench Costume

 Adult Pirate Maiden Costume

 Plague Doctor Kit

Steampunk Costumes Accessories from HalloweenCostumes.com
If you prefer to create your own costume ensemble, these accessories can give your Mardi Gras outfit a Steampunk punch. A range of accessories can turn regular clothes into a Steampunk costume quickly and easily.
 Steampunk Cameo Set

 Steampunk Bag of Gears

 Steampunk Space Gun

 Steampunk Pouch Belt

 Steampunk Brown Goggles

 Steampunk Pistol Grip Cane

 Steampunk Suede Shoe Spats

 Steampunk Black Suede Spats

 Cybersteam Goggles Silver

 Monocle

 Antique Dragonfly Necklace

 Cyber Steam Goggles

 Gold Aviator Goggles

 Women's Victorian Boots

 Mini Satin Bowler Hat

 Child Plastic Pith Helmet

 Beige Spats

 Bowler Brown Hat

 Victorian Small Black Top Hat

 Adult Train Engineer Hat

 Robot 1.0 Mask

Mardi Gras Costumes from HalloweenCostumes.com
Mardi Gras is a celebration of life, and costumes created for Mardi Gras are colorful and wild. While you can buy one of these full Mardi Gras costumes for the holiday, you can also wear the same costume for other cosplay opportunities year round. Your other option is to "Mardi Gras up" your favorite Steampunk costume. Here are full costumes for Mardi Gras from HalloweenCostumes.com.
 Men's OppoSuits Mardi Gras Suit

 Sexy Mardi Gras Jester Costume

 Adult Mardi Gras King Costume

 Red Satin Cape

 Pretty Parisian Clown Costume

 Men's Purple Tuxedo

 Medieval Jester Costume

 Women's Harlequin Shine Costume

Mardi Gras Accessories from HalloweenCostumes.com
Add any of these accessories to your Steampunk costume to turn it into a Mardi Gras cosplay. Just adding a Mardi Gras mask is a perfect way to transform your Steampunk wear to Mardi Gras Steampunk cosplay. HalloweenCostumes.com has several exclusive Mardi Gras items that we will list separately below.
 Mardi Gras Bow Tie

 Mardi Gras Vest and Tie Set

 Carnival Mardi Gras Mask

 Deluxe Mardi Gras Mask

 Black Velvet Mardi Gras Mask

 Pink Venetian Mardi Gras Mask on Glasses

 Black and Gold Sequin and Feather Mardi Gras Mask

 Adult Classic Jester Mask

 Adult Gold and Beads Venetian Mask

 Short Bob Lime Green Wig

 Black Glitter Eyemask

 Adult Gold Half Mask w/Ribbon

Exclusive Mardi Gras Costumes and Accessories from HalloweenCostumes.com
It was hard to choose which costumes and accessories to put in this section, because there are so many incredible exclusive costumes from HalloweenCostumes.com. However, we tried to give you a cross-section of costumes and accessories that you could use for Mardi Gras. If nothing else, you will definitely be inspired by this selection of really cool costume ideas.
 Exclusive Sexy Gothic Rag Doll Costume

 Women's World Traveler Wig

 Child Dazzling Flapper Costume

 Girl's Aphrodite Goddess Costume

 Men's Day of the Dead Costume

 Child Green Gloves

 Adult Doll Wig

 Women's Skeleton Beauty Plus Size Costume

 Women's Purple Moon Witch Costume

 Deluxe Black Flapper Costume

 Mossy Oak Formal Bow Tie

 Roaring 20's Plus Size Flapper Costume

 Toddler Black Gloves

 Plus Size White Knee Length Crinoline

 Adult Brown Boots

 Child Gold and Black Fringe Flapper Costume

 Child Pirate Captain Costume

 Womens Purple And Grey Ombre Wig

 Child Flapper Wig

 Child Tan Pants

 Pink Venetian Mardi Gras Mask on Glasses

 Pirate Flintlock Pistol

 Adult Plus Sized Golf Green Champion Jacket

 Captain Meyer Pirate Hat

 Plus Size Deluxe Mad Hatter Costume

 Boy's Day of the Dead Costume

 Black Zoot Suit Costume

 Kids Neon Dreadlock Wig

 Girl's Day of the Dead Costume

 Men's Authentic Mad Hatter Costume

 Plus Size Black Jazz Flapper Costume

 Adult Deluxe Alice Costume

 Plus Size 20s Newsie Costume

 Womens Caribbean Pirate Costume

 Child Cowgirl Chaps Costume

 Child Purple & Green Skeleton Girl Costume

 Women's Hot Court Jester Costume

 Adult Cowgirl Chaps Costume

 Women's Day of the Dead Costume

 Plus Size Realistic Caribbean Pirate Costume

 White Rabbit Adult Costume

 Plus Size Fringe Gold Flapper Costume

 Women's Aphrodite Goddess Costume

 Black Charleston Flapper Dress

 Men's Plus Size Realistic Pirate Costume

 Plus Size White Rabbit Costume

 Toddler Dazzling Flapper Costume

 Sexy Wonderland Cat Costume

 Women's Plus Size Witch Costume

 Adult Plus Size Rodeo Cowboy Costume

 Women's Skeleton Beauty Costume

 Plus Size Old West Bartender Costume

Needless to say, we think you will find a lot of costume inspiration here. As they say in New Orleans, "Let the good times roll!"
(Visited 957 times, 1 visits today)