Charmian is one of the brands that primarily sells corsets for women and for men. Because they specialize in corsets, it is a good brand to search for your cosplay corset for your next Steampunk convention or party. We have shown their corsets in earlier posts, but we decided to take another look at what Charmian has to offer. So here are the main categories of Charmian Steampunk Corsets and Apparel on Amazon.
Charmian Waist Cincher Body Shaper Corsets
We can't list every corset Charmian makes because you would be here for days, so here are the main corset categories that Charmian makes. (Everything on this page is related to corsets, but Charmian also makes skirts and a few other apparel items.) This category is Waist Cincher Body Shaper corsets. Most of these corsets are under underbust styles that fit over the center of the body from just under the bust and end on the upper hips. These style is quite popular and as you click through to the product pages, you will see that each corset style is available in more than one color and sometimes in different pattern fabrics. Many of these can be worn with club wear and of course for cosplay. This style is designed to be worn with a blouse underneath, although a few can be worn alone.
 Charmian 26 Steel Boned Brocade Underbust Waist Training Corset
 Charmian Lace Waist Trainer Underbust Corset
 Charmian Underbust Corset Waist Trainer Latex Waist Cincher
 Charmian Waist Trainer Latex Underbust Corset
 Charmian Latex Underbust Waist Training Cincher Steel Boned Corset
 Charmian Women's 26 Steel Boned Underbust Waist Training Corset
Charmian Steampunk Vintage Corset
Here is an example of a Steampunk corset made by Charmian. As you can see, it is the overbust type that can be worn alone or with a blouse underneath. When you click through to this product listing, take a look at the wide range of fabrics and styles that it comes in. You can chose the design shown here, or 6 other designs in array of fabrics and colors. Each one is just as gorgeous as this one.
 Steampunk Gothic Spiral Steel Boned Brocade Overbust Corset with Chains
Women's Steampunk Corsets
This group of Women's Steampunk corset styles below give you a good idea of the range of corsets sold by Charmian. They are reasonably prices from about $30 to $50 depending on size and style. Most come in more than one color, and some are made with patterned fabric that fit the Victorian Steampunk style. We've included one men's style here to compare with the women's.
 Charmian Women's Steampunk Vintage Spiral Steel Boned Embroided Pattern Corset
 Charmian Women's Spiral Steel Boned Steampunk Goth Halloween Burlesque Corset
 Charmian Men's Spiral Steel Boned Victorian Steampunk Stripe Waistcoat w Chain
 Charmian Women's Steampunk Retro Brocade Steel Boned Halter Bustier Corset
 Charmian Women's Spiral Steel Boned Steampunk Brocade and Leather Overbust Corset
 Charmian Women's Plus Size Spiral Steel Boned Vintage Steampunk Bustier Corset Top with Jacket and Belt
 Charmian Women's Gothic Steampunk Brocade Steel Boned Overbust Corset Vest
 Charmian Women's Steampunk Heavy Steel Boned Corset with Zipper Black
 Charmian Women's Renaissance Snakeskin Embossed Bustier Corset Top with Garters
Charmian Women's Long Torso Corset
Charmian has an option to purchase a long-torso corset like the one below. This style is nice for women that are tall or are have a long torso proportionate to their height. You can click on this link below to get exact measurements for each size to give you a better understanding of the difference between regular and long-torso.
 Charmian Women's 26 Steel Boned Cotton Long Torso Training Underbust Corset Black
Charmian Corset Bra
If you are looking for something more contemporary to add to your costume, you might consider one of Charmian's Corset Bras. These come in lace, rhinestone, leather, and other options that can be worn by themselves for clubbing, or with an outfit for cosplay. Some come with straps and others are strapless. And we've included a Faux Leather version that is perfect for Steampunk.
 Punk Goth Floral Lace Bustier Corset Bralet
 Spaghetti Straps Colorful Rhinestone Studded Bustier Bra
 Spaghetti Straps PU Leather Bustier
 Punk Goth Floral Lace Bustier Corset Bralet
 Punk Rhinestone Bra Clubwear Bustier
 Burlesque Fashion Beaded Sequins Bustier Bra
 Colorful Rhinestone Beaded Clubwear Bustier Bra
 Steampunk Gothic Faux Leather Buckles Straps Triangle Cup Bra
 Valentines Metallic Rivets Skull Clubwear Bra
Steampunk Corset Accessories
Sometimes a Steampunk Corset isn't enough, and you need some Corset Accessories. Here are 4 accessories made by Charmian to enhance their corsets. Three of them are shrugs which fit on your shoulders. The 4th is a shoulder and armband to put on over your corset.
 Steampunk Accessories Retro Leather One Shoulder Armlet Armband
 Steampunk Gothic Accessories PU Leather Pauldron Collared Rivet Armor Costume Shrug
 Steampunk Gothic Lace Brocade Corset Shrug
 Steampunk Gothic Accessories Feather Collared Lace Shrug
Charmian Men's Corset Waistcoat
Last, but not least, let's take a look at Charmian's Men's  Corsets. These can also be called waistcoats, although they are fitted more snugly than traditional waistcoats (vests). Men's corsets aren't as popular as women's which is why there are so many more styles for women. If you're still in quarantine like we are, you can start planning your cosplay even if you aren't ready to buy.
 Charmian Men's Spiral Steel Boned Victorian Steampunk Gothic Retro Stripe Waistcoat Vest with Chain Black XX-Large
 Charmian Men's Victorian Medieval Steampunk Costume Leather Lace Up Sleeveless Waistcoat Vest Black XX-Large
Bookmark This Page for Later
Not ready to buy right now, but love this idea? Bookmark this page for later by pinning to Pinterest or adding to your list of bookmark on your computer.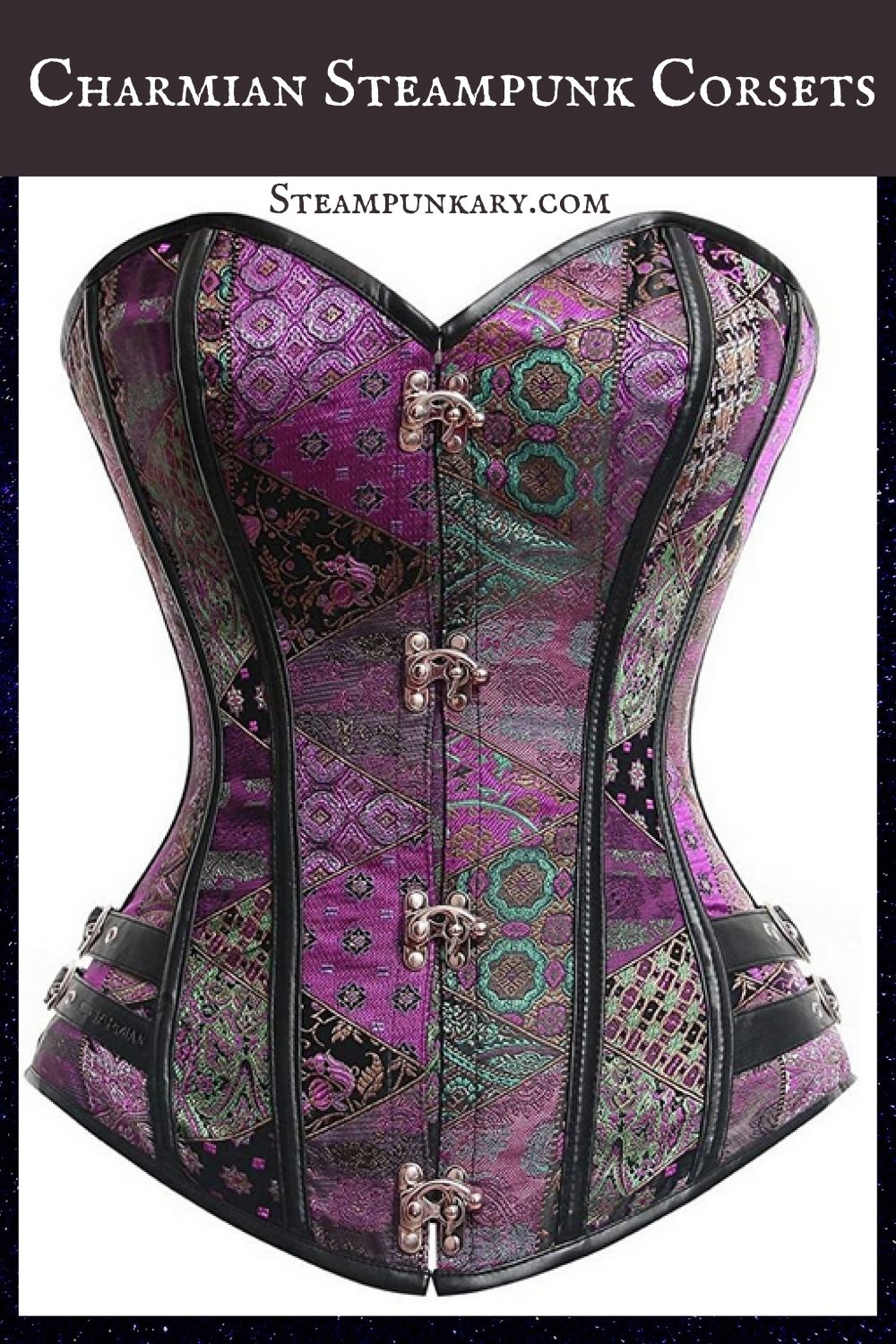 (Visited 303 times, 1 visits today)