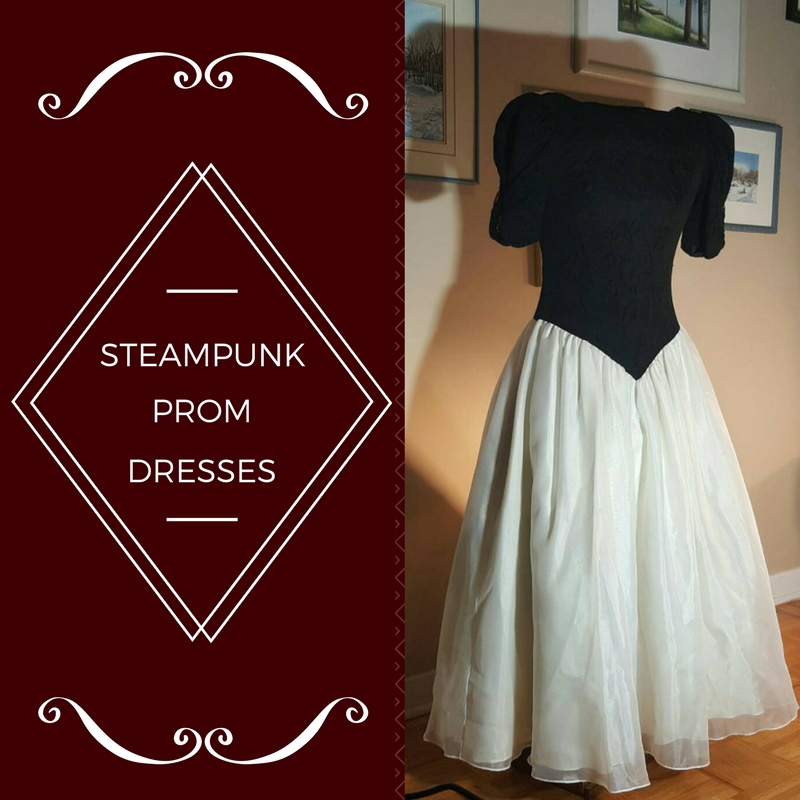 Any girl who is going or has ever gone to prom knows the importance of picking out the perfect dress. Not only do you want to choose something fashionable, but something that really shows off your personal style. If you are into the steampunk theme, there is no better special occasion than a high school or college prom to let your unique fashion style shine through. Here we look at some steampunk prom dresses that are sure to make the night memorable.
Victorian Brocade Overbust Corset Skirt Set
Available in sizes small through XX large, this dress is offered in brown/black, gray/black, red/black, and purple/black. Each corset style is slightly different with each color selection. Sizes run small. Made from 90% polyester, 5% cotton, and 5% Elastan. Features a strapless overbust corset with attached plastic boning and lace up back. Black hi low skirt is ruffled and overlayed with floral lace. Makes a beautiful prom, dance, or Cosplay dress.
Victorian Overbust Corset with Dancing Skirt Set
Victorian Steampunk Burlesque Brocade Prom Dress
Available in sizes medium and extra large and made from 100% polyester. Made from black brocade fabric, dress features an adjustable hemline that can be worn up or down or somewhere in between. Midriff of dress features corset style lacing. Very elegant and makes a great steampunk statement.
Victorian Steampunk Gothic Prom Dress
Gothic Romantic Vintage Long Corset Prom Dress
Available in size small, this Victorian style red and black dress has a lace up corset style bodice with sweetheart bust line. Red taffeta style fabric with black velveteen and an elegant vintage cameo pattern. Features a high lace trimmed collar and corset lacing in the front and back to adjust for the perfect fit. Shoulders have ruffled trim and has lace overlay contrast panels. Flared, full length hitch-hem skirt can be adjusted with ties at bottom to adjust length. Dress zips at side.
Romantic Victorian Corset Prom Dress
A-Line Tulle Prom Dress
Available in even sizes 2 through 24 plus. Made from high quality tulle with a built in bra. Sleeveless dress has embroidered floral appliques with sparkles. Combine with a cute steampunk hat and boots to create a terrific steampunk prom dress.
Victorian Steampunk Sleeveless Mini Dress
Available in sizes ranging from small to extra large, this dress is made from 100% cotton and features a brown and black striped pattern. Skirt section features ribbons, white lace straps, and white lace details. Dress comes to a few inches above the knee. Bodice section features a high collar, brown faux leather details, with white lace and copper button accents. Dress fastens with a zipper at the back. This sassy dress is sure to make a statement at prom or any gathering.
Victorian Gothic Steampunk Sleeveless Mini Dress
Victorian Steampunk Velvet Corset & Dress
Offered in size 1X, this is a beautiful dress and waist cincher which can be worn together or alone. Dress is a sleeveless, full length black velvet gown with a lace trimmed neckline. Waist cincher is made from luxurious ornate brocade fabric and can be adjusted using the lacing on the front. Cincher features eight antique reproduction buttons to give a vintage look.
Brocade Velvet Women's Corset & Dress
Victorian Gothic Vintage Era Dress
Available in a size 3X plus, this gorgeous purple dress will make you the center of attention at your prom or formal gathering. Made from a beautiful purple stretch crushed velvet, this dress features a flattering front gathered silhouette that will showcase your figure. Dress has gathered arm ruffle in black and black braid neckline trim. Garment may be hand washed or dry cleaned.
Steampunk Renaissance Velvet Ensemble Top & Skirt
Dress for prom in this attractive two piece ensemble, available in X large, 2X, or 3X sizes. Includes the black skirt with the shirt available in olive green, black, burgundy, blue, or purple. Shirt is generously cut and has long flowing sleeves and a lace-up corset style waist that you can adjust for the perfect fit. Skirt features beautiful lace detail on the waistband.
Steampunk Victorian Gothic Velvet Ensemble Top & Skirt
Hi-Lo Lace Gothic Prom Gown
Available in even sizes from 2 to 26 plus, this dress is made from high quality satin and features a square collar and tea length train, A line silhouette and lace up corset style bodice. Dress is much shorter in front than it is in the back, and is red and black in color. Features layers of red fabric with black lace ruffles. Sure to be a huge hit at prom!
Lace Gothic Party Dress Spaghetti Straps Prom Gown
Off-Shoulder Long Prom Dress
Available in sizes 2 through 16, this delightful dress can be purchased in colors red, black, aqua, fuchsia, royal blue, and sky blue. For a steampunk flair, stick with the red or black colors. Floor length satin dress features a sweetheart V-neckline. Sleeveless with the straps worn off the sleeves. A great vintage look to add a touch of Victorian elegance to your prom.
Sweetheart Off-Shoulder Long Bridesmaid Dress
Available in even sizes from size 2 to 28 plus. Twenty one beautiful colors to choose from including black, burgundy, and lavender. Made from 100% polyester chiffon fabric. Full length gown has a sweetheart neckline and its worn off the shoulders. Very elegant, yet simple. Great for Victorian or steampunk themes.
Sheath Sweetheart Off Shoulder Long Prom Gown
Formal Prom Skirt Sequin Top Corset Dress
This is an upcycled three piece outfit made up of unrelated pieces to create a great Steampunk look. One size stretchy, open net long sleeved shirt is black with attached large black sequins. Corset is a mauve pink color with black tulle overlay and three rows of hook and eye closures. Corset laces for an adjustable fit. Skirt is black and a size 4, made from a crinkly organza type fabric with shimmering highlights that pick up the light.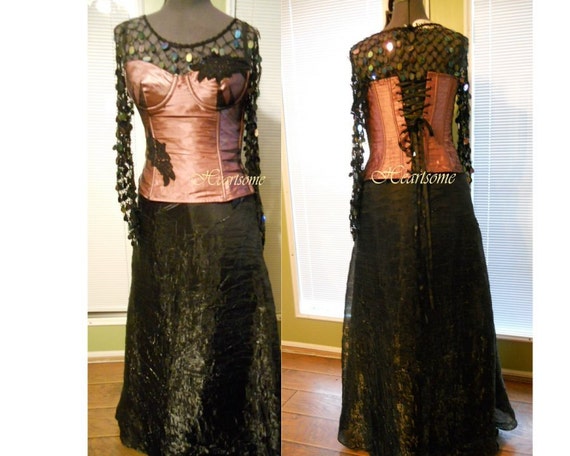 OOAK Steampunk Victorian Gothic Formal Gown

Victorian Style Prom Dress
The is a vintage dress dating back to the 1960's, yet it has a very Victorian style influence. Made from lace fabric, crinoline, and satin, the bodice of this dress is black while the skirted portion in white in color. Features 3/4 sleeves and a fitted waist. This find would make a stunning prom dress and could be accessorized to really make it look steampunk.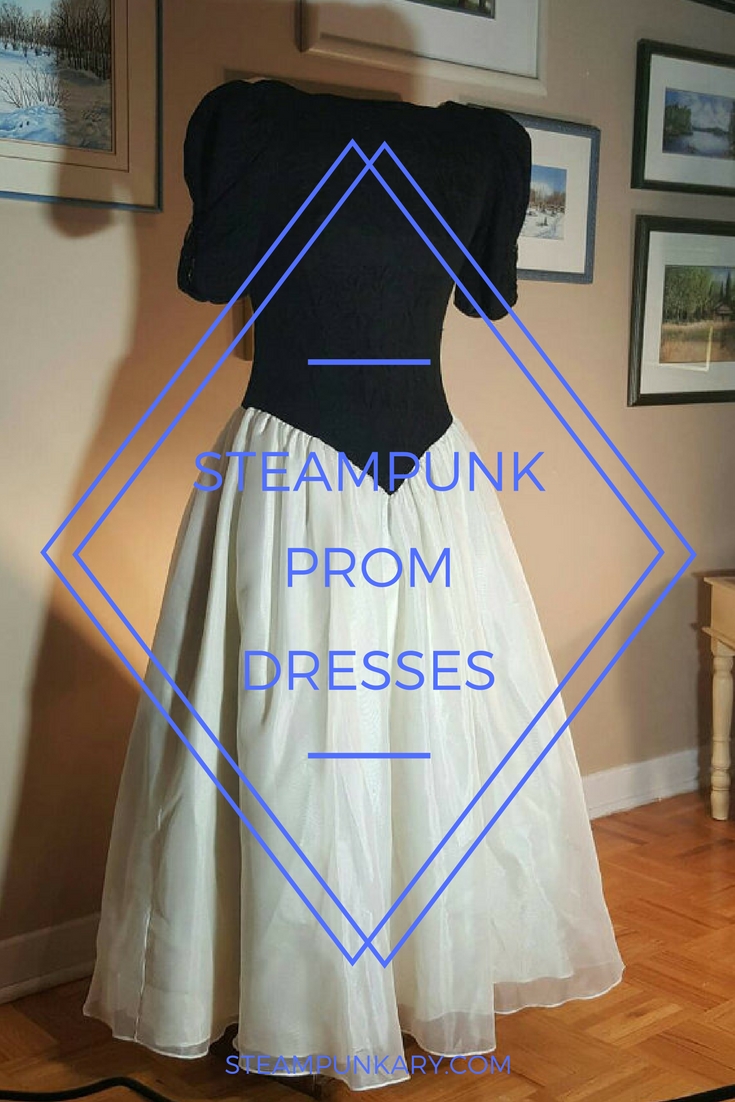 (Visited 1,784 times, 3 visits today)