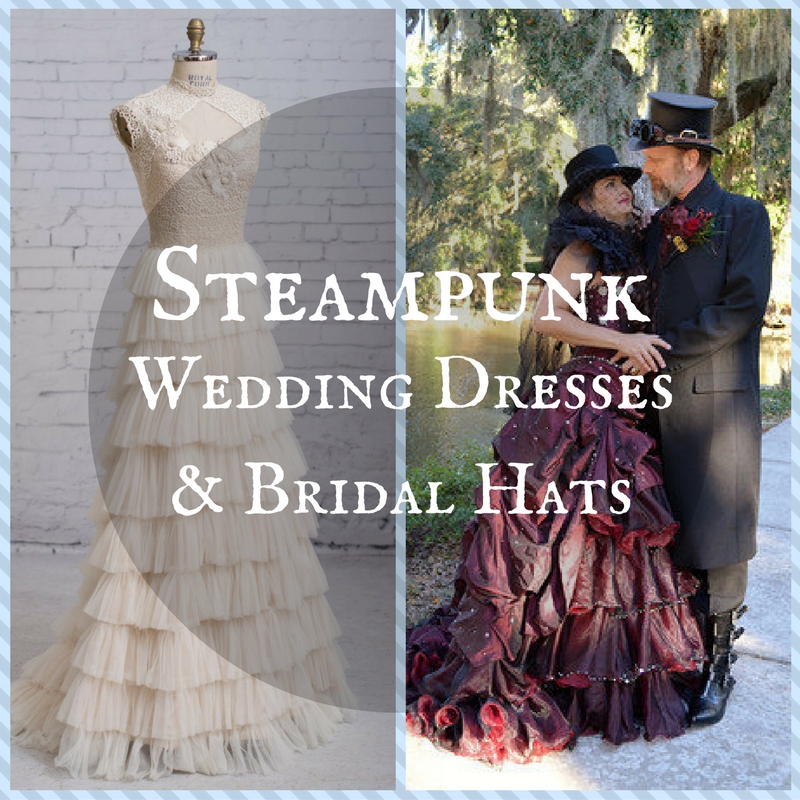 With so many romantic themes that include Victorian flair, it is not a far reach to create a Steampunk Victorian wedding theme. You can nuance the theme in several ways for a Steampunk wedding, going more toward the Victorian side or more toward the Steampunk science-fiction side. However you decide to make your wedding into a Steampunk affair, having an appropriate selection of Steampunk wedding dresses and bridal hats will ensure that you look your best as you walk down the aisle.
Updated 2021
This page is devoted to showing you a range of steampunk wedding dresses and bridal hats that you can wear, some recycled from antique dresses, some handmade in steampunk or Victorian style. To find out how to order in your size, click through to the vendor on Etsy. Many of these dresses and hats come in several colors and are custom made-to-order items that take several weeks to complete. Read the ordering instructions carefully to make sure that you order exactly what you want.
Draped Corset Bridal Dress
The blush wedding dress is draped, hand-made with soft tulle. The corset has perfect breast support and non-transparent bra cups on request. The skirt with the train consists of layers of silk and tulle. It is fastened on the back with a concealed snap and zipper.
The waistline can be decorated with a silver crystal belt with a floral pattern. Each belt is a unique nature-inspired handicraft. The bridal belt is designed of a solid copper ampyx, covered with pure silver and hand-wired with handmade leaves, plated with fine silver (999) that makes the coating dense and durable. Ask the designer for more information about this beautiful Steampunk wedding dress.
 Draped corset bridal dress

Steampunk Wedding Dress
A more formal Steampunk wedding dress, this is one of four images showing the Victorian gown. A full-length bridal gown, it has simple lines that poof out around the bride gently. This is a OOAK dress and sizes are given on the product page. The designer is in Germany and has other dresses and hats in her store.
Custom Made to Order Steampunk Wedding Dress
This steampunk wedding dress is custom-made to order after you send your measurements and requirements to the vendor. The designer is based in the UK, so allow extra time for shipping. Follow the explicit instructions for this dress to get exactly what you want when you order. The shop has several other designs for dresses and other Steampunk clothing that you can order.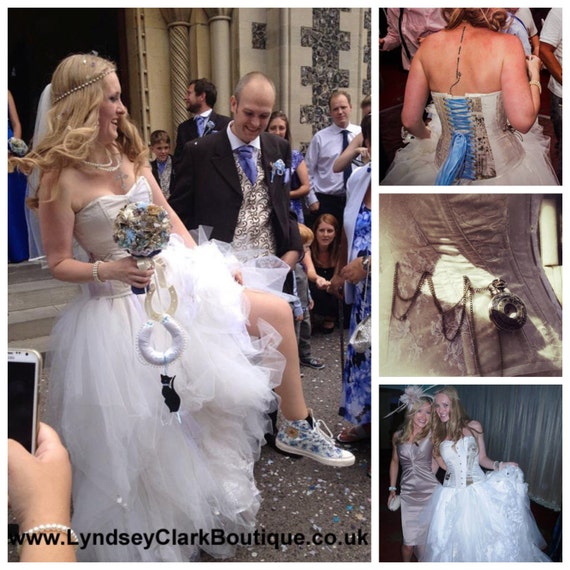 Custom Made to Order Steampunk Wedding Dress

Victorian Steampunk Fancy Silver Saloon Skirt
This sweet and sassy bridal look includes a chic lace chemise, a classic Victorian corset, two Deluxe saloon skirts, and a matching overskirt. This look builds on the classic ball gown silhouette to create a wedding look to rival any princess or queen in the land. Allow time for this item as it is made to order.
 Victorian Steampunk Fancy Silver Wedding Ballgown

Steampunk Bridal Gown Custom Made to Order (Various Colors)
This beautiful rococo dress is inspired by Bella's dress from the Disney film Beauty and the Beast. The color and style shown can easily be updated for a Steampunk look with a few accessories. Browse through the product listing for more details and images. Realy a stunning look.
 Disney Belle dress

Steampunk Victorian Wedding Dress
Based in Denmark, this designer specializes in wedding and event occasion dresses in this style, a dressy Victorian lace dress. This is a Steampunk wedding dress, boho wedding dress, white crochet bridal gown, airy tulle, antique lace, Victorian wedding dress. You can use this as a Victorian-style wedding dress, bridesmaid dress, or a fancy costume ball dress. Look through the Etsy shop for more styles, colors, and unique offerings from this designer, and remember to include extra time for shipping.
 Steampunk Wedding Dress

Steampunk Renaissance Wedding Dress
This dress is not strictly from the Victorian steampunk genre, but can be used for a Steampunk wedding dress. It can also be used for a Renaissance dress, costume ball, or bridesmaid's dress. This designer is based in Denver and has a wide selection of dress styles that are made to order. There are several close-up images of this dress on the product page. Click through for ordering instructions.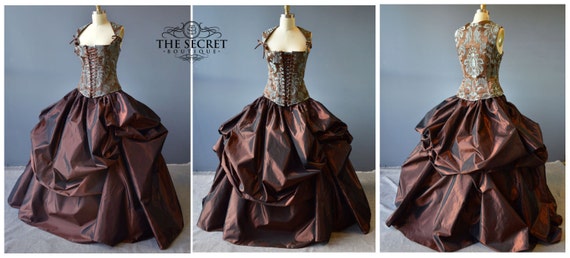 Steampunk Renaissance Wedding Dress

Steampunk Wedding Dress: Ivory and Blue
This lovely custom-made-to-order Steampunk wedding dress is more traditional in style. This designer is from Canada and that might delay shipping to the U.S. a bit, so make sure to add extra time to your order. Specializing in period gowns, this designer has a range of dresses that you can order for weddings or other steampunk or costume wear. You need to take exact measurements before ordering this gown.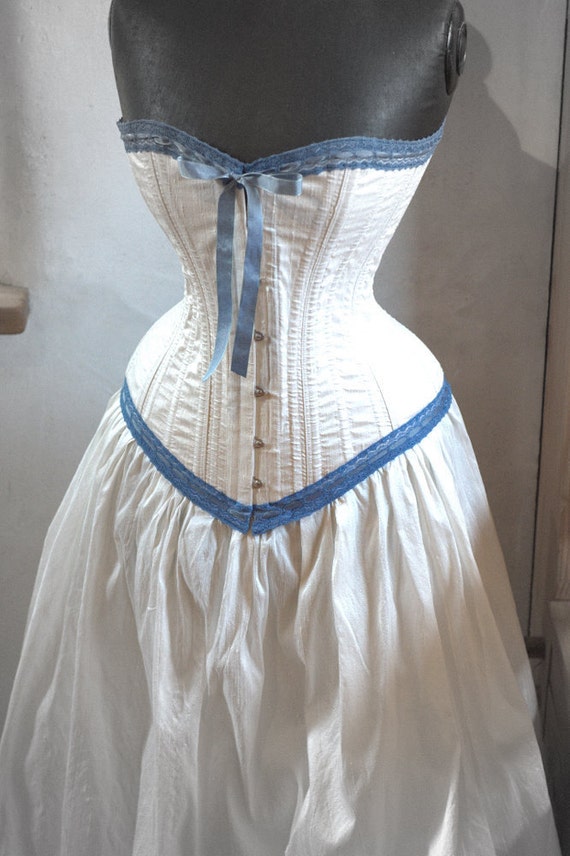 Steampunk Wedding Dress: Ivory and Blue

Fairytale Steampunk Cinderella Wedding Dress Custom
This fairytale steampunk Cinderella-style wedding dress is a lovely addition to your steampunk wedding. It is custom made-to-order by the designer in Minneapolis who specializes in wedding apparel in similar style. It is available in four colors and you can also order a matching jacket for church or an evening that is cooler. Click through for more detailed views of this fairytale gown.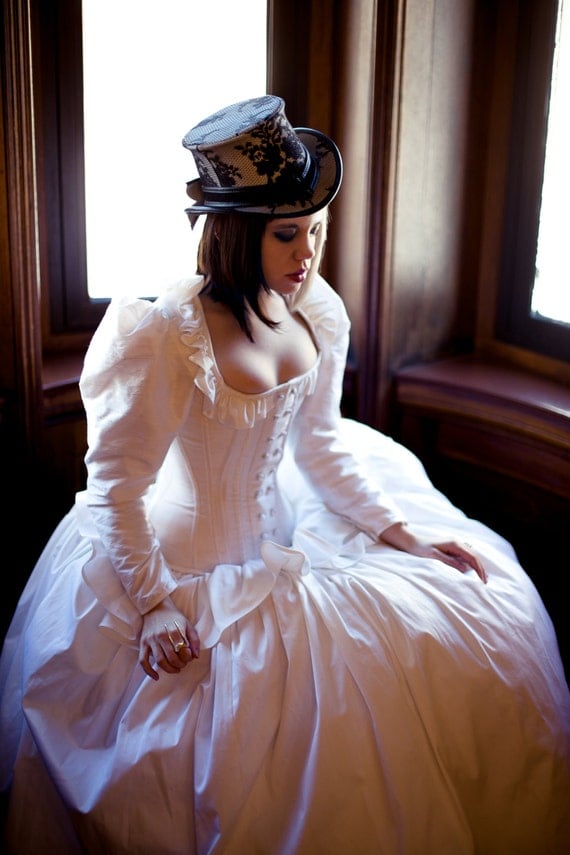 Cinderella Steampunk Wedding Dress Custom

Gothic Steampunk Wedding Dress
This Gothic wedding dress in black can be used for many occasions including as a bridal gown for a Steampunk wedding. The dress is a readymade, one-of-a-kind dress, so the dress you see in the photo is the dress you will receive.
 Gothic Steampunk Wedding Dress

Custom Size Ivory Steampunk Burlesque Corset Wedding Gown
This corset is made from a heavy patterned brocade. It has steel hooks up the front and a lace trim along the bust line. On the top corner of the corset are matching ivory-colored flowers. They are adorned with different shades of gold and bronze chains hanging from them. A few of the roses on the dress also have vintage-looking buttons in the center of the roses. The roses also scatter down the side of the skirting as well. There is a matching panel in the front to give full coverage. Click through for more details and sizing on this Steampunk wedding gown.
 Custom Size ivory Steampunk Burlesque corset wedding gown

Victorian Steampunk Wedding Dress
This elegant Victorian steampunk wedding dress is made from a lace bodice and tulle skirt. Each dress is made per order, and you can also click through to the designer's other creations in similar styles. It is a very feminine style that can be used for a Steampunk wedding or a standard wedding if the bride loves lace. This dress is more affordable than some others on this page because it is assembled instead of completely created from scratch. A great choice for a budget wedding and ships from Arizona.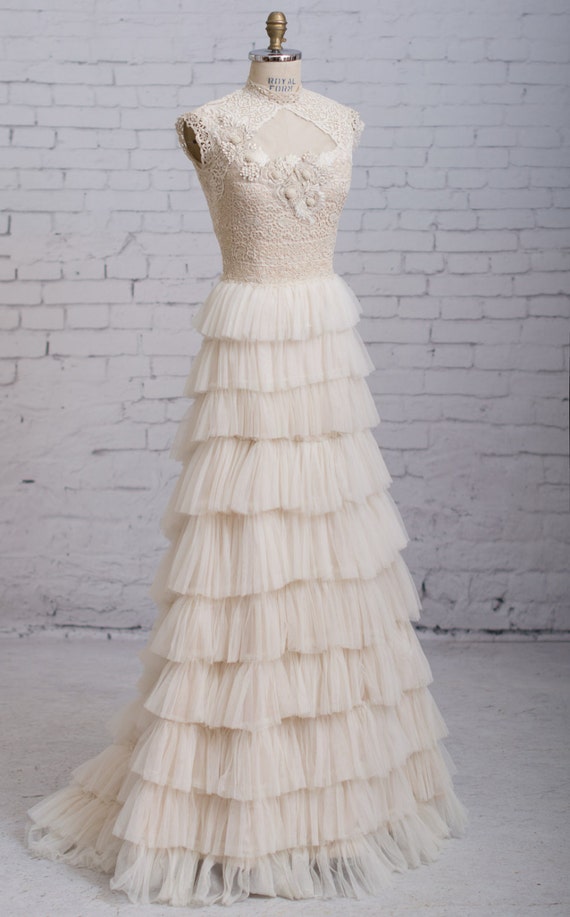 Victorian Steampunk Wedding Dress

Victorian Gothic Steampunk Costume
You'll be the belle of the Steampunk ball in this adorable costume. In front, it's a miniskirt, and in back, it's a mid-length fluffy Victorian bustle design. The bodice is a steel-boned fashion corset, complete with metal detailing, and drapey sleeves adorn the shoulders. Lace trim on every edge completes the look. You can order it in a variety of colors.
 Victorian Gothic Steampunk Costume

Creating a steampunk wedding takes a lot of planning and several unique elements. We will have more pages on this theme throughout the year. You can take a look at printable Steampunk wedding invitations here and standard Victorian-style invitations and cards here.
Steampunk Bridal Hats
A bridal gown is only complete with a hat or fascinator. Here is a selection of steampunk hats that you can add to any gown above. As you can see there are full-sized hats, mini top hats, and fascinators depending on your preferred style. You can click through any link to get the product information and color options.
 Steampunk Ladies Top Hat

 Grey Steampunk Fascinator

 Steampunk Wedding Hat

 Ivory Steampunk Wedding Top Hat

 Jet Black Top Hat

 Mini Top Hat, Peacock Feather

 Victorian Mini Top Hat with Veil

 Alice in Wonderland Mini Hat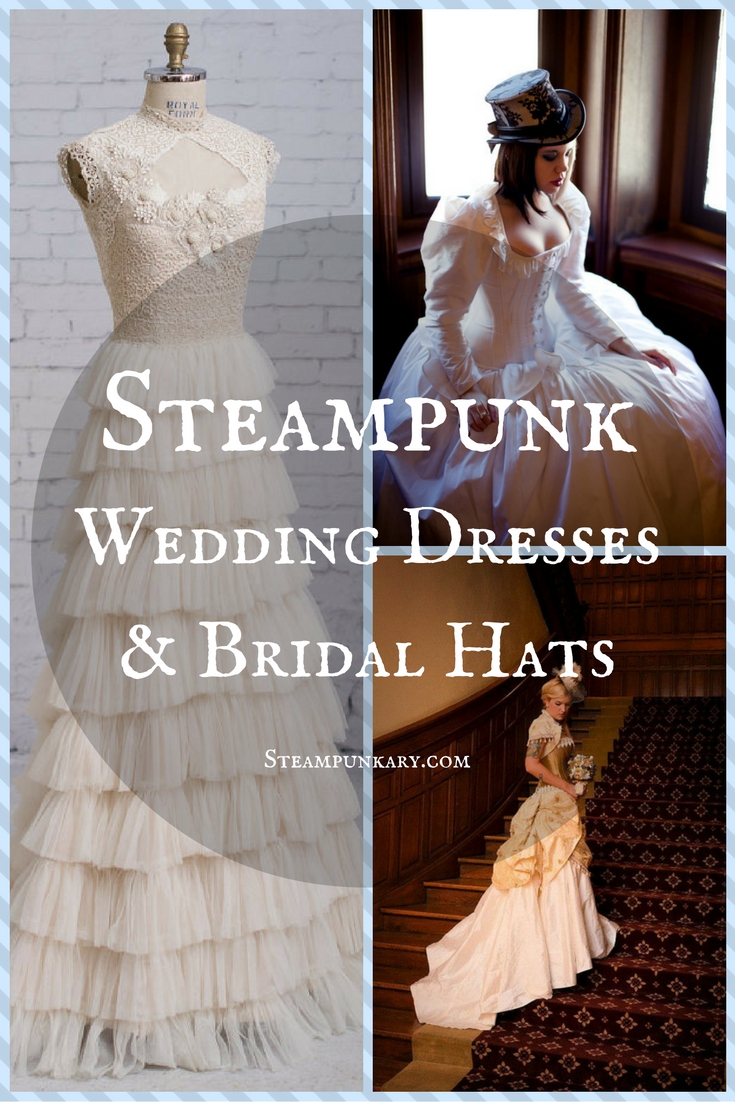 (Visited 14,126 times, 1 visits today)