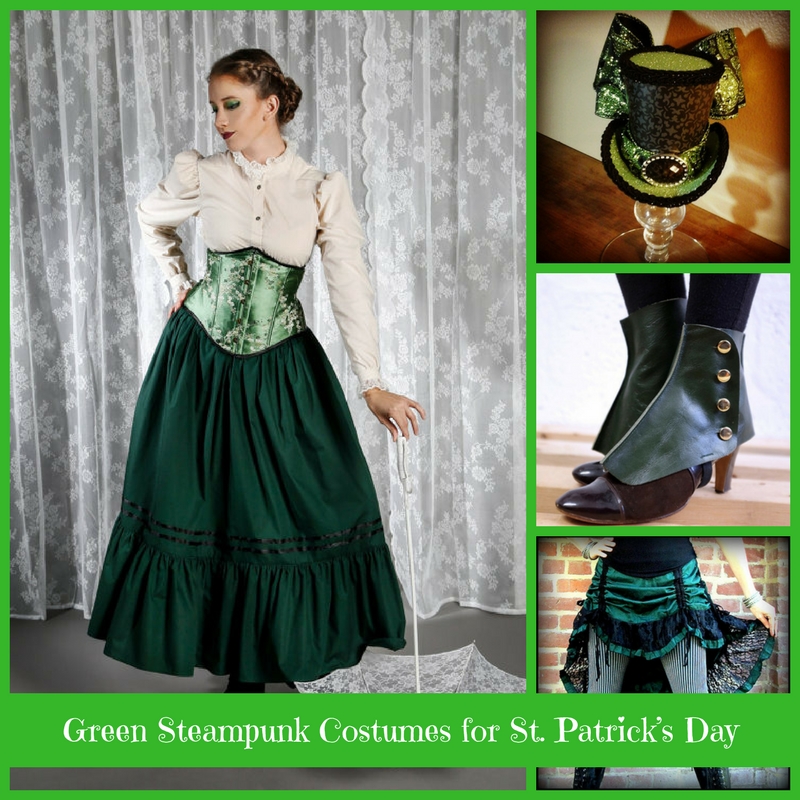 St. Patrick's Day is a day when we typically all wear green to show our Irish or honorary "Irish for the day" roots. Why not add some Steampunk flair to your celebration? Here we look at some lovely green Steampunk costumes for St. Patrick's Day. Not only are these garments perfect for this holiday, they also make a great addition to your steampunk wardrobe and are great for occasions such as Renaissance fairs.
Green Steampunk Skirt
This is a lovely green skirt made from polyester/cotton fabric and fusible interfacing, with a hook and eye closure. Skirt is ankle length and fitted at the waist with ruffles and black ribbon bands around the lower edge. Made to order and customizable. (Also offered in a variety of other colors.) Combine with tops, corsets or accessorize in a variety of ways.
Steampunk Bustle Skirt
This is a handmade bustle skirt made from a dark green silk blend fabric with black lace ruffles. Can be worn over other garments or hoisted into a poofy bustle in the back. Drawstring waist gathers over the back side. Comes in sizes S/M, L/XL. Super cute! Gives the figure a slim line through the waist and hips with a little extra fabric to fit over the backside. Design has darts in back and curves in the hip.
Steampunk Green Fairy Costume
This is a green corset costume that has a layer of black feathers sewn to the back. Made from green satin fabric with boning and a black lace overlay. Can be tightened or loosened using the laces in back. Features a beautiful sequined applique and hand beaded fringing at the top. Available in sizes small, medium, large and XL.
Green Striped Steampunk Skirt
Available in S/M or L/XL, this skirt is made from a dark green and black striped cotton fabric. Skirts falls to above the knee in the front and sweeps to a longer ruffled back. Lightweight and great for layering. Two wooden buttons accent the front piping. Looks great with sides tucked up for a great high/low look.
Green Paisley Waist Cincher
This is a pretty waist cincher available in sizes ranging from extra small to XXL. Made from a cotton duck cloth fabric in a green and blue paisley print pattern. Front has spring steel boning in the front for added stability and reinforcement of the grommets. Available in sizes small, medium and large. Makes the perfect accent to any Renaissance, pirate or steampunk costume. A unique and quality handmade piece.
Green Irish-Style Costume Overdress
These are handmade green overdresses that can be worn over a white chemise (not included). Medieval, Renaissance or Steampunk costumes can be turned into St. Patrick's Day costumes with this simple add. And you can reuse this for other costumes throughout the year, for cosplay or Halloween.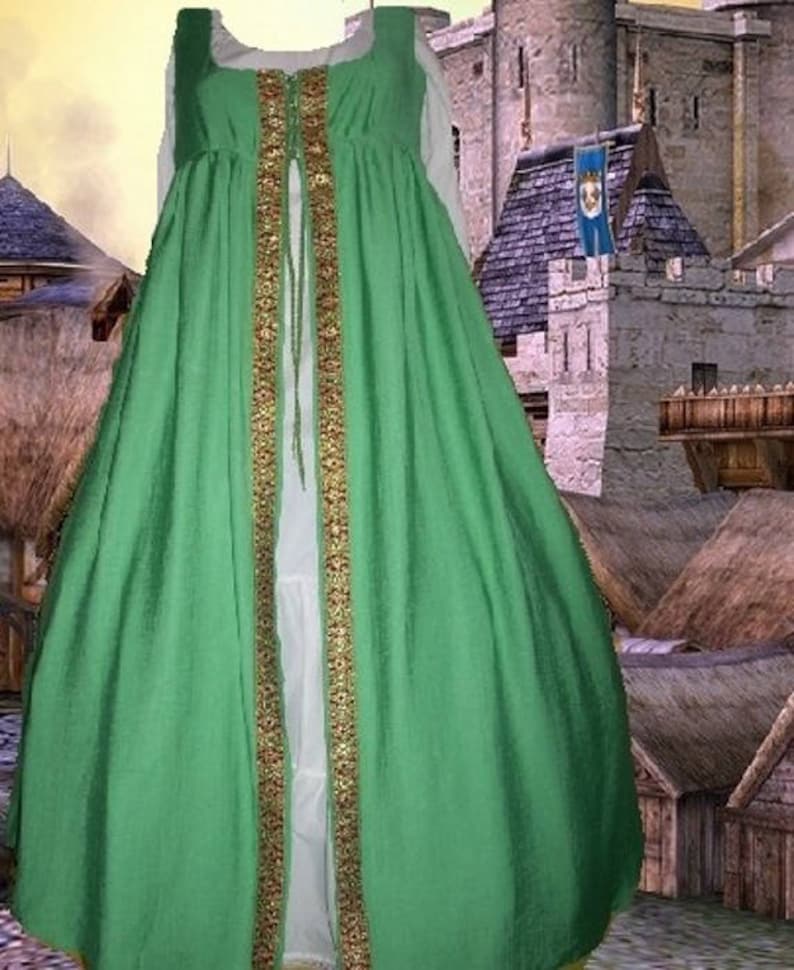 Renaissance Gown Medieval Costume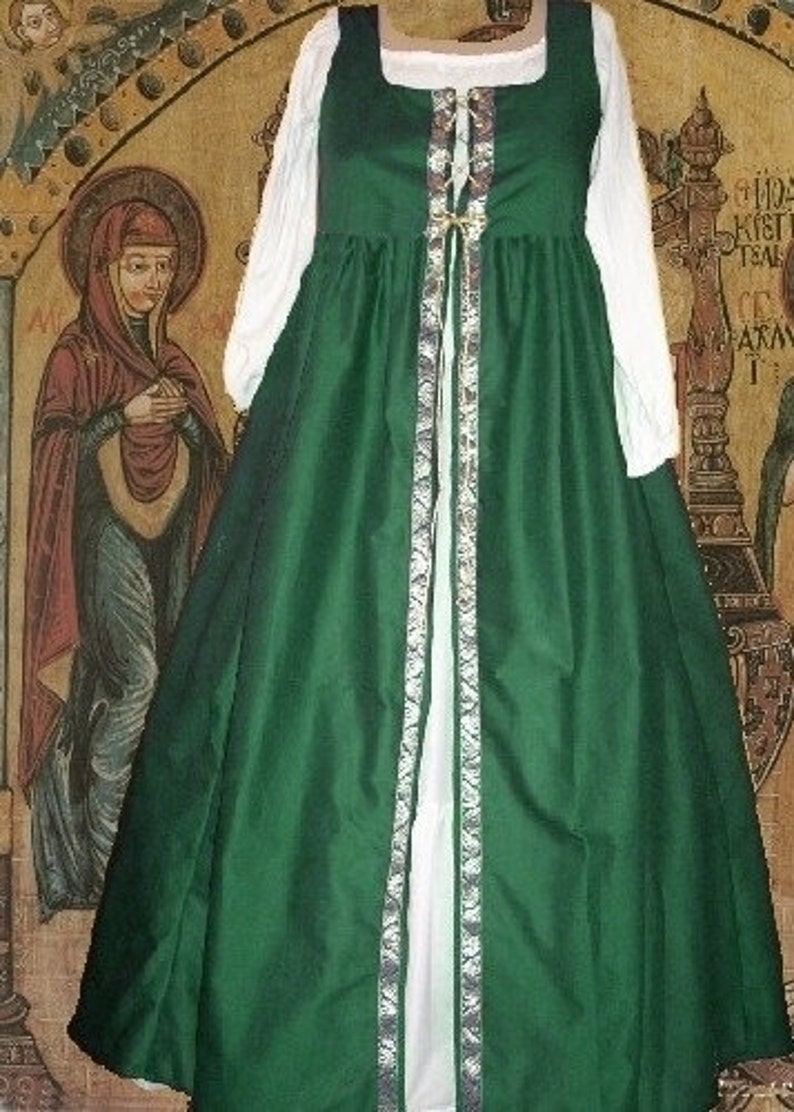 Medieval Gown Renaissance Costume Overdress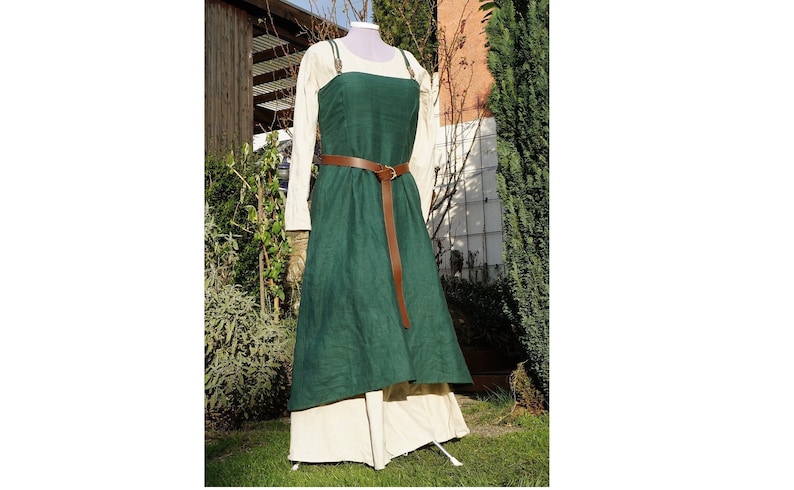 Viking Hangerock Apron in Green Overdress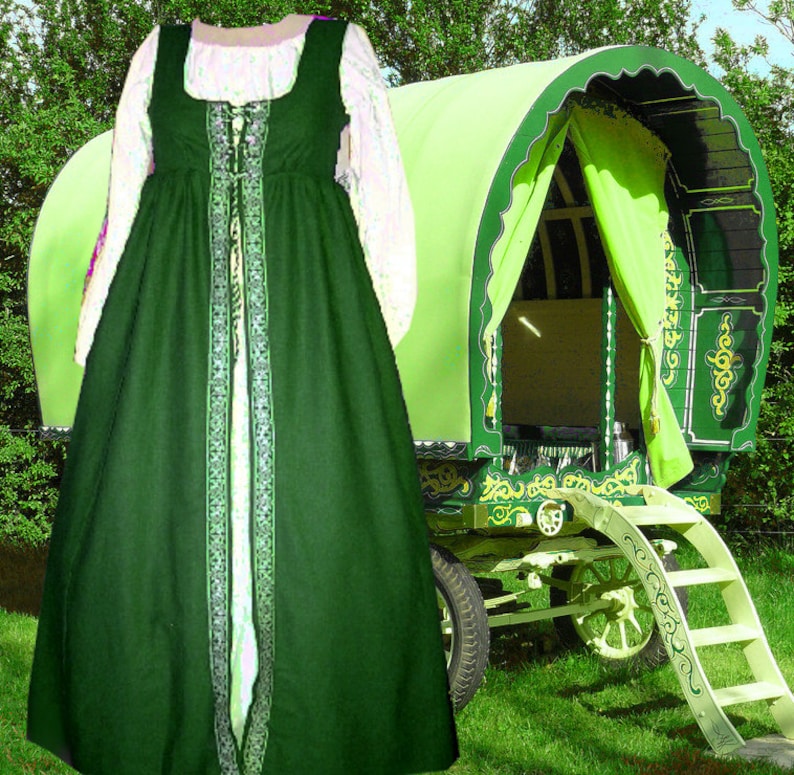 Green Irish Style Overdress

Dress two-piece medieval green

Green Chemise Corset Outfit
This is a four piece costume that comes with a peasant chemise blouse, corset belt, skirt, and choker. Blouse has long bell sleeves and can be worn on or off the shoulder and is made from a silky cotton blend. Skirt is all cotton and hand dyed, with elastic and drawstring waist. Full enough that no petticoat is needed.
Upcycled Steampunk Jacket-Army Green
Upcycle this Army shirt/jacket for St. Patrick's Day or browse through the selection of other vintage U.S. Army clothing to use for a Steampunk St. Patrick's Day costume. You can use them as-is or upcycle them with your own additions or accessories.
Real Leather Spats – Green
These handmade spats will look great over your shoes or boots. Made from soft leather and elastic, with decorative button accents. Super cute Victorian look or great for getting into the St. Patrick's Day spirit of things.
Green Plaid Polka Dot Mini Top Hat
Cute little handmade top hat measures about three inches tall not including the height of the accent pieces. Trimmed nicely with matching ribbon, and a tall white feather accent piece for an extra eye catching touch make this a great decorative accent to wear for a steampunk theme or the perfect St. Patrick's Day hat.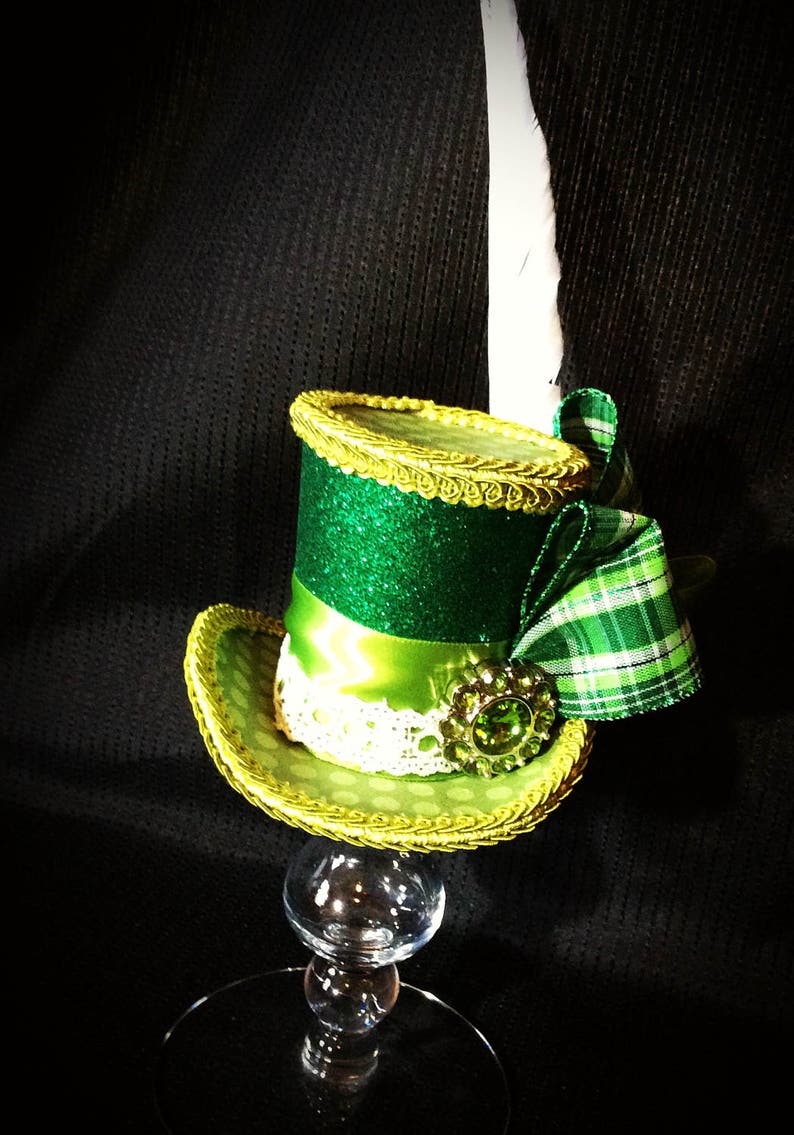 Green plaid polka dot and glitter mini top hat

Victorian Pirate Costume
This is a four-piece costume in an extra small size. Includes a green-lined jacket with vintage buttons, bloomers, cravat and jacket. Jacket is decorated with lace, pearls and bows. Super cute and perfect for a steampunk style St. Patrick's Day outfit. Cravat is white lace with a small green bow tie and jacket has white lace frilly sleeves at the bottom. Bloomers are solid white with green lace at the waistband and green ruffles at the hemline that peek out from the jacket.
Victorian Pirate Dress or Irish Dress
Handmade two-piece Medieval, Woodland fairy or Renaissance faire costume in green linen and vintage undergarment in cotton. Green linen dress and long white cotton underskirt. The dress has boning and laces up the back; it includes vintage underskirt. Great for St. Patrick's Day.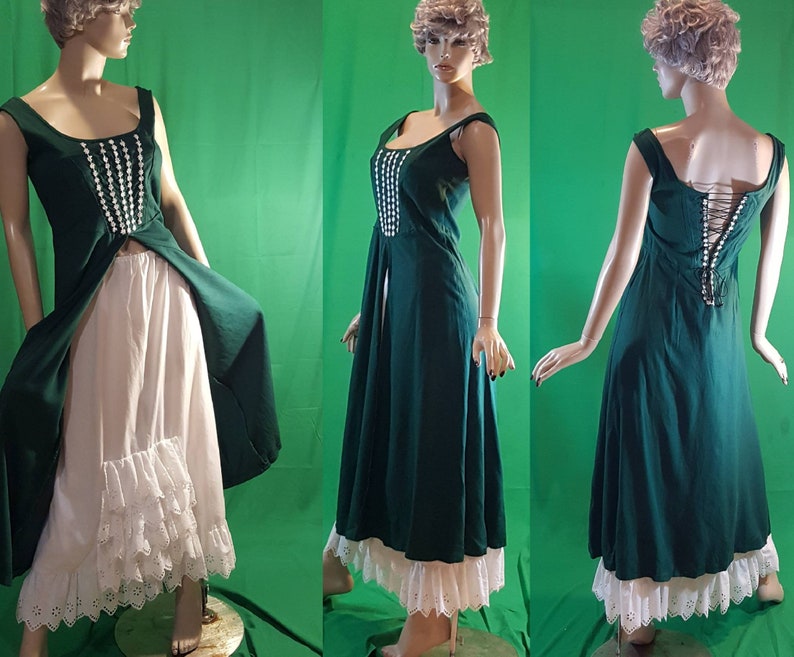 Green linen Renaissance dress with under skirt / Irish costume

Green Underbust Corset Waist Cincher
This is a handmade item made from faux leather,metal grommets, and cotton laces. Sits above the waist in the middle of the "hourglass" for a slim and sexy look. Fits waist sizes from 26 inches to around 33 to 34 inches.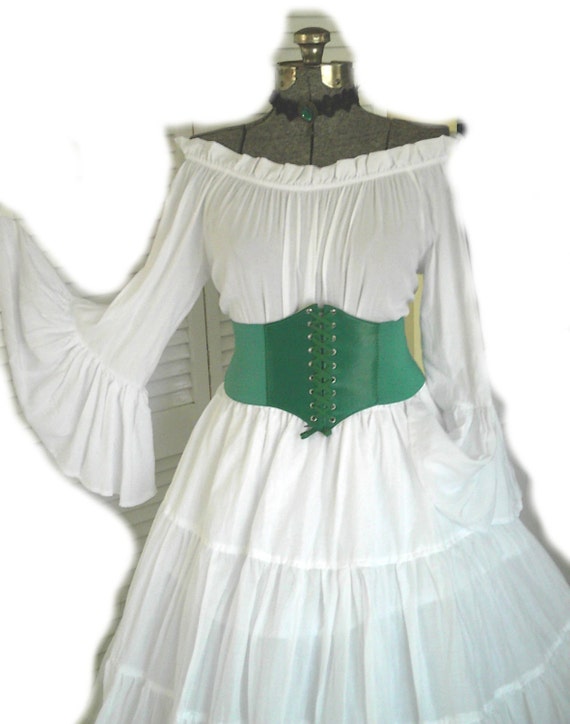 Green Underbust Corset Waist Cincher

Hunter Green Top Hat for St. Patrick's Day
Here is a wonderful TALL Steampunk Top Hat. The top quality wool hat base in hunter green is hand-decorated and completed with embellished goggles. This hat would be a great finishing touch for a Steampunk costume or St. Patrick's Day.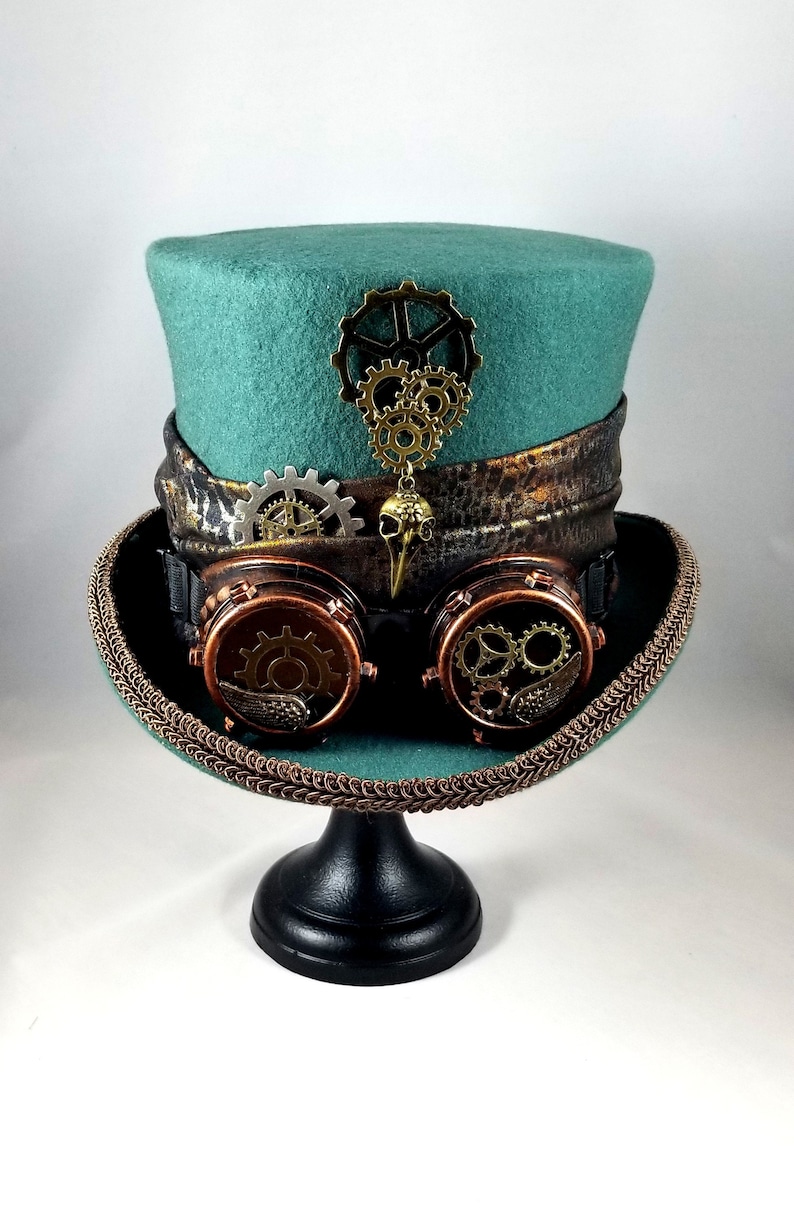 Hunter Green Top Hat for St. Patrick's Day

Pin It for St. Patrick's Day
Love these ideas but don't need them right now? Pin this image below to Pinterest for later.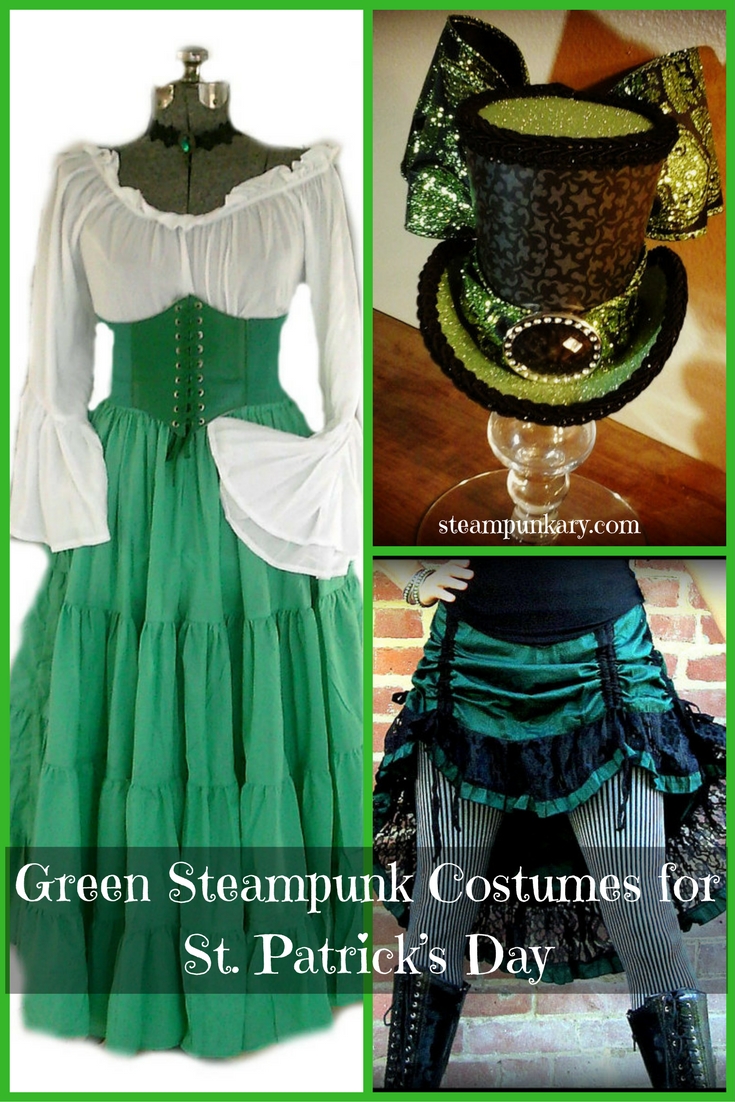 (Visited 993 times, 1 visits today)