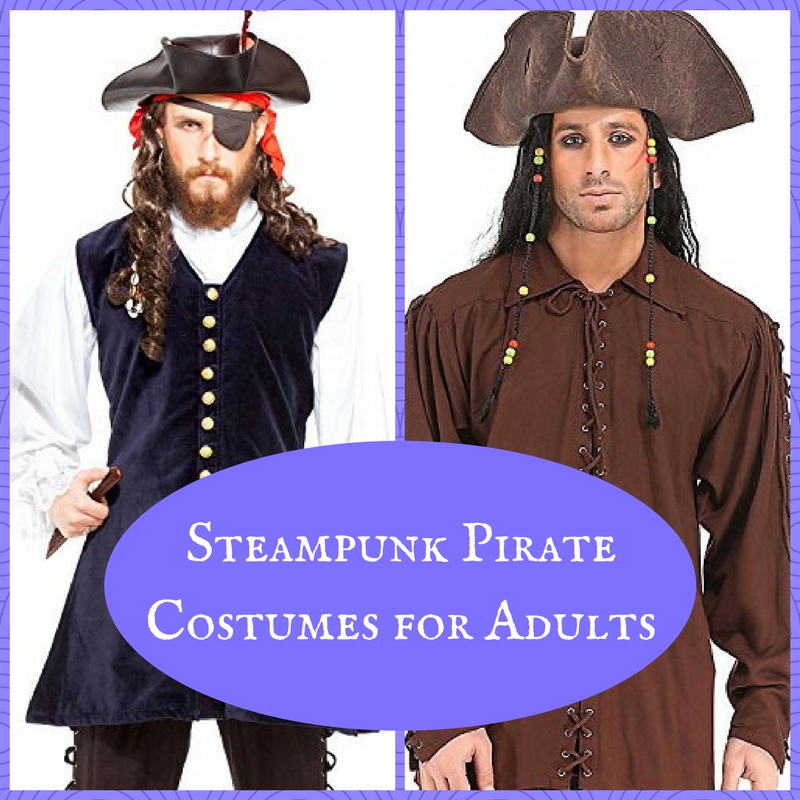 Updated for 2019
So, you're looking to let the ill-mannered scallywag in you take over for a night huh? Let me tell you one thing; it doesn't matter if it's Halloween or there's a costume party. Call me crazy (I dare you), but I don't need an occasion to bust out my pirate gear – and neither should you. But just in case you're a swashbuckler looking to wow the ladies with your rugged yet stylish getup, you've definitely come to the right place. We've scoured the seven seas in search of the best steampunk pirate costumes for Steampunk Halloween, Cosplay or LARP. Hope you have as much fun as I did in this killer garb.
Jack Sparrow Pirate Costume Coat
If you're as old… er, I mean as seasoned as I am, then you no doubt remember the most famous pirate of all time – Captain Hook. But that was literally decades ago. Since the first release of Pirates of the Caribbean, there's a new sheriff in town; and that's the daring, dastardly and incredibly lucky Jack Sparrow. Now, Jack's coat is more than a costume; it's a symbol of Sparrow's authenticity, courage, experience, and lady-killing handsomeness. Boasting of original, rustic cotton fabric construction, full linen lining, functional side pockets and authentic, worn-out wooden buttons, being bad never looked so good.
Jack Sparrow Pirate Costume Coat
Pirate's Large Linen Sash in Red
If there's one thing I know about a good sash, it's that it can turn a simple get up into a genuine pirate outfit. This Pirate's Sash is not only flexible, but it can also be used in a wide range of styles. At a length of 144 inches and 10 inches in width, it's actually long enough to wrap around your waist twice. The sash is woven from soft linen fabric which makes it super light and comfortable to wear. But what really grabbed my fancy was the unfinished and torn edges that give the sash that rustic and original pirate look. So if you're looking to polish off your current pirate costume, this is the ideal way to do it.
Pirate's Large Linen Sash in Red
Steampunk Victorian Admiral Bartholomew Pants
Bet you didn't know that there were platoons of Indian pirates back in the day, did you? Inspired by the Jodhpuri style Indian trouser, these Steampunk Victorian Admiral Pants feature the classic ballooning at the hips design with a nicely fitted waist. The pants are made from a rayon polyester blend and incorporate buttons that keep it in place from the calves to the ankles. To top it all off, the manufacturer was thoughtful enough to include side buckles for convenient waist adjustment.
Steampunk Admiral Bartholomew Pants
Steampunk Pirate Shirt Costume
If this is your first time going all steampunk, nothing beats the style and simplicity of a pirate shirt. This masculine Steampunk Pirate Shirt comprises of the richest, thickest Rayon fabric that keeps you warm during late night excursions. But that's not the best part; you just can't help but fall in love with the design that features eyelets and drawstrings on the sleeves. And once you're done getting down and dirty, just pop it in the washing machine for quick cleaning.
Pirate Captain Worley Vest
Hey, even pirates need a jacket every once in a while. Featuring a satin lining and the perfect cut, this Captain Worley Vest is made from 100 % cotton and is available in a rich, deep navy blue. The full-length, shiny metal buttons immediately grab your attention even before you can appreciate the mid-thigh fit. Definitely a jacket vest worthy of a scallywagging swashbuckler.
Pirate Captain Lowther Coat
Okay, hands up if the feeling of smooth velvet on your skin does unspeakable things to your body. What, so it's just me? No matter, this Pirate Captain Lowther Coat Jacket will make you fall in love with its silky smooth red velvet and satin lining that just glides sensually on your skin. The coat features the typically large pirate bell cuffs that let you hide a few aces up your sleeves and metal buttons from the neck all the way to the waist. What's more, the metal buttons accentuate the functional pockets while keeping the cuffs in place.
Pirate Captain Nathaniel Coat
Here's a jacket that a hardy pirate would love in the dead of winter. The Pirate Captain Nathaniel Coat Jacket is made with the plushest cotton velvet with a silky satin lining that's soft to the touch. The metal buttons running along each side help add an element of steampunk fashion.
Steampunk Victorian Inspector Ebeneezer Vest
The name says it all; the Steampunk Victorian Inspector Ebeneezer Vest is so stunning and well put together that it's sure to turn heads. Boasting of incredibly high-quality brocade with soft satin lining, this Gothic vest will make any man look classically dapper. With buckle and back strap for adjustable fitting, this sleeveless vest is the perfect addition to your cosplay outfit.
Steampunk Victorian Inspector Ebeneezer Vest
Poet's Pirate Patrickson Shirt
Sun's up, tide's high, and it's time to let a little wind under your shirt. The Poet's Pirate Patrickson Shirt Costume also boasts of thick and rich Rayon viscose fabric that feels great on your skin. And just like the original pirates, it features a long drawstring with loops at the front and on the sleeves for a personalized fit.
Poet's Pirate Patrickson Shirt
Pirate Costume Harem Pants
Never has a pair of pants felt so free and so right. The Pirate Costume Harem Pants comprise of rich Rayon fabric that is both comfortable and breathable. In addition to the broad hips and buttoned down ankles, it incorporates an elastic band and drawstring for easy wearing and fitting.
Gothic Frilly Ruffled Pirate Costume Satin Shirt
You know what rhymes with Punk? It's dark, black, sinister, and basically anything mysterious. If this sounds like you, then you'll definitely love the Gothic Frilly Ruffled Pirate Costume Satin Shirt. Nothing says dangerous pirate like sleek and shiny black polyester satin fabric with long cuffs and rugged drawstrings and eyelets for that perfect fit. You can also get it in a broad range of colors for more vibrant events.
Gothic Frilly Ruffled Pirate Costume Satin Shirt
Pirate Frock Costume Coat
Admit it guys; you've all wanted to wear a frock since you were tiny scallywags, haven't you? Well, check out this fully decorate cotton velvet coat with golden lace and fully functioning gold buttons of a dark velvet background. You guessed it; I'm talking about the Pirate Frock Costume Coat. Even the pockets are functional for when you want to stash some extra loot.
Pirate Costume Pants
It's no fun when you show up to the drinkery in a pair of jeans. Rookie mistake man! C'mon, everyone knows that bar wenches don't know how to work zippers or Velcro. What you, my friend, need is the Pirate Costume Pants. These Viscose pants are loosely fitting all the way to the knees for easy times and come with an elastic belt so you don't lose them in case of a scuffle. What's more, they're fitted with eyelets and cords below the knees for that bad boy, pirate swagger.
Norrington Commodore Pirate Costume Vest
Yeah yeah, we all hated the Commodores. But goddamn these bastards can surely pull off a sophisticated look. If you want to show up with your very own air of authority, power, style and damn near awe-inspiring fashion, now you know how to do it. Get yourself the Norrington Commodore Pirate Costume Vest with premium metal buttons, intrinsic lacework, full satin lining and functional side pockets for your timepiece and compass.
Norrington Commodore Pirate Costume Vest
Steampunk Gothic Victorian Chrononaut Coat
Who says you can't be a gentleman just because you're a pirate? If you're all about that clean and posh charm, then you'll be needing your very own Steampunk Gothic Victorian Chrononaut Coat. This beauty combines the adventurous steampunk style with faux leather trim and ultra heavyweight fabric to create the perfect evening garb.
Steampunk Victorian Chrononaut Coat
Norrington Commodore Pirate Costume Coat
If you're looking to go full out anti-pirate, declare your stance proudly with the Norrington Commodore Pirate Costume Coat. Featuring 100 % cotton fabric, premium, prominent metal buttons, same intrinsic lace work as the originals and fully functioning pockets, this coat is the ideal match for a person of authority, power, responsibility, and confidence.
Norrington Commodore Pirate Costume Coat
Pirate Ruffled Seinfeld Puffy Shirt
You can't confidently call yourself a pirate if all you have under your coat is an I love NY t-shirt. Tradition calls for sporting the Pirate Ruffled Seinfeld Puffy Shirt that displays your dedication through and through. Featuring the classic hanging frills and elasticated sleeves, this Rayon viscose shirt is sure to last for many, many a scurvy escapades.
Pirate Ruffled Seinfeld Puffy Shirt
Pirate LARP Costume Basic Tunic
Let me tell y'all one thing; you haven't truly lived until you've spent an entire week in a Tunic. And not just any old garb; I'm talking about the Pirate LARP Costume Basic Tunic. You have no idea how freeing and liberating this loose-fitting garment can be, and since it reaches the mid-thigh, why not ditch the pants and let things swing around a bit. I promise, you're going to love the sandy beige exterior with embroidered chocolate brown trim and a rugged hemline.
Pirate LARP Costume Basic Tunic
Pin This Page for Later to Bookmark It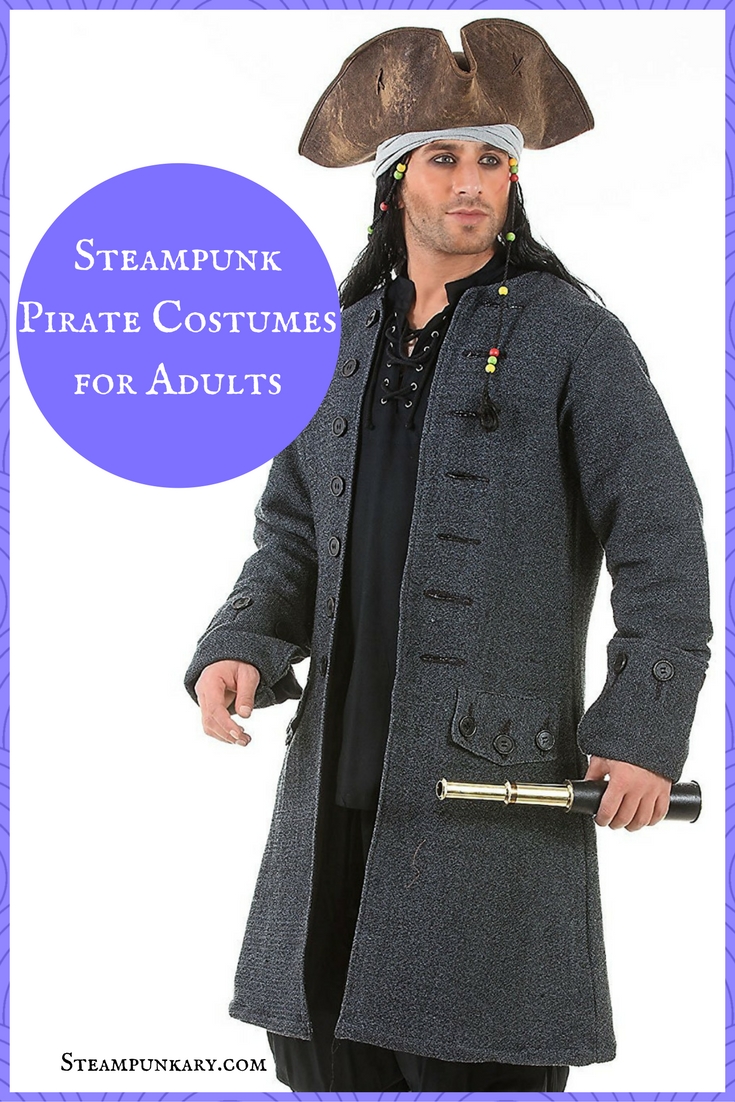 (Visited 2,501 times, 2 visits today)