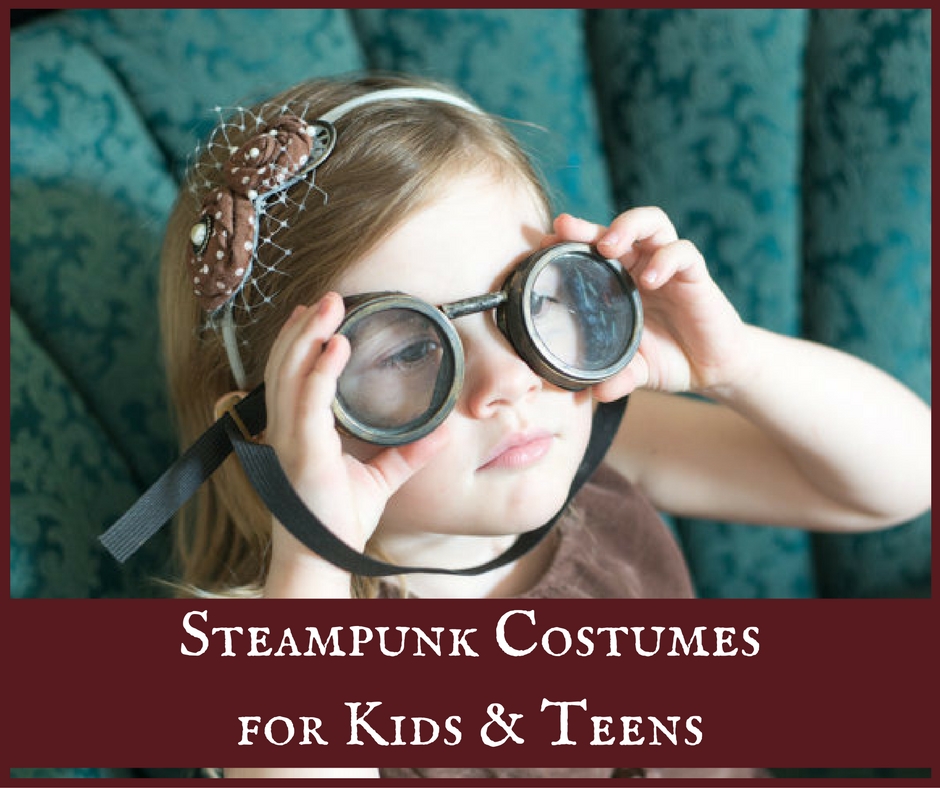 The Steampunk genre has branched out to become much more than futuristic science-fiction type movies and novels. These days, you can find the Steampunk style in everything from fashion to scrapbooking supplies, from jewelry to home decor. Many people enjoy dressing up in retro Victorian-style clothes for Steampunk parties and events, as well as for Halloween and Cosplay fun.
Updated for 2021
Now, the Steampunk style is not only for adults to enjoy, but costumes are being made for children and teens as well. Here we look at some fun pre-made costumes for kids and teens, as well as a few do-it-yourself ideas for Steampunk child and teen costumes.
Kids' and Teens' Steampunk Costumes for 2021
With the Halloween season starting, we have found some new Steampunk kids' and teens' costumes for this year. Don't forget that there are kids' costumes on our other pages including the Victorian Nanny Costume and Sherlock Holmes Costume pages. The selection below for 2021 offers a lot of diversity. See what you think:
 Edison Vest for Boys
 Girls Mad Haddie Costume
 Kid's Victorian Steampunk Frock Coat
 Amelia the Aviator Costume
 Bird Mask with Cloak
 Newt Scamander Costume
 Fantastic Beasts Newt Costume
 Girl's Victorian Steampunk Lady
 Girls Steampunk Circus Costume
Child Top Hat
This black hat can serve as an essential piece for any child's Steampunk costume. This is a super cute black top hat made from polyester fabric. Item can be hand washed and comes in a one-size-fits-most. Makes a great gentleman's outfit accessory, or add a feather or flower for a girl's Steampunk costume.
Steampunk Girl Tween Costume
Available in tween sizes large and extra-large, this costume includes a velvet top-dress with buckle details, lace-up glovettes, top hat with scarf, and Steampunk goggles. The dress falls several inches above the knees and is a dark burgundy color with white trim. Short sleeves a ruffled and trimmed in white, while the bodice section of the dress is a two-toned brown checkered pattern. Three buckles go across the bodice area and two buckles gather the skirt in the front of the dress. The top hat is similar to a "Mad Hatter" style and laces up with a white scarf wrapped around it. Cool Steampunk goggles are worn over the brim of the top hat for a great look. The lace-up glove color matches the hat and dress. Add boots and a petticoat skirt for the perfect costume.
Deluxe Child's Contessa Costume
This costume is available in toddler size, and child's small, medium, and large. Costume includes the dress and jabot with stand-up collar and mini top hat. The skirt portion of the dress is layered in black materials, with a reddish-pink bow on each side. The bodice of the dress is a reddish-pink color with gemstones and chain accents and purple and white lace accents. Short sleeves are white and puffy and are trimmed in black. The jabot is white and provides an ornamental ruffle at the neckline. Gold broach with purple gemstone accents the jabot. The mini top hat is black and has a red and white polka dot ribbon and bow around the brim and is topped with a cute little black and purple bat accent pick. Perfect for Halloween or Cosplay fun. Pair with black shoes, black tights, and a black ruffled parasol for a perfect Steampunk look.
Steampunk Fashion Girl Tween Costume
This costume is available in sizes small, large, extra-large, and one size. Costume includes dress with attached petticoat, goggles, fingerless gloves, broach, buttons, and chains accent. The bodice of the dress is white and gray striped with short, ruffled sleeves. The sides of the bodice are blue with two leather straps buckled in the center of the bodice. The skirt of the dress is white on the top portion on either side, with a peach-colored piece in the center trimmed in white. The lower half of the dress is blue with bronze-colored Steampunk gears gracing the left side of the skirt panel. The dress is higher in front, coming a few inches above the knees, and lower in the back. The broach is peach and black with a metal-looking buckle accent in the middle. Fingerless gloves are blue. Goggles are gold and black and perch on the side of the head like a charming hairpiece. Add boots and a staff for a great Steampunk look.
Girls Steampunk Fashion Costume
Girls Victorian Vampira Costume
This Victorian Vampire costume offers a Steampunk touch to a traditional Halloween costume. Made of 100% polyester fabric, this pullover dress has lace sleeves with shoulder drapes, a peaked hemline, and a foam collar. The lace-covered front inset panel is edged with a silver braid and ruffled netting. It has a self-fabric waist which ties for a proper fit.
 Girls Victorian Vampira Costume
Amelia Earhart Child Costume
Amelia Earhart is a great female hero for girls to wear. This Amelia Earhart Costume looks like it came straight out of the history books. The top is modeled on a leather bomber jacket from the 1930s, and the goggles and headpiece are reminiscent of gear worn by pioneering aviators like Ms. Earhart herself. Light brown breeches and a scarf round out the attire.
Easy Steampunk Clothing and Costumes
This is a video that gives tips for Steampunk costumes and accessory ideas for men and women, which could easily be followed to create children's or teen costumes as well. Ideas are given on how to create Steampunk goggles, tips are given for choosing accessories like pocket watches and making fantasy medals, and ideas for using clothing you already have or could easily find at a thrift store to create Steampunk outfits are shown.
Steampunk Goggles
Use these great handmade goggles with virtually any Steampunk costume for either gender. Wear on top of an aviator-style hat, around the brim of a top hat, or on the side of the head for girls. Makes a great costume accent.
Pilot Aviator Fleece Warm Hat with Earmuffs
This is a cute cotton blend fabric hat with soft goggles and aviator-inspired detailing. Fits most children in the age range of 2 to 5 years. Available in brown or black colors. Pair the hat with a scarf and leather or aviator-style jacket for a cute Steampunk look that will also keep them warm on a chilly Halloween night.
 Pilot Aviator Fleece Warm Hat
Mini Blue Lace Top Hat
This lady's mini top hat could easily serve as a girl's hat as well. Features fancy lace and sequins in black on a deep blue hat. The hat has two beret-style clips on the bottom to secure to the head. Combine it with a lacy skirt, puffy white lace blouse, and vest for a cute girl's Steampunk look.
Love This Idea But It's Not for Right Now?
Save this image on Pinterest to remember to come back to it later.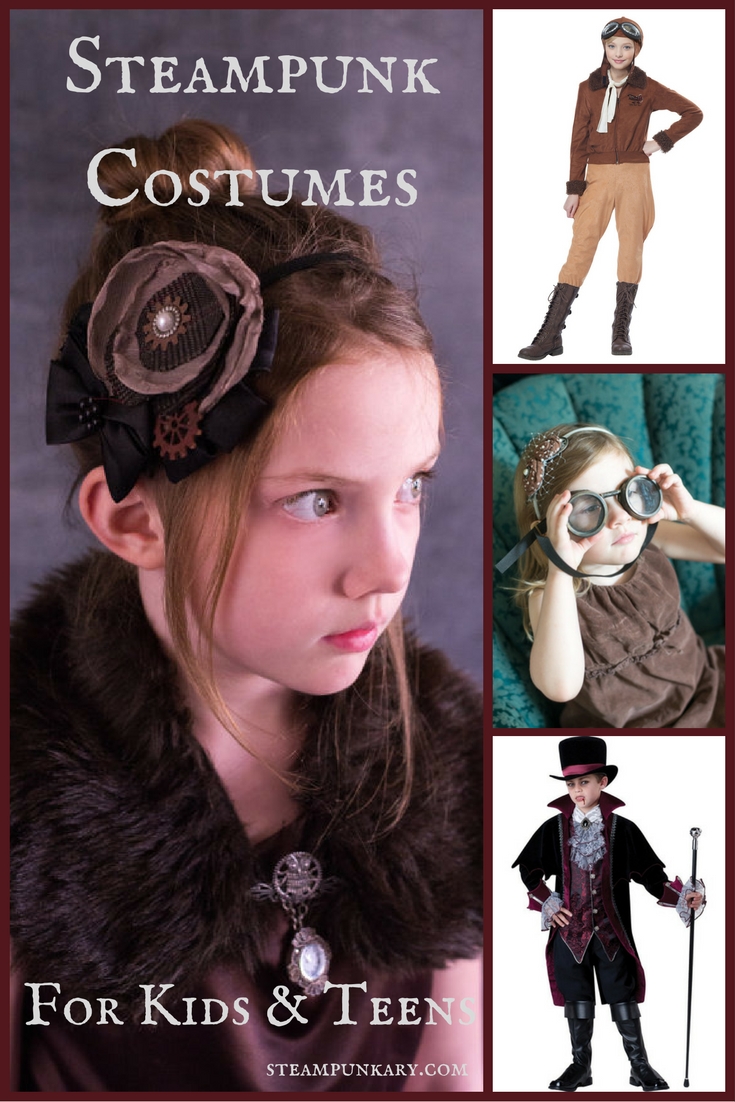 (Visited 17,432 times, 3 visits today)