Updated for 2019
Steampunk fashion combines elements of the Victorian era and a post-apocalyptic era, making it both retro and futuristic at the same time. While the women's Steampunk styles often feature corsets and full skirts, then men's Steampunk fashions are equally trendy. Here we take a look at some pieces such as coats, waistcoats, shirts, and trousers that make up the popular Steampunk fashions for men.
Black Steampunk Waistcoat for Halloween
This great Steampunk waistcoat is black in color and available in men's size ranging from extra small through 3XL. A tailor made option is also available. The sleeveless vest is made from jacquard fabric and features a collar that lies flat, two pockets near the chest area, and two pockets closer to the waist. Eight antique gold colored buttons (four on each side) grace the front of the garment. Back of garment has straps and a buckle to adjust fit. The perfect staple item for any men's Steampunk wardrobe.
Full-Length Men's Steampunk Coat
This all black Steampunk full length coat is offered in men's sizes from XXS through 3XL, along with custom made tailoring options. The coat features jazz cloth, round collar and cuffs, slit pockets, and button closure. It is a single breasted design that falls to a few inches above the knee. Creates the perfect Steampunk look when combined with trousers and a waistcoat.
Camel Cotton Fabric Men's Steampunk Trousers
These fashionable trousers are available in sizes extra small through XXL. Custom tailor made option is also available for an additional charge. Pants are made from cotton and have a hidden zipper and button closure which is concealed by a placard of fabric embellished with buttons. Back of pants has an adjustable strap. Light tan color works well with black jackets or many of the other popular Steampunk colors.
White/Black Stripes Cotton Long-Sleeve Steampunk Shirt
This shirt comes in men's sizes extra small through XXL. Tailor made custom option is also available. Shirt is made from a cotton and polyester blend and features a dress collar, buttoned cuffed sleeves, and button down closure. This is a versatile shirt as it could also be worn as a part of dress up or business attire not related to Steampunk fashion.
Trendy Crimson Swallow-Tailed Steampunk Coat for Men
This great looking crimson colored coat comes in sizes extra small through XXL and can also be tailor made. Overcoat is made from gabardine in an attractive burgundy color. Tuxedo style, this swallow tailed coat has a fashionable collar that is part burgundy and part black. Front of double breasted coat reaches to the waist, then longest part hangs down in the back, reaching close to knee length. Last several inches of long sleeves are black and each side of front of coat features four black buttons on each side. A very stylish coat to pair with a Steampunk waistcoat and trousers.
Cool Black Cotton Men's Steampunk Trousers
Pants comes in sizes extra small through XXL and also are offered in a tailor made option for a small additional fee. Trousers are made from corduroy fabric and have a button and zip closure. Features extra buttons for period-style suspenders and an adjustable strap in the back. Decorative antique brass colored buttons run along entire waistband. Makes a great essential piece for any Steampunk wardrobe.
Floral Jacquard Double-Breasted Steampunk Waistcoat
This is an attractive coral/orange colored waistcoat in a floral jacquard. This sleeveless vet style is double breasted and features two pockets near the chest area and two nearer to the waist. Decorative silver buttons in two rows of four grace the front of the vest. Waistcoat can be ordered in sizes ranging from XXS to 3XL. Tailor made customized option is also available for this garment. Back of vest has a strap with a buckle that can be used to adjust fit.
Handsome White Cotton Long-Sleeve Steampunk Shirt for Men
This shirt is made from a cotton and polyester blend and has a dress collar and button down closure. Comes in men's sizes extra small through XXL. Could also be used as a regular dressy shirt or as part of a business ensemble in addition to Steampunk. This is a solid white button up shirt with a button up standing collar.
Steampunk Costumes and Clothing for Serious Cosplayers
If you are serious about your Steampunk costume, here are more unique pieces from Milanoo. They have a wide selection for men which is hard to fine elsewhere. Click through any of the links on this page to browse through their Steampunk and Victorian clothing. They also carry more standard costumes or costume bundles.
Gray Cotton Steampunk Trousers

Steampunk Faux Leather Vest

Gothic Pant Hip Holster

Steampunk Men's Waistcoat

Steampunk Shirt White Ruffle

Retro Steampunk Goggles

Men's Steampunk Waistcoat

Steampunk Vest Gothic

Steampunk Pants Halloween

Gothic Steampunk Coat

Pin This Image to Pinterest to Save This Page for Later
Not ready to buy your clothing or costume yet? That's okay, just pin this image to Pinterest to remind you later on.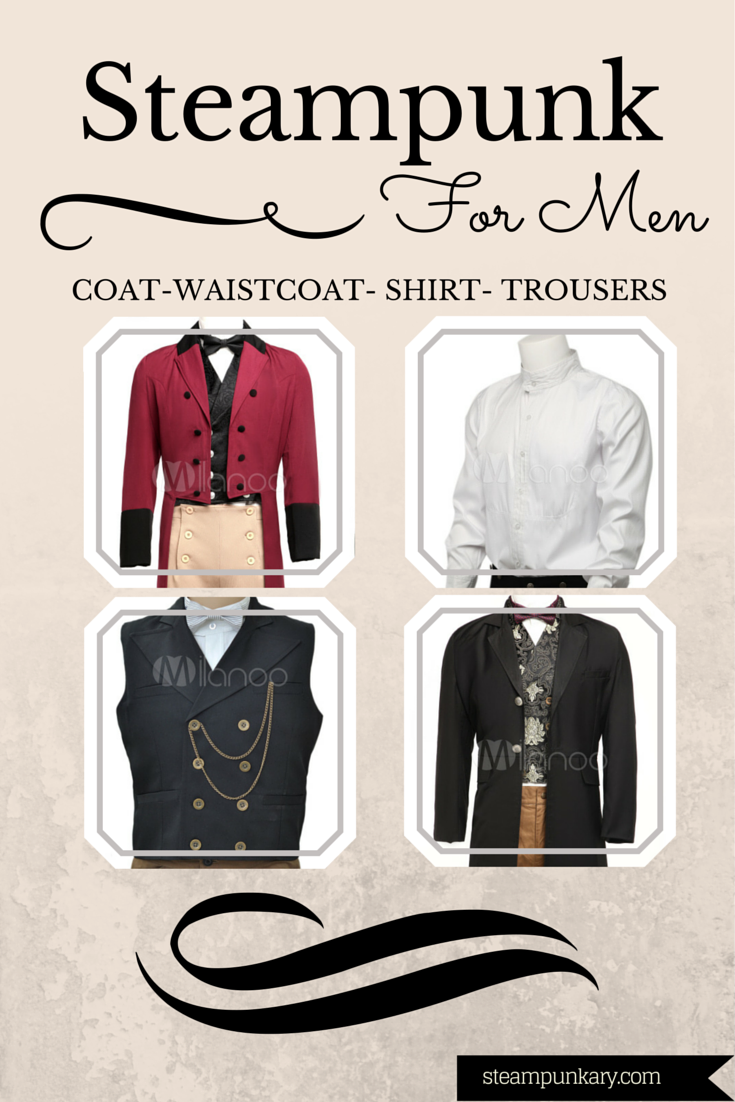 (Visited 2,415 times, 1 visits today)