It's not always easy to find Steampunk costumes and clothing for wearing to work or an event for St. Patrick's Day. That's why we decided here at Steampunkary to search Amazon for Steampunk apparel that you can wear for Saint Patrick's Day, and then wear throughout the year for cosplay or add it to your regular wardrobe. While many workplaces now allow for casual wear, there are still some that don't. So some of these St. Patrick's Day costume ideas are just simple accessories that you can wear with or on your ordinary work clothes. Have fun scrolling through these costume ideas, and select the Steampunk Saint Patrick's Day costumes that you can add to your Steampunk wardrobe.
Dare to Wear Green Corset Tops
Dare to Wear has a wide range of apparel that you can wear as part of a Steampunk cosplay or for regular wear. Many are appropriate for most work settings, and they come in a wide range of colors. For our Saint Patrick's Day ideas, we are just listing four of the designs in Kelly green. These are comfortable and range in price from about $30 to $75. We are also fond on the Treasure Corset Top below that is black with Kelly green trim. Click through any of the links for sizing and delivery.
 Angel Corset Top
 Electra Corset Top
 Plus Size Short Sleeve Asymmetrical Tunic Top
 Treasure Corset Top
KissTies Shamrock St. Patrick's Day Ties
While KissTies is not the only necktie vendor on Amazon, we fell in love with this shamrock tie. Most of the neckties from KissTies are in the $10 to $12 range including this one. If you can only dress up at work by changing the tie you wear with your suit or dress shirt, then this tie is an appealing, not-too-tacky option for you. Of course, you can add this tie to any leprechaun costume to jazz it up even more. This is a prime item on Amazon, meaning that it is in stock and you can get it as fast as one day if you wish.
 KissTies Shamrock St. Patrick's Day Ties
Elastic Wide-Waist Cincher Lace-Up Corset
This lovely PU leather lace-up corset can be added to any costume or work-place wear that you own. By itself, it is the perfect accessory to add some Steampunk flair to any wardrobe choice you wear for Saint Patrick's Day. This multi-purpose corset is so versatile that you can add it to just about any cosplay unless you already have a corset for it. And best of all, it has elastic to make fitting it so much better.
We are showing this corset in black which is the most versatile color, but you can choose from a list of colors if you prefer. You can see them all when you click through the link below.
 Lace Up Corset Elastic Wide Waist Cincher Belt
3 Pairs St. Patrick's Day Shamrock Fingerless Gloves
If you are in an office that won't allow you to wear much green on Saint Patrick's Day, these fingerless gloves can be worn along with your office apparel, under your blouse or shirt. At the very least, you can wear them on your lunch hour and break times. And we know this item isn't really Steampunk, but it was so cute, we are adding it anyway.
 3 Pairs St. Patrick's Day Shamrock Gloves Fingerless
St. Patrick's Day Fascinator Hat w/Pearl Necklace & Stickers
If you just need a few accessories to add some green to your outfit for Saint Patrick's Day, this fascinator hat is a great choice. The Kelly green one is listed for Saint Patrick's Day, but the dark green and black fascinator might work better with an entire Steampunk ensemble. If you need a fascinator hat for any other occasion, they have a lot of colors to choose from.
 Fascinators Hat St. Patrick's Day w/Pearl Necklace Stickers
 Fascinators Hat Flower Mesh Ribbons Feathers Headband
Green Adult Costume Wig
If you want to add even more green to your Saint Patrick's Day costume, here are three different wigs with green hair. These look great with the rest of your Steampunk Saint Patrick's Day cosplay.
 Adult Costume Wig, Green
 Green Wigs Short Bob Wavy
 Green Short Straight Hair Bob Wig
Green Steampunk Tailcoat Jackets and Lace-Up Long-Sleeve Shirt
For those who want to dress up as a Steampunk leprechaun or a Steampunk Irish lord, these great green Steampunk tailcoat jackets are just perfect. These can be worn for many cosplay occasions or even for a wedding with green as the dominant color. Or create a Steampunk leprechaun ensemble that works for you every Saint Patrick's Day.
Included below is a beautiful lace-up long-sleeve shirt to wear with any of these tailcoats or alone. This lace-up shirt can be used for other costume ideas such as pirate, medieval, scottish (w/kilt), or by itself as regular wear. It comes in a wide range of colors including white and black.
 Green Tailcoat Jacket, Steampunk High Collar Coat
 Green Steampunk Tailcoat Costume Victorian Frock Coat
 Green Steampunk Tuxedo Jacket w/ Tails
 Dark Green Long Sleeve Lace-up Shirt
Classic Lace Overlay Kelly Green Corset w/Pleated Layered Tutu
This is just one of a whole list of corset dresses offered by Grebrafan. It is the perfect ready-to-wear Steampunk Saint Patrick's Day costume you can find. If you wear this corset dress, all you need to add are stockings and shoes and maybe a jacket and hat. The lacework is stunning and the color will definitely stand out in any Saint Patrick's Day crowd.
 Classic Green Lace Overlay Corset w Pleated Layered Tutu
Green St. Patrick's Day Leprechaun Hat
These hats can be worn alone with regular clothing or added to one of the Saint Patrick's Day costume ideas listed above. They are perfect to add to regular workplace apparel to wear around the office. Great unisex costume accessories for anyone (yes, even the beard).
 St. Patrick's Day Irish Leprechaun Hat & Beard
 Green Mini Lace Fedora
 Green Sleek Top Hat
 Green Deluxe Top Hat
Green Shamrock Bead Necklaces – 12 Pack
If you love to hand out cheap Saint Patrick's Day souvenirs for a party or parade to your friends and family, these green shamrock bead necklaces are fun, great for kids and so cheap that you won't care if some get damaged or lost. Hand them out in your office or to your entire family at your local Saint Patrick's Day parade.
 St Patrick's Day Shamrock Green Necklaces
 Shamrock Bead Green Necklaces
Vintage Hollywood Gentleman's Pipe
This last idea, a vintage Hollywood gentleman's pipe is a great accessory for a leprechaun costume, and it can be reused for many other Steampunk or Hollywood period costume ideas. With this pipe, you will be set to go out and leprechaun around.
 Vintage Hollywood Gentleman's Pipe
Not Quite Ready for St. Patrick's Day Planning?
Not ready to put your costume together for St. Patrick's Day? Pin this page to Pinterest to mark it for later.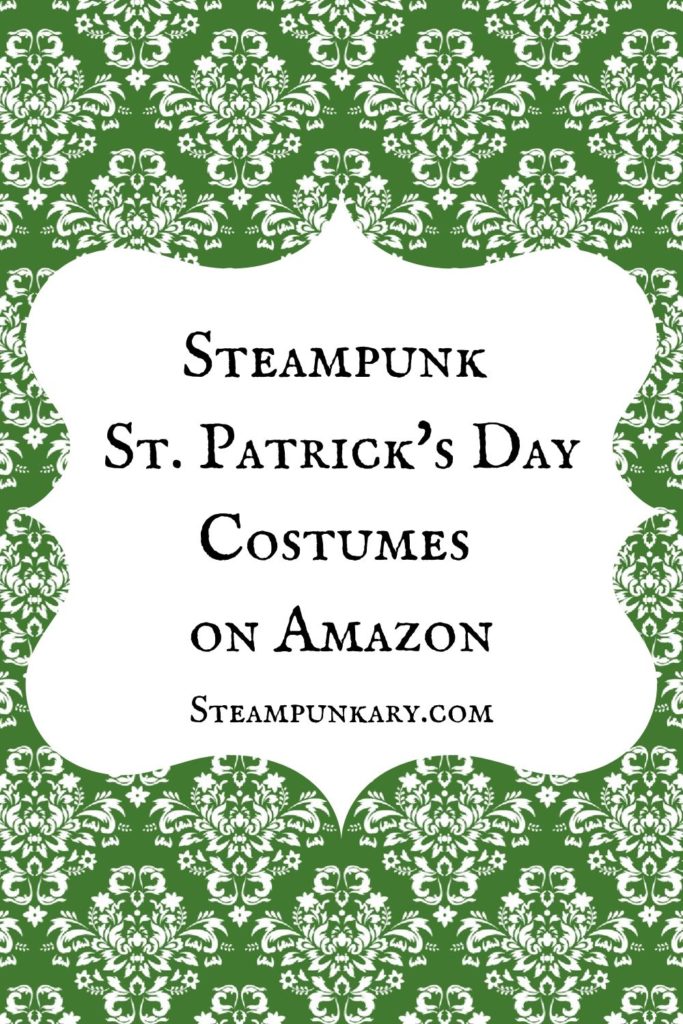 (Visited 351 times, 1 visits today)