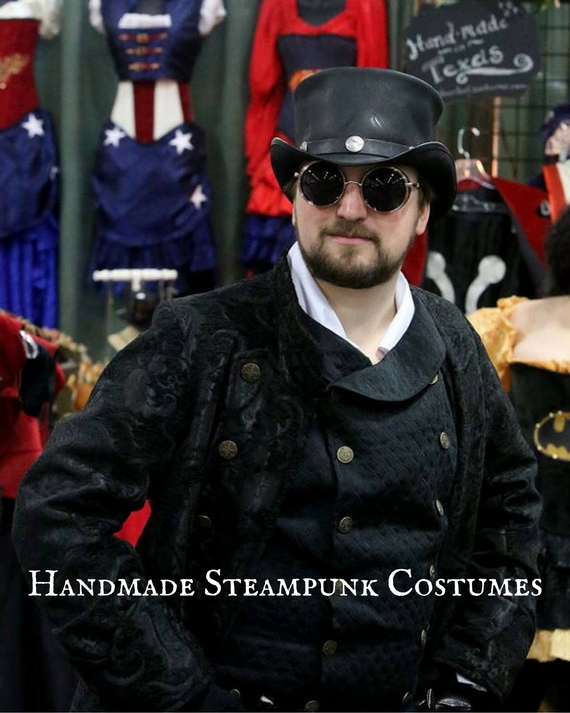 Creating a spectacular steampunk costume takes a lot of time and attention to detail. Not everyone has time to make the costume they want for their next convention or event. However, there are seamstresses, tailors, artists and costume designers who create costumes for someone who loves the unique. For anyone who wants handmade steampunk costumes, but has no time or talent to make one, these costumes offer a retrospective of what you can find. The costumes are made to order per your instructions. Since custom work does take time, make sure to allow for lead time and delivery transportation when you order your favorite.
Gaslight Pinup Steampunk Costume – Made to Order
Steampunk style has a range of expression. This lovely costume evokes a gaslight pinup image. Seductive and fashionable this costume is perfect for a convention, wedding or any type of cosplay. This item is made to order and the maker recommends allowing 8 weeks to ship. When you click through, you can read all of the details including measurements for each piece. One of several unique made to order designs from this artist.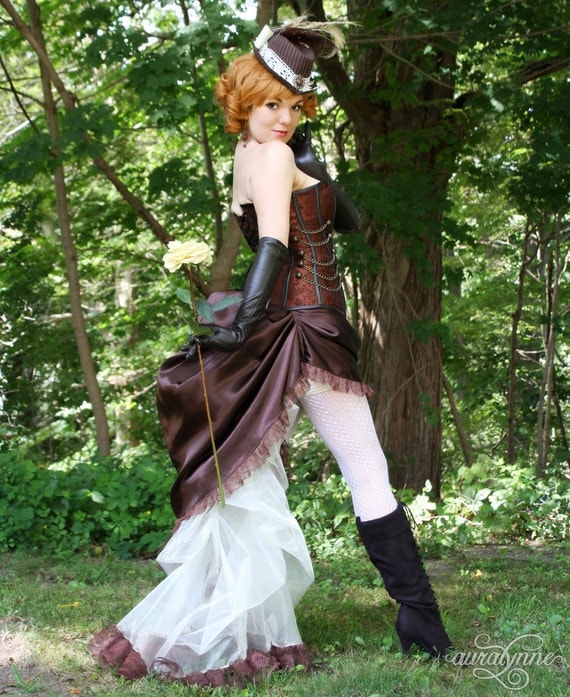 Gaslight Pinup Steampunk Costume – Made to Order

Burgundy Pixie Skirt Halloween Costume
This handmade costume piece is called a Pixie Skirt. It is a layer to add to any clothing or costume. You can see it in the image below over a long skirt. With just a few accessories, you have a steampunk costume for your next event. Look through this artist's store for more ideas, colors and pieces to add to your steampunk collection.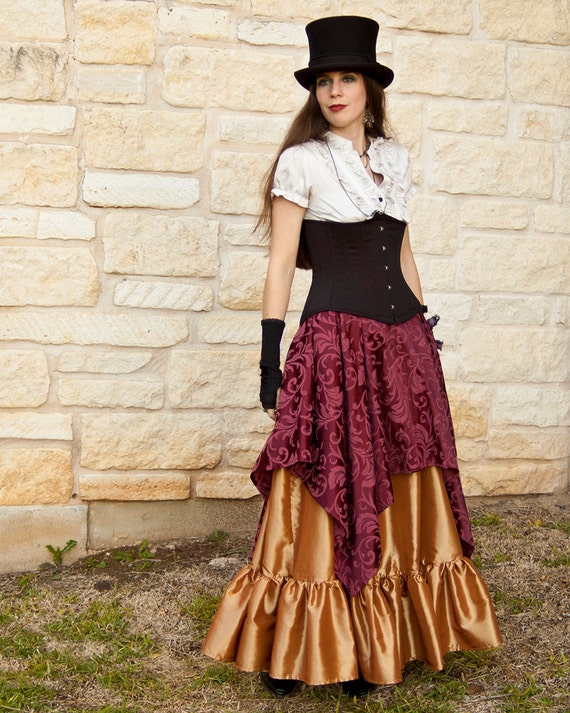 Burgundy Pixie Skirt Renaissance Halloween Costume

Victorian Era Gown, Bustle Taffeta Dress
Whether you are searching for a designer for your next steampunk ball gown, costumes for a Victorian-era play or a cosplay design for a steampunk convention, this lovely bustle Victorian-era gown is a terrific choice. It is made from two pieces, jacket and skirt which can be worn together or separately. Lovely for museum dress up or historical tours. This artist also makes wedding dresses and other historical pieces.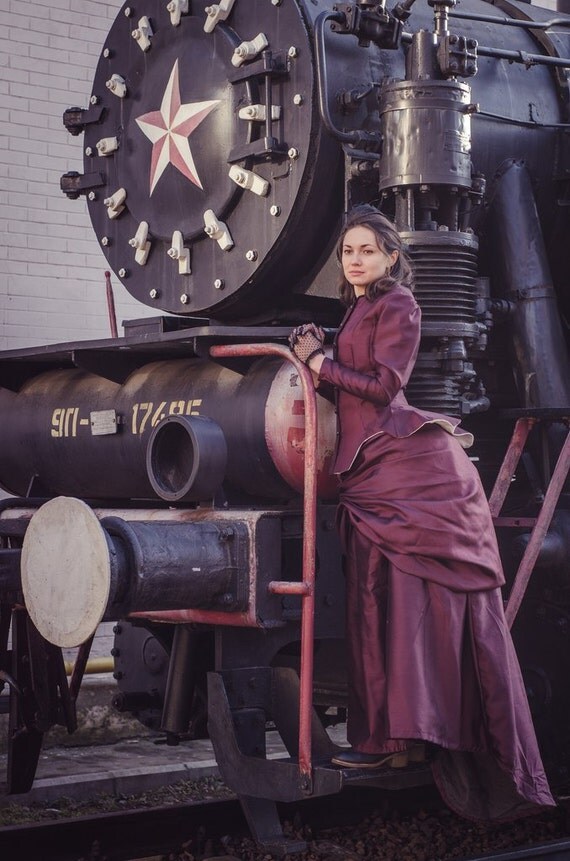 Victorian Era Gown, Bustle Taffeta Dress

Historical Costumes – Reenactment Clothing
Love historic reenactment? This designer has you in mind with this made-to-order bustle kit. A specialist in historic replicas, this artist will get you started on the perfect outfit to represent the Victorian era. For more examples of costumes, click through the link below.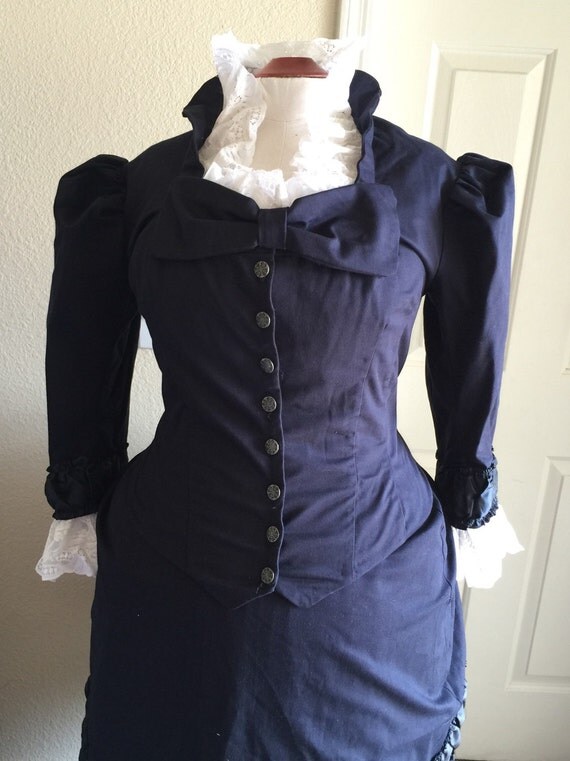 Historical Costumes – Reenactment Clothing

Victorian Bridal Lace Corset
This elegant corset is designed for a wedding, but it can be used for a mock wedding at a con or other costume occasions. Wear it alone or paired with a skirt for a complete costume look. This New Orleans-based artist creates an array of corset designs that can be used for Mardi Gras, cosplay or actual weddings. Click the link below to find other designs. Remember to allow time for both creation and shipping when you order.
Red & Black Victorian Handmade Dress
This gown is a lovely reproduction of the style of dress from the Victorian era. Handmade with care, this dress is already made and ready to ship from Europe. This designer specializes in historic and steampunk designs for costume, cosplay and other events. You can also find some unique Renaissance designs and fantasy elvish wear in this store.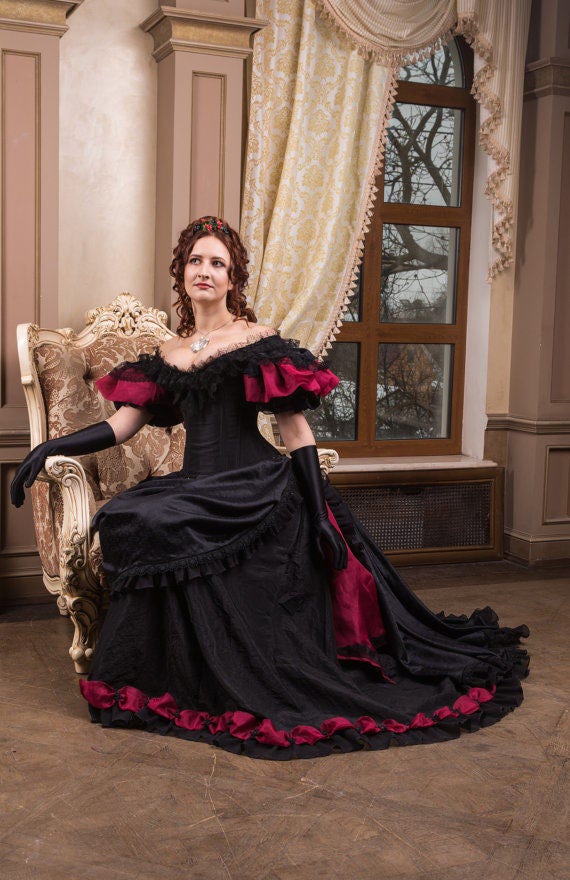 Red and black victorian handmade dress

Victorian Blouse
This Australian designer creates the most detailed pieces in historic styles. You can certainly wear this as a blouse for everyday or dress up occasions. However, think of how stunning it would look as part of a bridal outfit or cosplay ensemble! Considered wearable art, this couture blouse is only one of the lovely designs that you can collect.
Lady in Red Steampunk Skirt
A design meant to echo the mysterious "lady in red" concept, this steampunk skirt is the perfect addition to your collection of unique costumes for steampunk cosplay. It is also ideal for entertainment costuming such as advertising or theater. You can choose from a selection of steampunk skirts in this shop in a range of colors.
Steampunk Costume Perfect for Witch, Circus Ringmaster
A playful version of steampunk, this costume is ideal for a circus performer, witch, burlesque entertainer, Mad Hatter or Mardi Gras. Bright and colorful, you will be sure to attract attention in this costume when you perform or entertain. This designer specializes in costumes and costume accessories.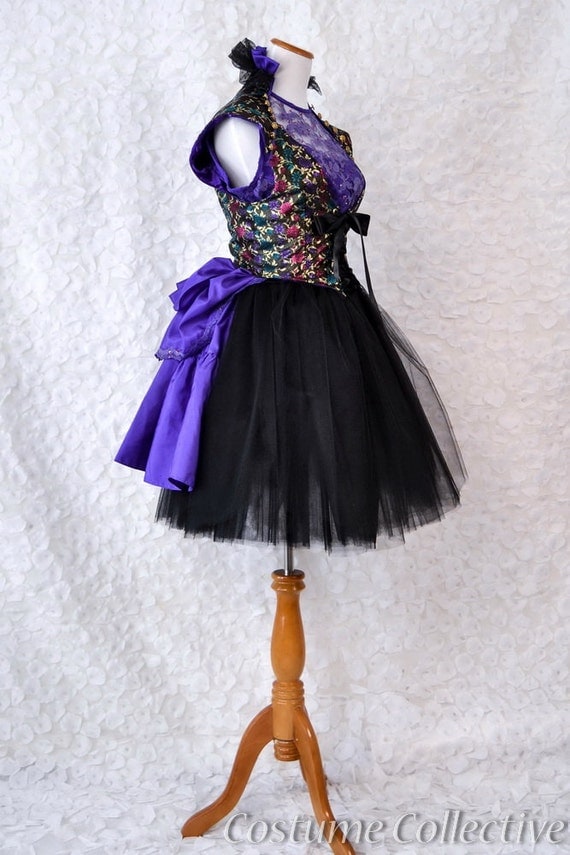 Steampunk Costume Perfect for Witch, Circus Ringmaster

Romantic Steampunk Costume
A "traditional" steampunk costume with romantic styling, this ships from Europe. The costume is made-to-order so allow for plenty of time to arrive on your doorstep. Check with the designer for the correct amount of lead time. A specialist in costumes from entertainment and history, this designer offers a range of handmade costumes for you to choose from in the shop.
Red "Can Can" Steampunk Costume
Can you do a can can? If so, you will love this saloon girl/can can girl costume. In vivid red and black, the costume will stand out nicely in a crowd of people, perfect for a convention or event. Ideal for Mardi Gras. Allow for time to ship especially during Halloween order time. Click through the link below for more burlesque style corset costumes.
Complementary Costume Accessories for Women
This set of 3 costume accessories for women is enough to create a one-of-a-kind female steampunk costume. Who needs more than a hat with goggles, vest and steampunk boots. This shop focuses on steampunk accessories to finish out your look. Click through to visit more items to complete your cosplay.
Batman Inspired Steampunk Costume
This detailed Batman-inspired steampunk costume is made to order. It is one of a collection of cartoon-character designs reimagined in steampunk. To complete this costume, you need a shirt and black pants and then you are ready to save steampunk Gotham City. For other character costumes, click through the link below. Remember to allow enough time to order before you need it in hand.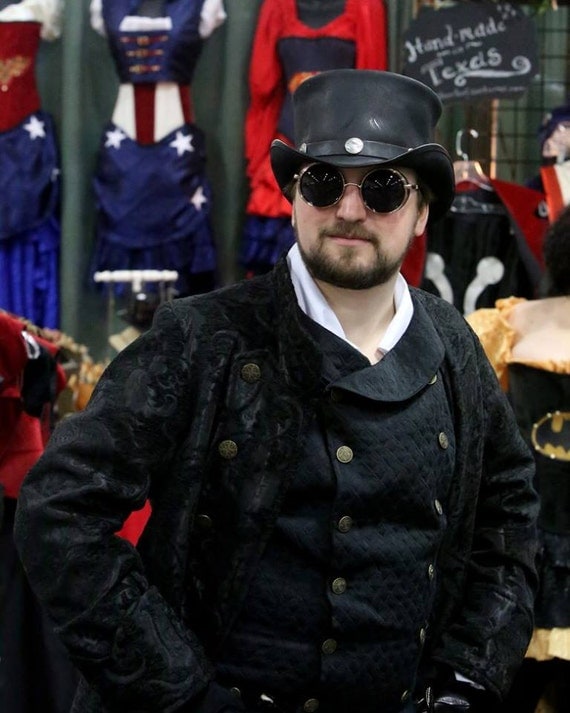 Batman Inspired Steampunk Costume

Steampunk Prom Dress Costume
This couture steampunk prom dress is a delightful interpretation for modern wear. It is ideal for a prom, but also any dress up event at a steampunk con. It is made with 3 pieces – top, corset and skirt. This time ships from Italy which means you need to allow extra time for shipping. You can select this dress or choose from many other pieces for your prom.
Deluxe Saloon Skirt Custom Made
This skirt is custom made to order and can be combined with several other pieces to create the look shown below. In the description of the this piece, you can find information on how to create the skirt look with a combination of this piece and another skirt. This designer is adept at offering styles that will appeal to a niche crowd and stand out as unique and handmade.
Airship Captain Costume
Great for a steampunk convention or cosplay, this airship captain costume is made to order. Allow for a 3 week lead time before shipping. This designer has handmade costumes for men and women and you can find many complementary sets if you want to go to your next con as a couple. Click the link below for ordering information.
Men's Outfit Blue Bib Shirt, Stripe Pants, and Suspenders
A simple costume set for men, this collection can be ordered in several colors and offers a bit of a rough-around-the-edges, Wild West look. Comes with shirt, pants and suspenders. Click the link below for ordering information.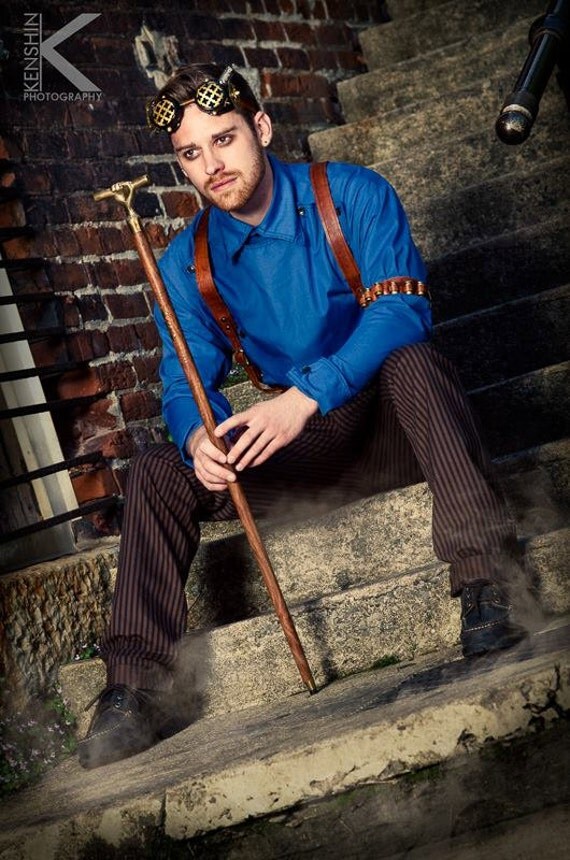 Men's Outfit Blue Bib shirt, Stripe pants, and Suspenders

Custom Steampunk Brown & Light Blue Corset Full Outfit
This costume is truly one-of-a-kind and it is made to your order. The corset is detailed with fine touches and high-quality fabrics. You can get information on all of the pieces in this set from the designer and ask questions before you order. This is a costume that can be worn over and over and retain its beauty and shape. Make sure to ask lead time before ordering so you know how long it will take to make.

Custom Steampunk Brown and Light Blue Corset Full Outfit


(Visited 3,774 times, 3 visits today)