One of our favorite Etsy artists, LITdecor, has some new decorated pumpkins for the fall and Halloween season that, like their other products are simply stunning. LITdecor began by featuring decorated candle holders, then more recently added wall art prints. But, unless we missed it, this is the first year for the decorated pumpkins. Everything from LITdecor's store is made with the application of various paints and dyes appropriate to the medium being decorated. The delicate detailing that makes up these designs are mesmerizing. If you're in a hurry, you can click the link to go directly to the LITdecor shop on Etsy. If you have more time, we will share with you our favorites for Halloween, Christmas, or any time you want a unique Victorian home decor gift.
LITdecor Halloween Decorated Pumpkins
These decorated pumpkins are gorgeous, and since they're made with artificial pumpkins, you can use them every year! Of course, they make lovely centerpieces, housewarming gifts, or wedding favors. They can be used for so many things. When you click any of these images, you will find a lot more pictures showing the pumpkins from the side and separately.
 Halloween Pumpkins Fall Porch Decor

 Decorated Pumpkins Halloween

 Halloween Decor Pumpkin

 Halloween Pumpkins Decorated

Not everything made by LITdecor is Victorian in style. A lot of them are Arabic, possibly Moroccan. So for this page, we'll focus on items that look Gothic or Victorian. But, take the time to visit the store to see all of the other beautiful items.
LITdecor Hand-Painted Lanterns
LITdecor's unique lanterns are made from Mason jars. Mason jars are useful for so many ideas, but these hand-painted lanterns are colored, then painted with numerous designs from different backgrounds. We've posted just a few to show you how incredible these are. This is an easy gift for a housewarming or holiday party. You can put them on tables as part of a centerpiece or hang them for atmosphere. They also make great conversation-pieces. The images on this page are only a teeny, tiny fraction of what is in the shop. So, click through the links below for more options. And while they are wonderful decorations for Halloween, they are also terrific wedding favors, gifts, or wedding decorations. Very versatile.
 Gothic Home Decor Mason Jar

 Bohemian Decor Henna Candle Lantern

 Wanderlust Office Decor

 Shabby Chic Decor Farmhouse Decor

Hand-Painted Victorian-Style Apothecary Jars
Apothecary jars make great decoration details for theme parties such as Halloween or Christmas, but they are also very practical if you want to put them in your kitchen or bathroom. As you see below, they can be purchased as a set of three, but if you want something different you can contact LITdecor directly through the Etsy site. Click either image to get more information.
 Kitchen Canisters Apothecary Jars

 Apothecary Jars Kitchen Canisters

Decorated Glass Vases by LITdecor
We love the color blue here at Steampunkary, so we've chosen four sets of blue decorated glass vases that you can order for a gift for a new home, hostess gift, bridesmaid gift, Mother's Day or Christmas. Each vase is colored glass with hand-painted overlay in various styles. These glass vases can be painted in several styles, certainly in a Victorian/vintage style for a Steampunk gift. There are several other colors you can choose. (Not everyone likes blues as much as we do.) Click any link to go to the store and see what else is available.
 Wanderlust Housewarming Gift for Her

 Makeup Brush Holder Stash Jar Apothecary Jars

 Bohemian Bedroom Bud Vase Set

 Gypsy Mason Jar Centerpieces

Groupings and Gifts Sets
Besides the lantern and vase sets shown above, LITdecor has other options for color and style. In this sections, we're highlighting different ideas for hanging Mason jar lanterns, vases made from bottles and jars, and unique groupings for centerpieces used at a wedding, family get-together, reunion, bridal shower, holiday dinner, and more. These gift sets are really versatile and can be custom-ordered to match your decor for a party. Just remember that custom orders take time to produce. To see other ideas for groupings or gift sets from LITdecor, click any of the images below.
 Wall Hanging Lantern Mason Jar

 Engagement Party Decorations

 Mason Jar Centerpieces Apothecary Jars

 Bohemian Decor Bud Vase

LITdecor Watercolor Prints
These gorgeous art prints from LITdecor are lovely, and new for the shop. There are several styles similar to the four pieces shown below. You can easily see the artwork and creative mind behind all of these designs. And like the glassware from this artist, the prints are multi-functional. You can get them in different sizes for a bedroom, kitchen, bathroom, or entryway. Or give them as gifts for the special people in your life. We think they all give off a zen or calming presence, that can help alleviate stress from your daily doings.
 Succulent Watercolor Boho Art Print, Botanical Painting

 Abstract Floral Painting, Loose Floral Art Print

 Broadbill Bird Watercolor Print

 Yoga Studio Decor, Mindfulness Gift

Save this Idea for Later – Pin It to Pinterest
Not ready to buy gifts right now? That's okay. Just pin the image below to Pinterest as a reminder to come back.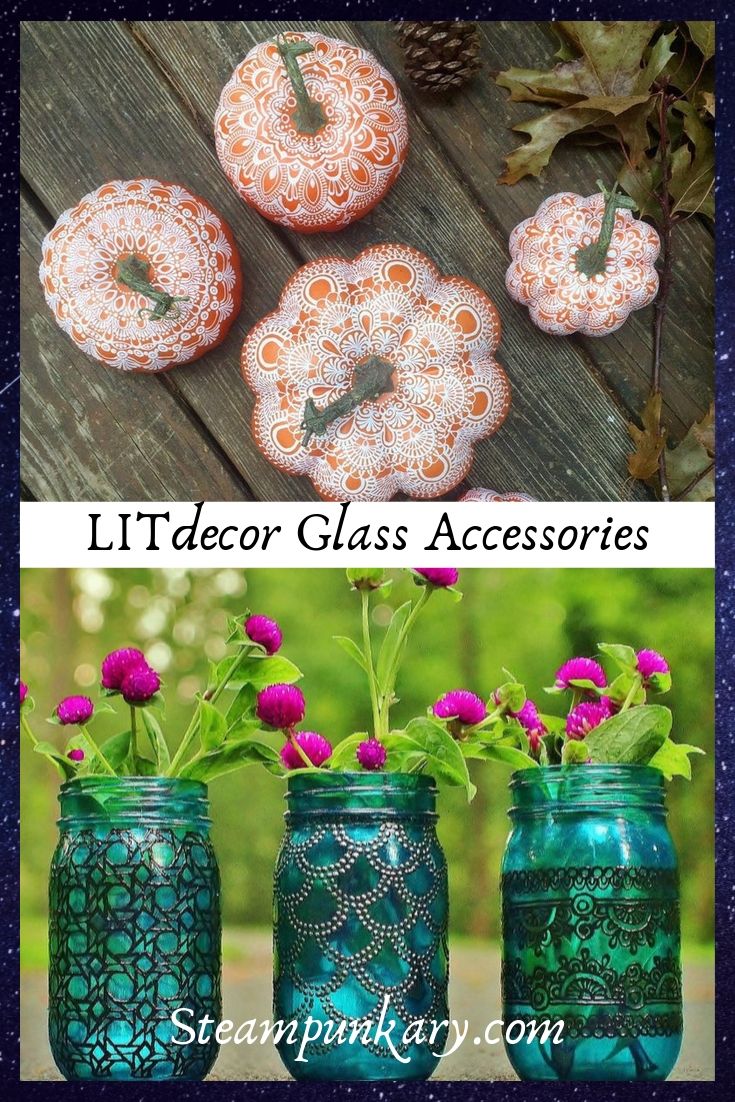 (Visited 733 times, 1 visits today)