Sloe Gin Fizz is the product of the imagination and clever hands of Michigan artist Nicole Ray. She creates drawings by hand than transfers them to the computer to color, duplicate and print. All of her work is whimsical, and much of it is designed for children's bedrooms or nurseries. The items shown on this page have a vintage or steampunk theme, although she also does a lot of drawings with a mid-century modern theme as well. I hope you enjoy these steampunk drawings from Sloe Gin Fizz.
Air Ship With Seal Nursery Art
Available in three sizes, this is a giclee print of an original pen and ink and watercolor drawing by Nicole Ray that has been digitally color enhanced. Each print size has a small white border which makes it perfect for framing. Design depicts a black seal at the helm of a whimsical airship, floating against a bright blue sky with wispy white clouds. Made from long lasting, fade and scratch resistant materials. Makes a great addition to a child's room decor.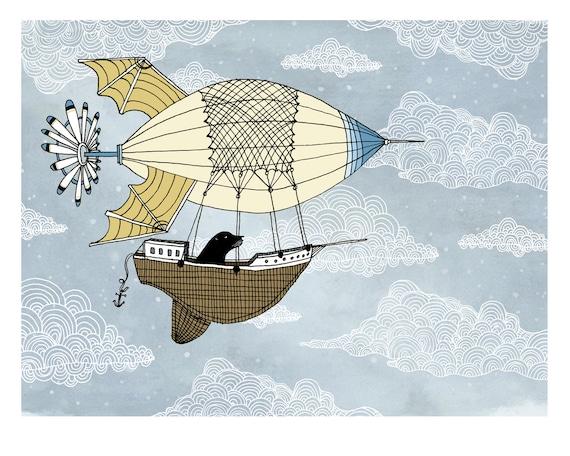 Air ship with seal nursery art

Kraken Print Nursery Art
A giclee of an original pencil drawing, this print is offered in two sizes. Design features a legendary giant squid known as a Kraken. The sea monster has his one of his tentacles wrapped around a small brown and white boat. While the Kraken may be slightly intimidating, he's not too scary and the print is bright and colorful with white against an ocean blue background, making it perfect for a children's room or nursery decoration.
Hot Air Balloon Print
A very colorful print, this is a giclee of an original pen and ink drawing with digitally enhanced color. Offered in three sizes, this colorful air balloon will add a splash of color to any room. Design features a bright pink, yellow, and coral hot air balloon against a crisp, white background. Works well with a Steampunk theme.
Mason Jar Pattern Print
This fun Mason jar print comes in two different sizes as well as two color options. Choose from either brown or teal printed jars, with or without a border. Design features several different designs, some upside down, others upright. A giclee print of an original pen and ink drawing, this print adds the perfect touch to any kitchen space.
Terrariums Print
Available in two sizes, this giclee print of an original pen and ink drawing has digitally enhanced color and is printed on 100% cotton Epson fine art papers. Design features a colorful collection of terrariums in assorted shapes and sizes. Color scheme includes pale blue-gray, green, lime, coral, blue, purple, and pink. Background depicts a window with panes against a white wall. Could work well in many areas of the home.
Waves Pattern Print
Offered in two sizes, this print features high density pigment that is long lasting and fade and scratch resistant. Each print size features a white border for easy framing. Design features the motion of the waves of the sea, with alternating colors of navy blue and bright blue. Print colors work well in many decor settings, including a nautical theme. The waves are drawn so that they almost have a soothing quality to them.
Illustrated Ship In A Bottle Greeting Card
This illustrated greeting card features a classic nautical theme of a ship in a bottle. The blue and white sailboat sails along on rolling seas of blue waves, giving the illusion of motion. Bottle is drawn with black lines and sits against a white background. This could be used as an actual greeting card or even framed for a small piece of colorful, nautical artwork. Card is blank inside and measures 4.25 inches by 5.5 inches and is printed on bright white linen card stock for a great look. Includes a 100% recycled brown kraft paper envelope, perfect for mailing.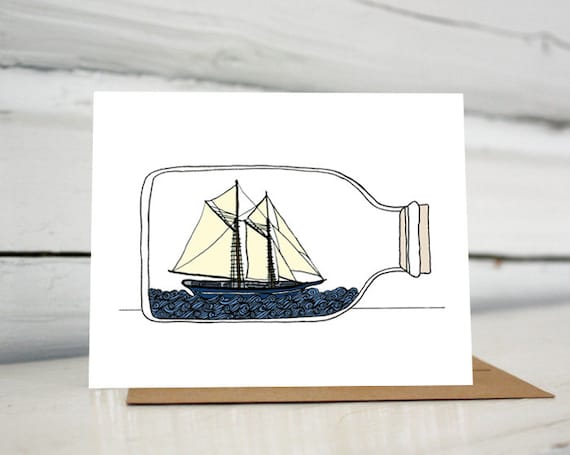 Ship in a Bottle Greeting Card

Anchor Greeting Card
This greeting card is printed on bright white linen card stock for a crisp look. Card measures 4.25 inches by 5.5 inches and is blank inside for you to write your own personalized greeting. Card includes a 100% recycled brown kraft paper envelope which is perfect for mailing. Design features a bold nautical theme of a blue anchor with a rope tied to it. Not only would this make a great greeting card as intended, it could also be framed and used as a great nautical print. The anchor would make the perfect companion piece for the illustrated ship in a bottle greeting card, also by Sloe Gin Fizz. Pair these two in a bathroom or any other room with a nautical theme for a great look.
Holiday Card Set Vintage Wooden Sled Illustration
This lovely holiday card set features an illustration of a vintage style wooden sled, reminiscent of an old Radio Flyer. The set includes ten cards, which are blank inside so you can write your own message. Cards are printed on bright white linen card stock and measure 4.25 inches by 5.5 inches and include 100% recycled kraft paper envelopes. Card set comes packaged in a recycled kraft paper stationery box with clear cover, making it perfect for storage. The option of matching gift tags is also available.
Holiday Gift Tag Set With Vintage Wood Sled
Add some decorative flair to your holiday packages with these cute gift tags. Design features crisp white gift tags with an illustration of a vintage style wooden sled. Gift tags come in sets of eight and are hand trimmed and punched. Tags are strung with cheerful red and white baker's twine. Each tag sports a "To" and "From" and measures 2.5 inches by 3.5 inches. These tags coordinate perfectly with the holiday card set featuring the vintage wooden sled illustration, also offered by Sloe Gin Fizz. Adds a touch of nostalgia and charm to any holiday package.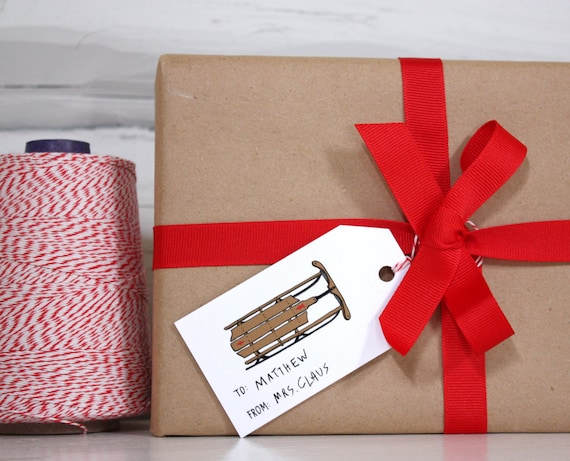 Holiday Gift Tag Set with Vintage Wood Sled

Pin It for Later

(Visited 575 times, 1 visits today)