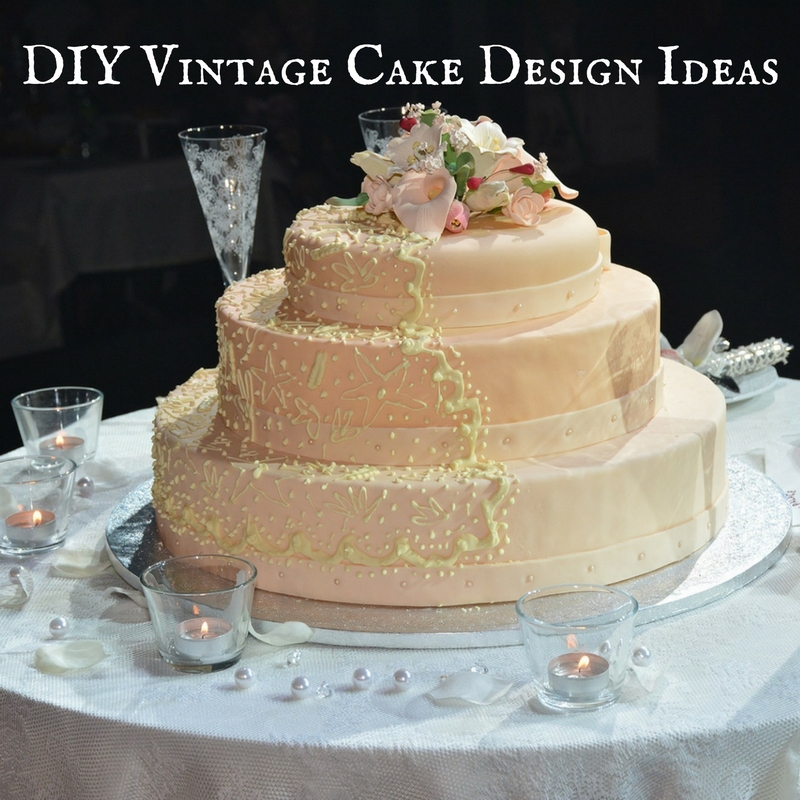 When planning a wedding, you want every last detail to be perfect. This includes the all important choice of the wedding cake. If you are planning a themed wedding, the cake can serve as a great accent to enhance your special theme. When planning a steampunk style wedding, these vintage cake design ideas will help to make your special day and your special cake quite memorable. Here we explore some history about Victorian style cake designs that you can incorporate into your modern cake, as well as online cake making and decorating classes that teach techniques that will allow you to create your very own DIY vintage cake design, perfect for a steampunk wedding theme.
Facts and Information about Victorian Wedding Cakes
During the Victorian era, a pure white wedding cake was the ideal. The color white symbolized purity and virginal attributes associated with marriage. The color also served as a status symbol in Victorian times, because it meant that the family had used only the finest and most expensive ingredients to create the cake and icing.
You can get inspiration for creating a steampunk wedding cake by looking through the photos of the elaborate designs of royal wedding cakes during the Victorian era. Use of multiple tiers and detailed embellishments really made the cakes special.
While many have been led to believe that the wedding cake tradition originated during the Victorian era, it can actually be traced as far back as ancient Rome. Those cakes of old contained no icing or frosting. It was tradition to break the cake over the bride's head.
With the Victorian era, the tradition of throwing grain took the place of breaking the cake over the head of the bride. Victorians also introduced French confectionary skills and influences, resulting in wedding cakes being decorated with icing which is still used today.
The term "Victorian wedding cake designs" brings to mind thoughts of cakes that are grand and tall, but the first Victorian wedding cakes were actually fruit cakes with decorated patterns of delicate fondant, flowers, ornate patterns, and sometimes pearls. The dark fruit cake gave way to the cakes that we are familiar with today after new milling processes made ingredients for making a cake more affordable. In keeping with a Victorian theme, the standard is still to use pure white icing. Flowers and lace are also common Victorian-themed embellishments present on today's modern cakes.
Another unique tradition of Victorian times is becoming increasingly popular among modern Victorian style wedding cakes. This is the tradition of small wedding cake charms representing good luck and fortune. These tiny charms each have a special meaning and are tied to a small ribbon and hidden within the cake. At the wedding reception, special people such as members of the wedding party, parents of the bride and groom, or any children of the bride and groom, may pull a ribbon to reveal a charm. Each charm has a special meaning and message for the bride and groom, and those meanings can then be read aloud to the wedding guests. This tradition can add a great personal touch to any Victorian or steampunk themed wedding.
Cake Making and Decorating Classes
If you want to create your own special vintage cake design for a steampunk wedding, there are several classes offered online to help you do just that. These classes often go on sale and you can buy them to watch when you are ready.
Vintage Cake Design: Sculpting and Stenciling with Lindy Smith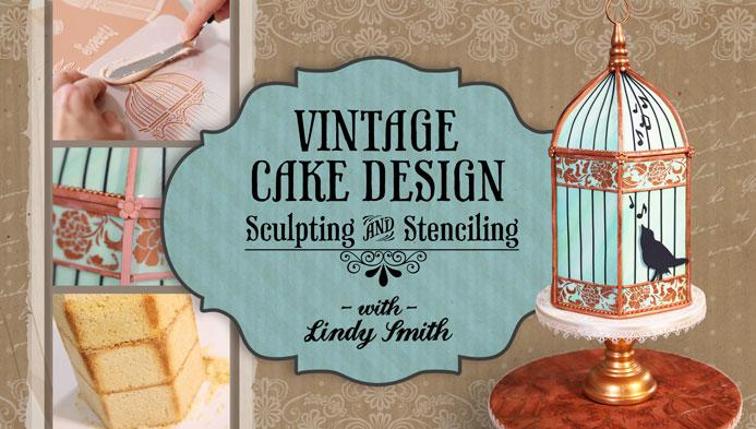 This online course offers eight streaming HD video lessons that are accessible anytime and anywhere. This includes hours of close up instruction that is easy to follow. Closed captioning is available on the web. Course includes class materials and recipes and answers to questions from students from instructor Lindy Smith. In this class you will learn to create an heirloom inspired cake that resembles a bird cage. The course takes you all the way, from the introduction through every single step of the project, ending with the finishing touches to create the perfect vintage cake.
Vintage Cakes, Modern Methods with Colette Peters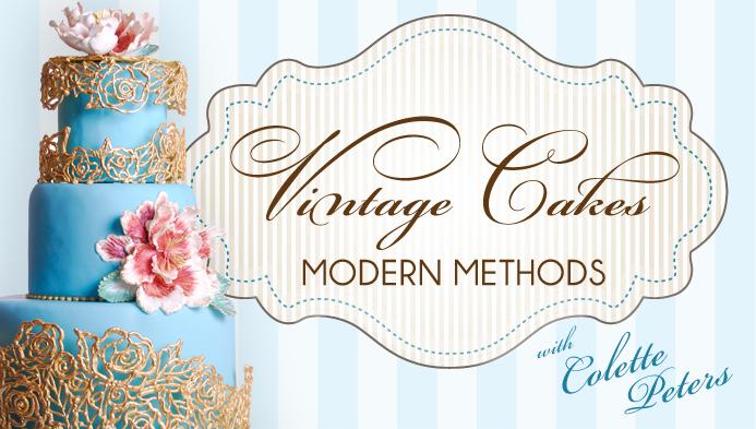 This course includes 11 streaming HD video lessons, hours of close up instruction, closed captioning on the web, class materials, and answers to student questions from the instructor. This class teaches you how to add antique appeal to your fondant. Learn Colette Peters' brush embroidery techniques to make your petals and leaves appear stitched. This class also teaches you to make antiqued and edible accoutrements to make your cake extra special and bring back memories of days gone by.
Layered Embellishments: 12 Stunning Techniques with Faye Cahill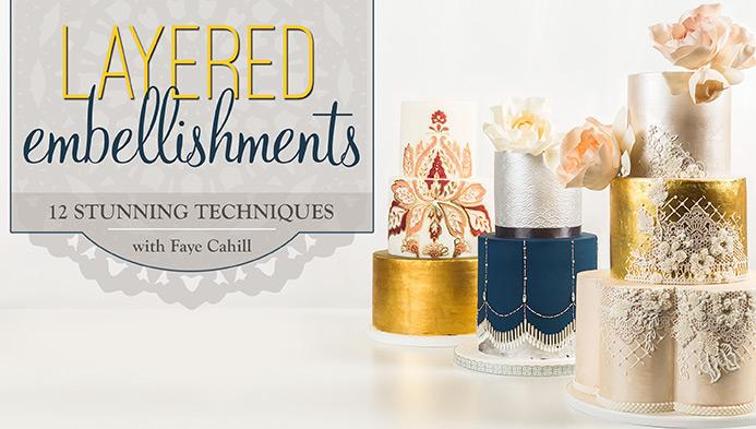 This course includes seven streaming HD video lessons, close up instructions, closed captioning on the web, class materials, and answers to student questions from the instructor. Learn how to combine simple,yet elegant decorating techniques to create a masterpiece of a cake with vintage appeal. Learn how to use color washes, make piped teardrops, beaded effects, silver leaf effects, Moroccan embroidery patterns and more. This course also teaches a rustic stenciled lattice pattern, how to make distressed edible lace, brush embroidered details, and more.
Cake Design Made Simple: The Wedding Dress with Rachael Teufel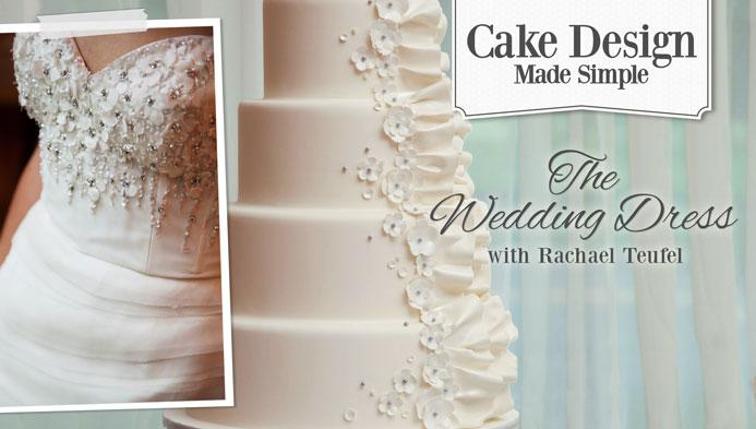 The course includes ten streaming HD video lessons, hours of close up instruction, closed captioning, class materials, and answers to student questions from the instructor. Learn to create a beautiful cake that replicates the bride's dress. You will learn techniques such as how to texture model chocolate to make it look like bridal dress fabrics. You will also learn to create tiny sequins and blossoms to look like the fine details of the dress. This course specializes in creating embellishments from gum paste and modeling chocolate. Learn how to find inspiration within the bride's gown or perhaps even from the wedding invitations, to create a truly one of a kind cake that will make the wedding day very special.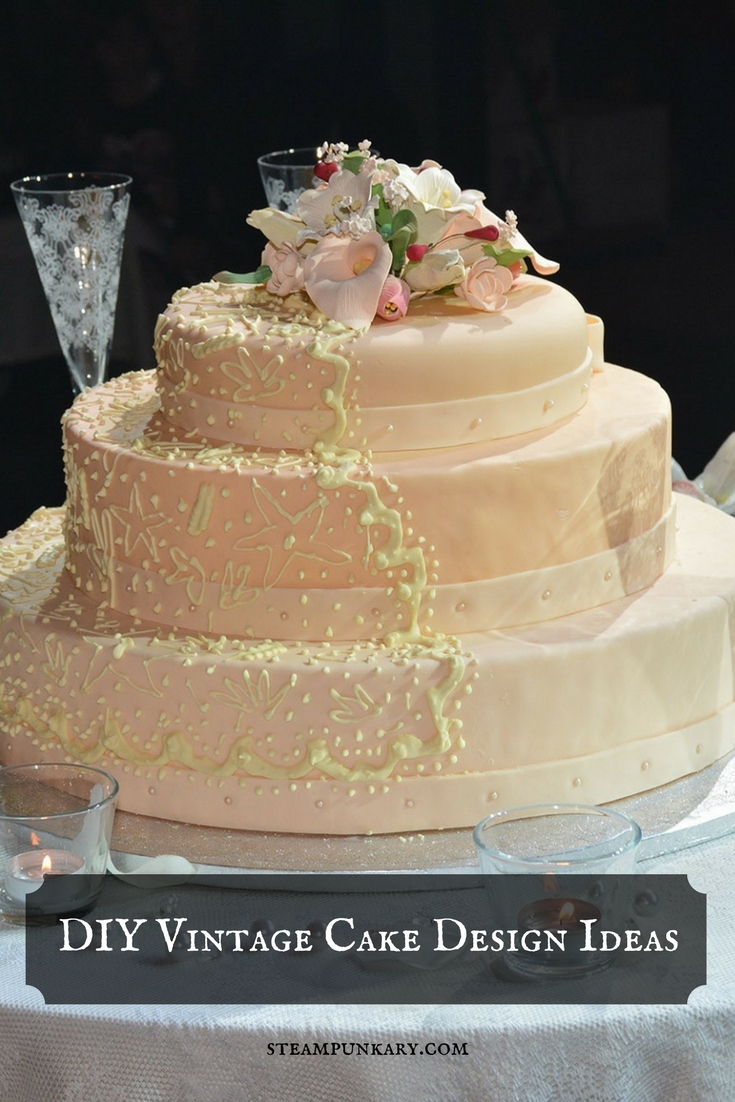 (Visited 1,013 times, 1 visits today)