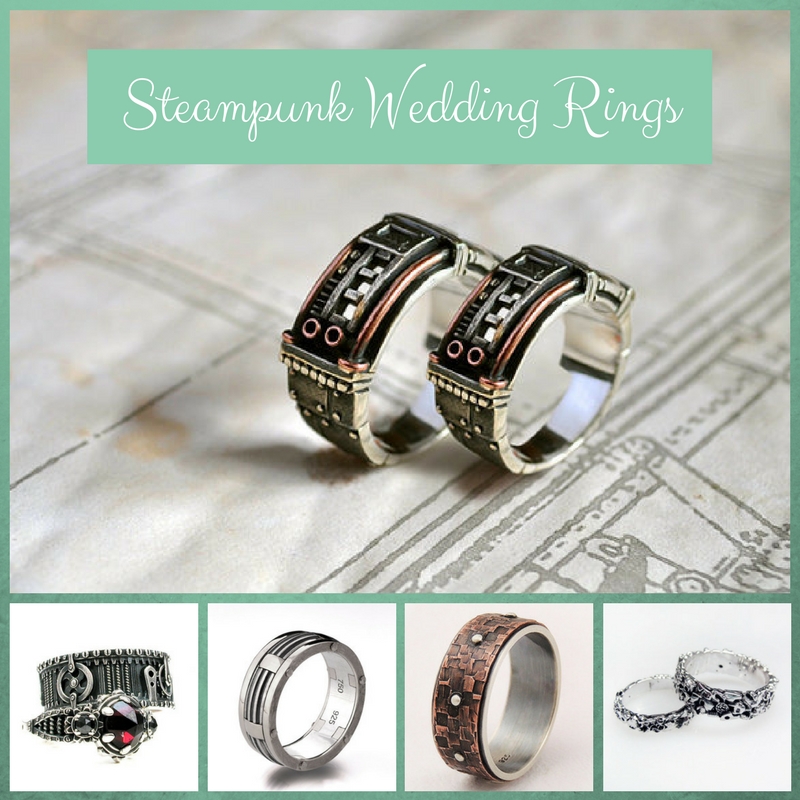 You can create a lasting memory of your steampunk wedding with steampunk-style wedding rings. Some of the top jewelry designers are making unique steampunk wedding rings for men and women that are beautiful momentos of your special day. You can browse the list of jewelry designers here and click through to see more of their designs.
Victorian Steampunk Wedding Ring
Designer Deric Metzger has been creating jewelry since the 1990s and was featured as the most awarded CAD/CAM designer in North America by Indesign Magazine 2012. Made from antiqued and finished English Sterling. Design has intricate flora engravings cut in and raised from an extra heavy band. Features 1.19 carats of natural black diamonds.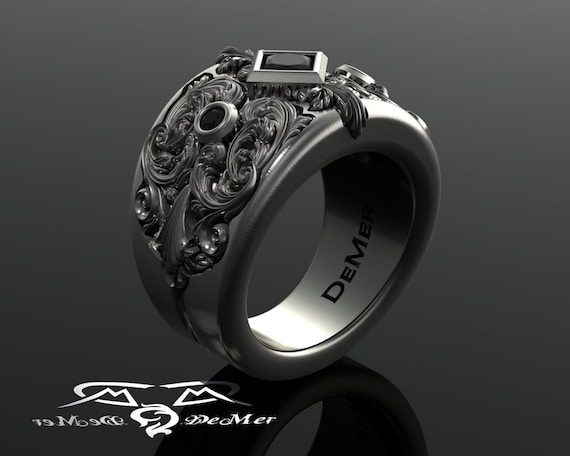 Victorian Steampunk Wedding Ring

18K White Gold & Sterling Silver Wedding Band
Designer Doron Merav is a 33-year-old architect and designer who got his taste for jewelry making from a visit to a jewelry guru while traveling in India. From there, he taught himself jewelry making using his own creativity and background in architecture. This ring in made from 18k gold, Sterling silver, and white gold. Design is created with 3D software then printed. Parts are then hand finished and constructed using the oldest jewelry techniques of hammering and welding. Sleek, smooth design any steampunk fan will love.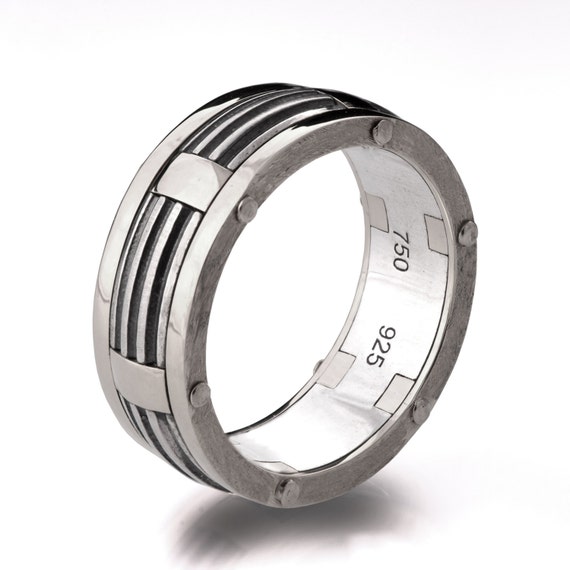 18K White Gold and Sterling Silver Wedding Band

Balance Series – Concerto. Textured 14K Gold and Sterling Silver
For a truly artistic and unique wedding band, consider the work of Michigan jeweler Aaron Sault. Sault works with a combination of mixed metals to achieve a one-of-a-kind piece. The ring shown here is from his Balance series. You can order custom-designed rings by contacting the artist through his Etsy shop.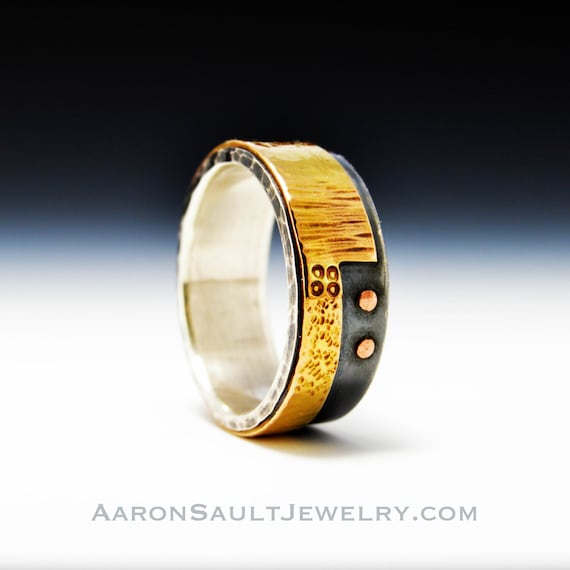 Balance Series – Concerto. Textured 14K Gold and Sterling Silver

Silver Steampunk Wedding Rings "Sustentorum"
Owner, maker and designer Yulia has been creating unique jewelry pieces for over 15 years. This ring is made from sterling, silver and copper. Hand carved in wax and lost wax cast of solid sterling silver, with details in copper. Ring is then oxidized to bring out the colors. Custom sizes and gems are available upon special request and will require around a two week production time, excluding delivery time. Set includes matching men's and woman's rings.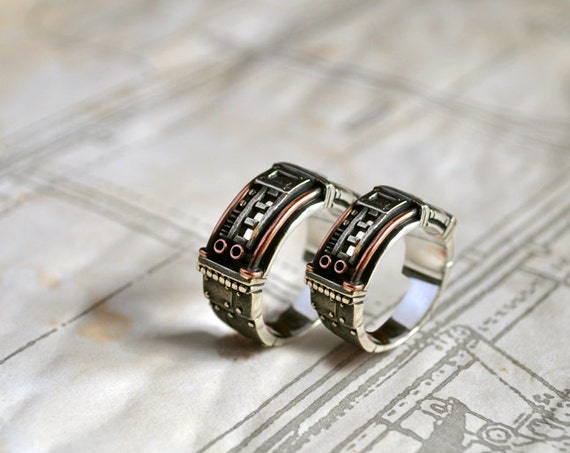 Silver Steampunk Wedding Rings

Steampunk Wedding Ring Set – Rose Cut Garnet and Black Diamonds
Designer Chelsea Swank learned the jewelry business from her father who owns a business in downtown Portland. This is a his and hers wedding ring set made from material such as silver, black diamond and garnet. Ring designs feature coils, gears and rivets for a uniquely industrial steampunk design. Rings appear black and silver toned in color and are custom made to order in your ring sizes.
Steampunk Wedding Band 14k
The husband and wife team of Eliyahu and Dana Dinar work together to create beautiful jewelry art. This ring is hand made from 14K gold. Choose from natural green emeralds or blue sapphires. Free engraving or inscription can be added to the back of the band. Ring is made with maximum wearing comfort in mind. Number of gemstones used depends upon individual ring size.
Wedding Ring Set – Diamond Sapphire & Pink Tourmaline
Blue Bayer is an independent jewelry designer who operates on Manhattan's Lower East Side. These original steampunk wedding rings for the bride and groom are made from silver, diamonds, and tourmaline. Can also be cast in white, yellow or pink gold. Men's ring features a Ceylon blue sapphire and women's ring a pink tourmaline stone. Design is a very detailed industrial style which is slightly oxidized to give it its unique appearance.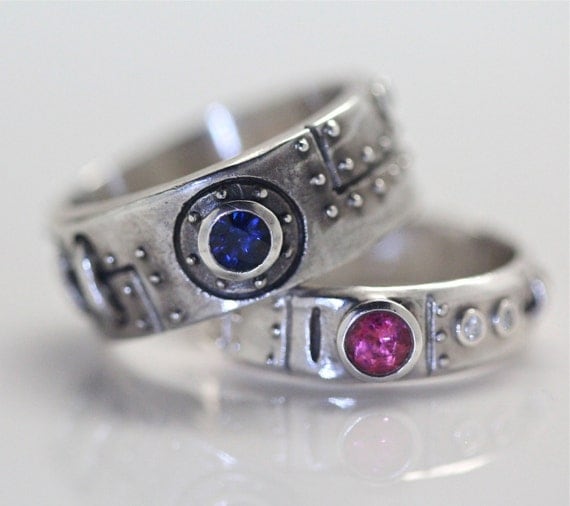 Steampunk Diamond Sapphire Tourmaline Wedding Set

Riveted Steampunk Wedding Band
Designer Michael Agar operates Riveted Raven Designs out of Wellington, New Zealand. Ring is made from oxidizes sterling silver and is made to look as if sheets of metal have been riveted to the base of the ring. Designer is willing to alter the item to your specification, including leaving it the natural silver colored if desired.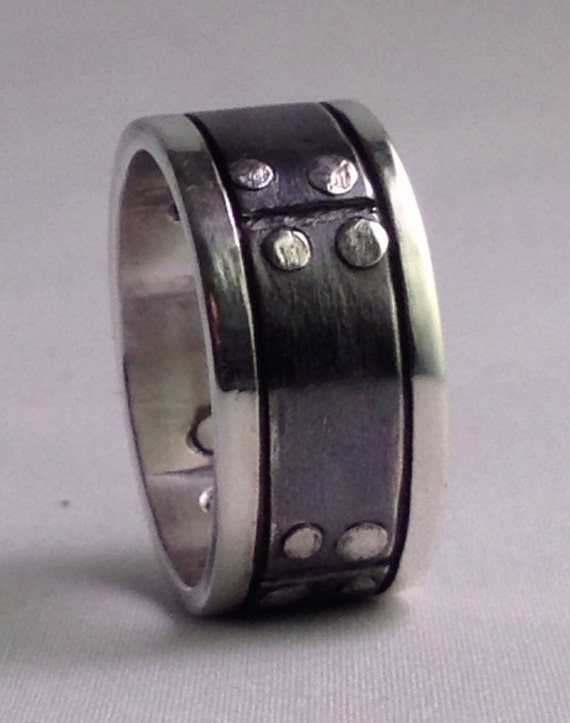 Riveted Steampunk Wedding Band

Black Diamond Silver Engagement Ring
Creator Gal Barash has a degree in industrial design but a passion for creating original jewelry designs. Ring is made from sterling silver, silver 925 and diamonds. Ring itself looks like a toothed gear, with a small gear setting down in the center of the front. Inside the gear on the front is a black diamond (or other gemstone of your choosing) with three small white diamonds on each side of the small gear. This ring is designed for a female to wear as an engagement or wedding ring.
His and Hers Wedding Rings
Owner and creator Angela Wilson specializes in precious metal wire jewelry designs. This is two-tone metal his and hers wedding ring set. Made from copper, sterling silver and an antique finish. Design features two interwoven metals which symbolize the intertwining of two people who are getting married. Each ring is hand made and will be unique. Rings come with a complimentary gift box.
Steampunk Gear Industrial Wedding Band
Jewelry designer and caster Jackie Kaufman specializes in creating personalized jewelry from sterling silver and 14k gold. Ring is carved in wax and then cast using only the finest sterling silver. Ring is suitable for either gender and features a design of steampunk gears throughout the band. Gear images slightly protrude from the flat part of the ban and are silver in color while the band itself is darkened to appear black.
Copper Silver Wedding Band Ring
The husband and wife team of Lior and Naomi Elbaz work together to create one of a kind unique jewelry pieces. Ring is made from sterling silver and copper and features a textured copper and rivets design. The silver band rests against the finger with the copper band over the silver layer. Ring is oxidized and polished to create the unique steampunk look.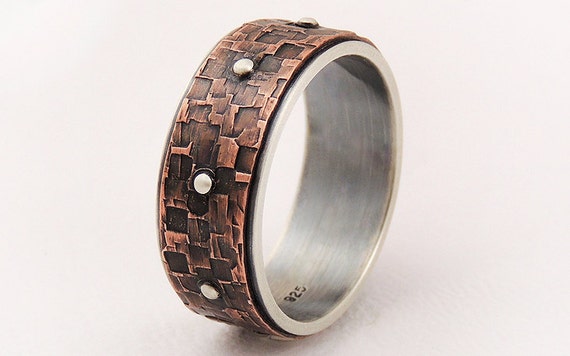 Men's Copper Silver Wedding Band

Steampunk Wedding Band Set Made from Recycled Silver
Jewelry designer Fernando Quintero uses silver metal pieces recycled from his filigree designs to create these unique steampunk wedding rings. Design is also available in gold and platinum. The inside of the band is smooth while the outside has a variety of various shapes and designs of silver. Engraving is available upon request.

(Visited 5,295 times, 1 visits today)