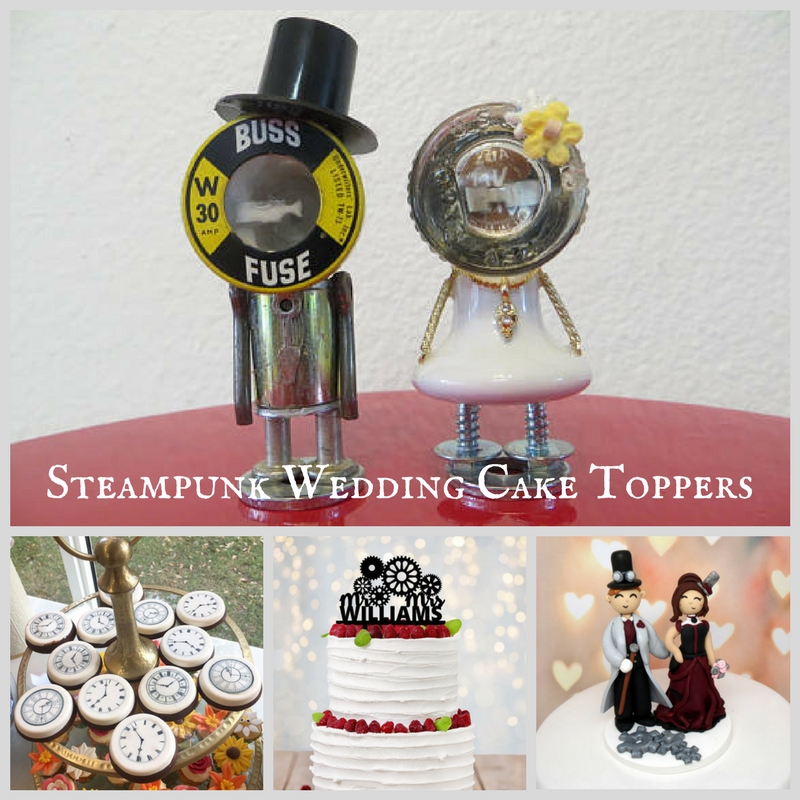 If you happen to be a fan of the Steampunk genre, there are many ways that you can incorporate it into your life. This might include using home decor, fashion, jewelry and more to show off your Steampunk style. Even if you are planning a wedding, there are ways to incorporate a cool Steampunk theme. These unique Steampunk wedding cake toppers offered by Etsy sellers are certainly one way to express your love of Steampunk on your big day.
Robot Wedding Cake Topper Wood Steampunk Sculpture
This item is handmade from wood, paint, finishes, and metal gears. Not your traditional human bride and groom, this cake topper features a robot couple with the groom wearing Steampunk tuxedo tails and the bride wearing a silver wedding dress. Make the perfect Steampunk statement that guests will long remember.
Steampunk Cogs and Wheels Cake Topper
Choose from four different sizes of this acrylic cake topper in black. Design features the personalized last name of the couple, with Mr. and Mrs. above the name, and with a variety of Steampunk gears above the name. Fits into cake with the attached two plastic stakes on the bottom. Makes a very bold Steampunk statement.
Victorian Gothic Cake Topper
This is a Victorian Gothic wedding cake topper inspired by Max Ernst. This is a laser etching done in black acrylic. Topper measures 5.5 inches wide and 6 inches high and has a flat clear acrylic stand. Design features Victorian couple locked in a kiss. The lady is wearing a fancy Victorian dress, while the gentleman has on a dapper outfit, complete with wings.
24 Pieces Edible Steampunk Topper. Fondant Steampunk Topper
This is a set of 24 edible Steampunk gears made out of fondant. Silver gears add a great Steampunk look to any wedding cake or cupcakes and are fully edible and biodegradable. A variety of gear shapes can be used to create your unique design. Colors for this set may also be customized.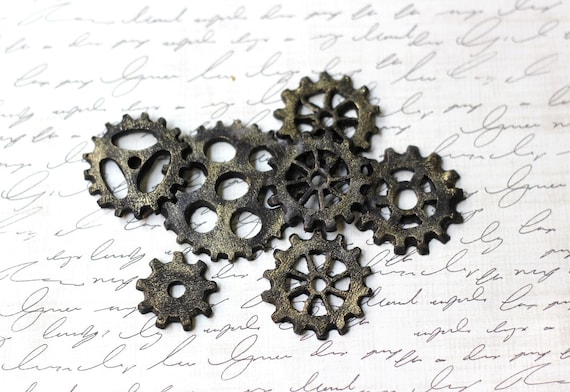 24 Pieces edible fondant steampunk topper

12 Steampunk Party Supplies Cupcake Toppers
This is a set of one dozen Steampunk cupcake toppers that come in metallic shades of silver, bronze, and copper. Design features gears on picks that slide into the cupcakes. Coordinating cupcake papers are also available from this Etsy seller. This particular set features a cluster of three gears in three different shades. Coordinating patterns are also available.
Steampunk Wedding Cake Topper Banner
This cake topper banner measures over six inches across and has offset flag strings for a unique look. Banner is made from small felt flags in the colors burgundy, aqua, gray, metallic gold, metallic silver, and metallic bronze. Back side of the "metallic" flags are a matching color felt. Colors can be customized upon request, and words can also be added if desired.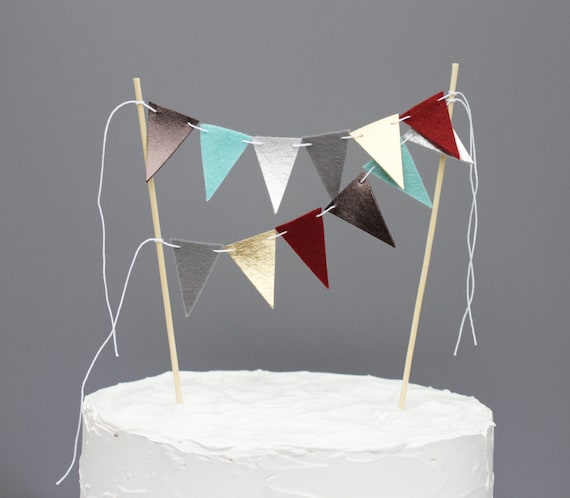 Steampunk Wedding Cake Topper Banner

Steampunk Wedding Cake Toppers
This lovely Steampunk couple makes a great wedding cake topper and is made from wood, fabric, paint, and small gems. Hand painted wood peg couple have painted Steampunk outfits with Steampunk details such as small metal gears and a tiny top hat. Groom measures 9 cm high with a diameter off 2.5 cm at the widest point. Bride measures 9 cm high with a diameter of 3.5 cm at the widest point. Comes in a set of two, either bride and groom, groom and groom, or bride and bride.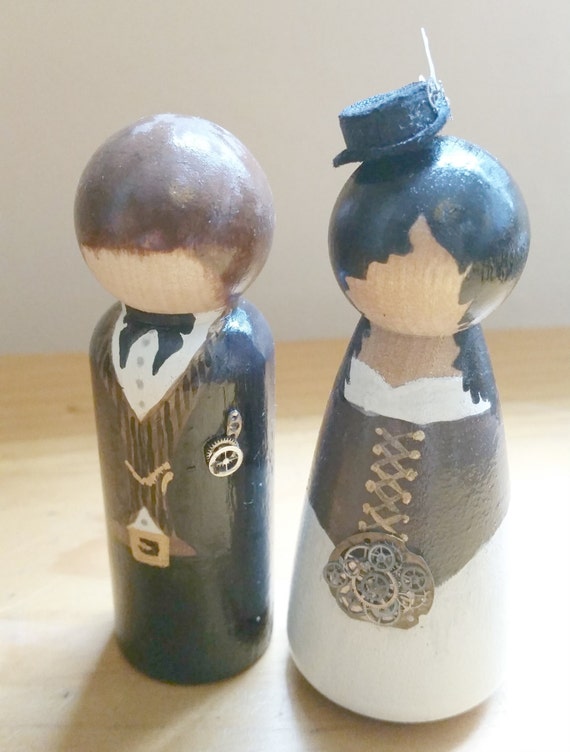 Steampunk Wedding cake toppers

Edible Clock Faces Rice Paper Wedding Cake Decoration
Choose from a wide variety of clock face sizes and quantities. These are edible rice paper wafers that are made from sugar free vanilla and edible inks. They are gluten free and suitable for vegans and diabetics. Use to top cupcakes or cakes and give them a great Steampunk style. These clock faces also work great for any Alice In Wonderland themed event.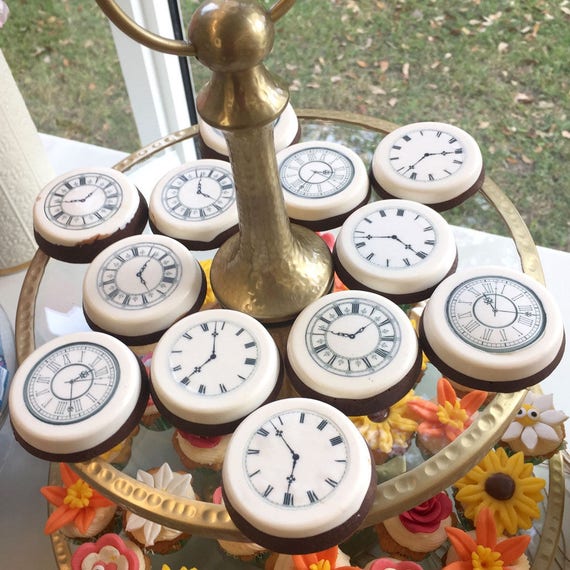 Edible Clock Faces Wafer Rice Paper Wedding Cake Decoration

Steampunk Wedding Cake Topper
This cute Steampunk couple is made from high quality polymer clay and gloss glaze. The cake topper shown is just a sample of what it can look like, as yours can be customized with your own colors and specifications by contacting the seller. Toppers measure around 4 inches high with circular base measuring about 2.5 inches wide. Each topper is unique and hand crafted piece by piece. In set shown, groom is wearing a black top hat with Steampunk goggles and long coat with tails and a cane.Bride wears a black corset top with white and burgundy accents and a burgundy skirt, with small silver top hat and bouquet in hand. Customize to look like yourself and your future spouse for a truly unique cake topper no one else will ever have.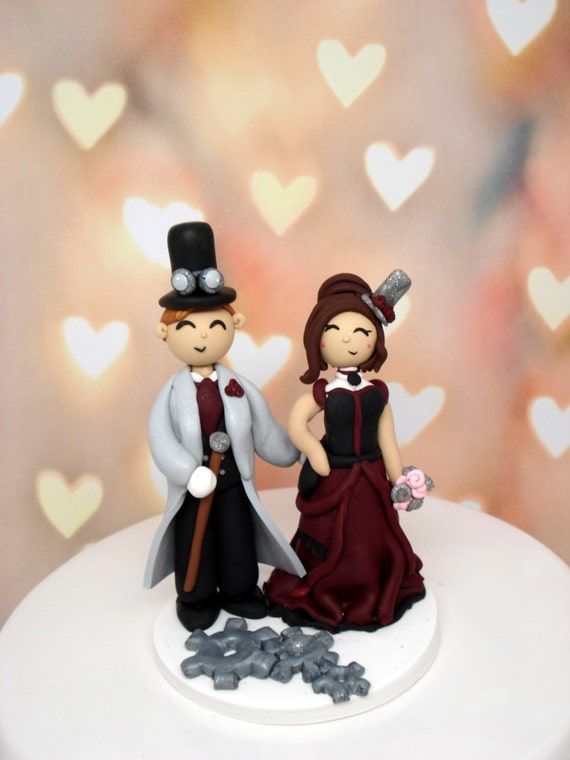 Steampunk Wedding Cake Topper Custom

White Wedding -An Industrial Art Couple
This Steampunk couple is made from bits of industrial materials and vintage pieces, and held together with an industrial strength adhesive. Groom measures 3.5 inches tall and the bride is around 2 and 3/4 inches tall. Both people stand on a 3/4 inch diameter base. The couple's faces are made from fuses, and screws and other odds and ends make up their bodies. Groom wears a top hat and the bride has a floral piece in her "hair."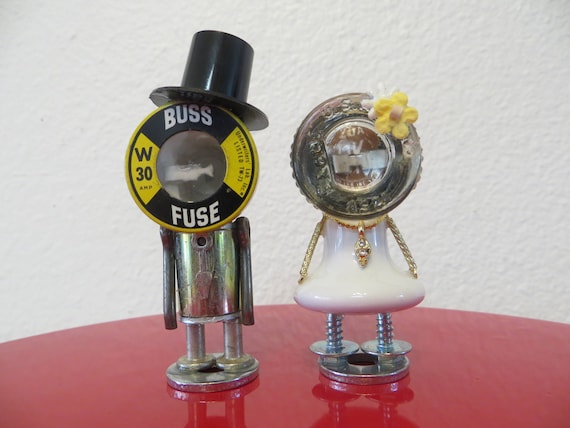 White Wedding -an industrial art couple

Fondant Steampunk Gear Cupcake Toppers
This is a made to order item created using fondant, tylose, and edible metallic paint. Each design features a large gear with a smaller gear in the upper right hand corner, each with a coordinating color. Colors are metallic silver, metallic gold, and metallic copper. Each topper fits perfectly on a standard sized cupcake.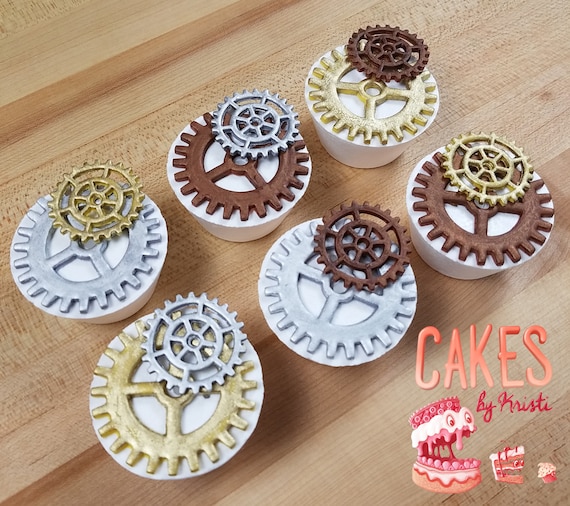 Fondant Steampunk Gear Cupcake Toppers (MADE TO ORDER)

Steampunk Gear Base Robot Couple Groom Bride Wood Sculpture
This is an original design of a robot couple in Steampunk attire, sitting on a wooden gear base. Groom has a tuxedo with a bronze finish and copper bow tie, and bride has a metallic silver dress and carries a single flower. Sculpture measures around 6 inches tall . Makes a great Steampunk accent for a wedding or anniversary cake.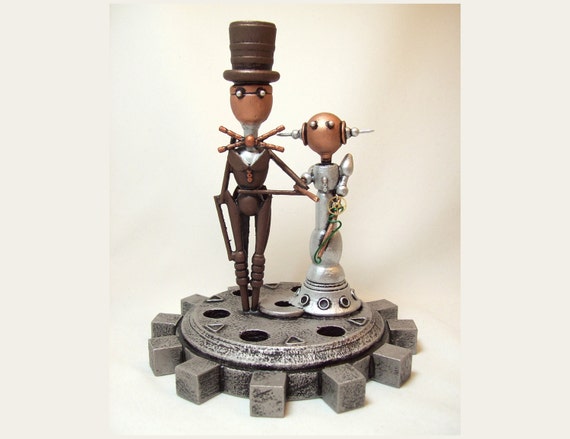 Elegant Wedding Cake Topper Steampunk Gear Base

Steampunk Couple Cake Topper
This design is made from high quality sustainable wood and acrylic. Finished with a food safe oil. Wood cut out has a groom with top hat on the left side and the bride with top hat on the right side, with Mr. and Mrs. and three Steampunk gears between them.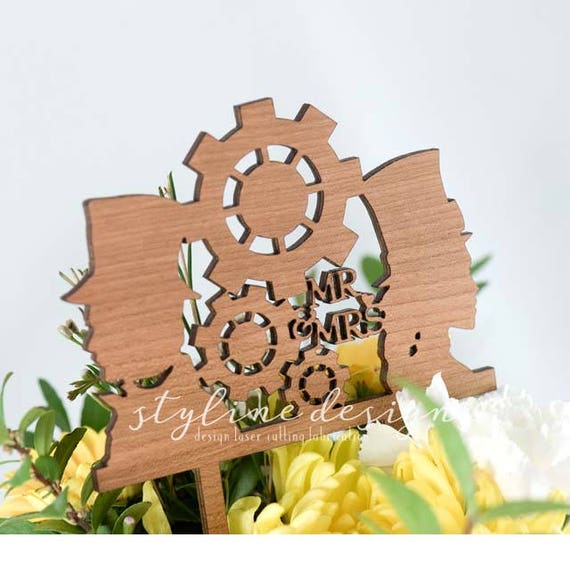 Steampunk Couple Wedding Cake Topper

Steampunk Wedding Cake Topper Bear Wedding Cake Topper
This adorable teddy bear couple is decked out in their Steampunk best. Made from polymer clay, wood, and metal details. Bears are silver with blue noses and have coordinating outfits in shades of brown, tan, and white. Groom wear top hat with goggles and bride wears top hat with pocket watch and floral sprigs.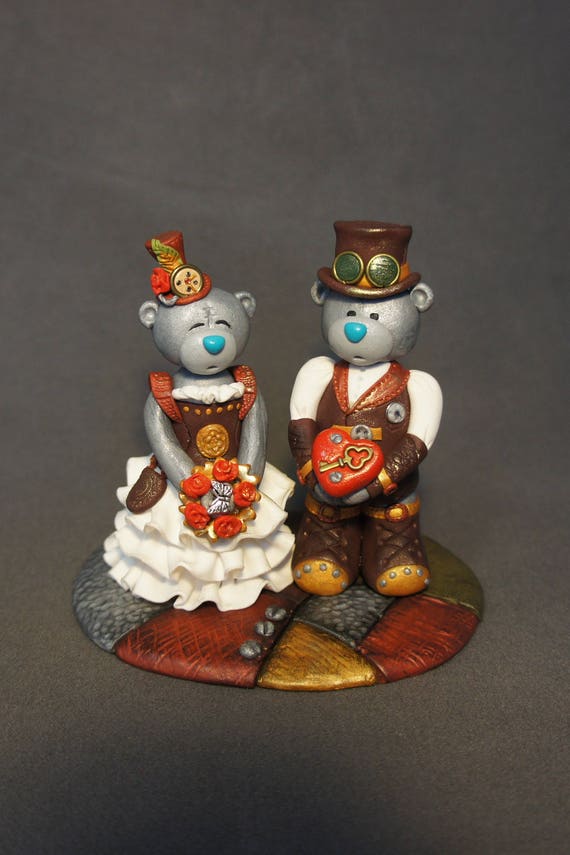 teampunk bear wedding cake topper

The LaRose Wedding – An Industrial Art Couple
Another cute little Steampunk couple made from odds and ends. Bride and Groom have fuses for heads and stand on a base one inch in diameter. Would make a cute topper for a cake for those who love Steampunk.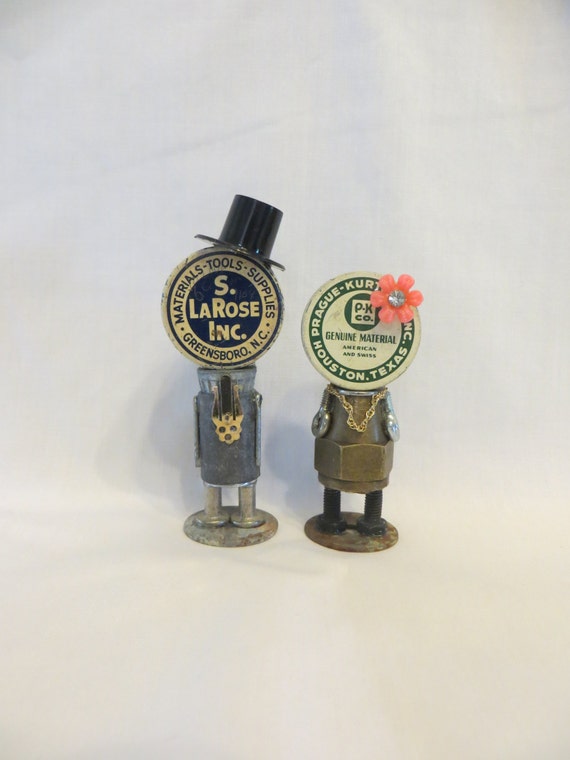 The LaRose Wedding – an industrial art couple

Pin It for Later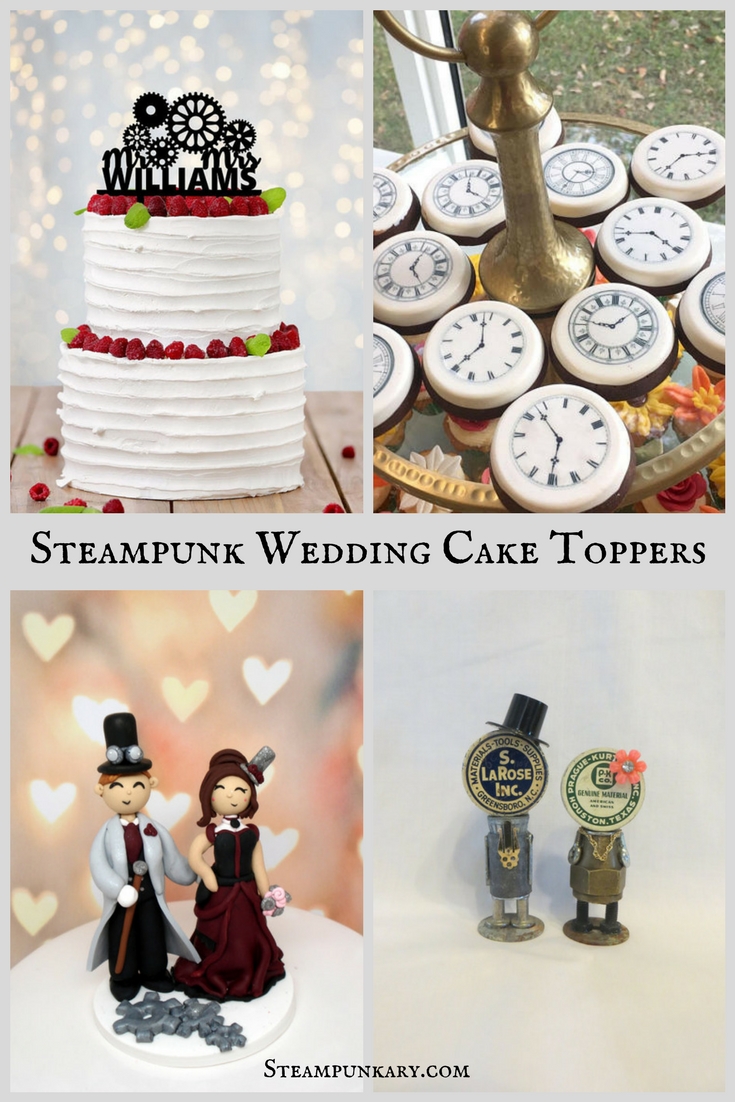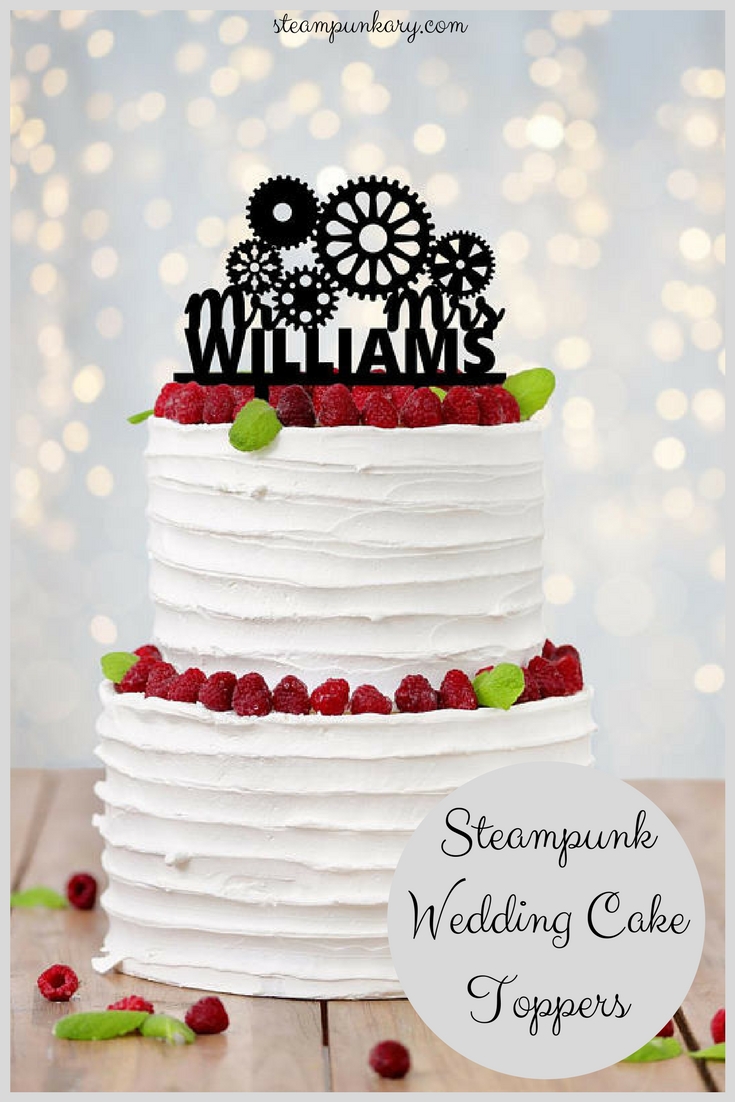 (Visited 1,463 times, 1 visits today)