The Origin of Steampunk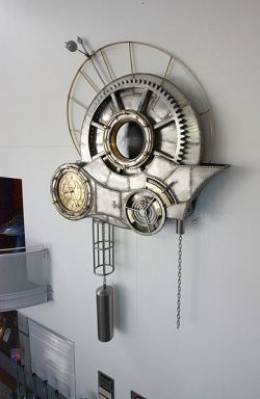 Steampunk is not a new word, but in the last few years its meaning is broadening. Steampunk comes from the science fiction-fantasy literature world, originating in the 1980's. The term steampunk denotes works set in an era or world where steam power is still widely used—usually the 19th century, with elements of science fiction or fantasy added including fictional technological inventions. Steampunk is related to the movement of cyberpunk, and has a similar theme of rebellion.
However in the years since the inception of the steampunk movement, the meaning of the term has been broadening into a cultural and artistic movement. Steampunk now includes items that have a neo-Victorian steampunk style–clothing, art, jewelry–all using 19th century accents such as time pieces and clockwork parts.
Pictured: In 2009 artist Tim Wetherell created a large wall piece for Questacon (The National Science and Technology centre in Canberra, Australia) representing the concept of the clockwork universe.
Gothic, Punk, and Geek
Steampunk style appeals to other sub-cultures like the gothic, punk, and geek and is quickly becoming a mainstream artistic field. Many artists combine the vintage components from antique mechanical machines like clocks and watches with modern day techniques to create exciting new steampunk designs.
Steampunk ideas combine modern science with the fantasy of "what could be" that is common to all science fiction and fantasy novels, and that air of possibility leads many to wonder and dream.
Victorian, Fantasy, and Mechanical Necklaces, Bracelets, and Earrings
This how-to jewelry-making book features the work of an array of invited jewelry designers influenced by the growing Steampunk trend. In Steampunk circles, jewelry-makers are often master metalsmiths who combine found objects with fine metals to create elaborate pieces. In Steampunk-Style Jewelry, the projects focus on "no fire" techniques – like simple stringing, wirework, hammering, stamping, gluing, stitching, and off-loom beadwork – so that even a beginner can create pieces in the style.
Steampunk Style Jewelry: Victorian, Fantasy, and Mechanical Necklaces, Bracelets, and Earrings

Jewelry
In the last couple of years, steampunk jewelry has become more and more popular. Most steampunk jewelry uses parts from antique or vintage watches to create new steampunk necklaces, bracelets, earrings, and brooches. Often these vintage clockwork jewelry designs are very cleverly made, and fascinating to behold.
Steampunk style also includes an element of eco-chic, eco-friendly repurposing of items that would have been thrown away, creating a new support group for steampunk design. True steampunk jewelry should also have a neo-Victorian component to it, but the term steampunk is often used loosely.
Clockwork Gear Jewelry
Steampunk Clockwork Gearbox Necklace

Steampunk Necklace Copper Gears Bat Wings

Steampunk Necklace Gears Angel

Steampunk Necklace Copper Gears Bat Wing

Style
Steampunk style lends itself to combinations with many other styles including goth. You will notice several goth-steampunk designs listed here. Another area that steampunk combines quite often with is fantasy. Many steampunk designs inclued fairies, nature symbols, and animals.
Steampunk designs usually use authentic vintage items like antique skeleton keys, cameos, watch parts, watch movement, in copper, brass, or iron embedded or attached to a frame or setting. Other designs combine the vintage components in a resin or with other found objects.
Steampunk style is moving into clothing as well with designs that include some of the same vintage components as part of the neo-Victorian clothing designs.
Steampunk jewelry makes great gifts because almost every piece is a handmade one of a kind (OOAK) piece of art. Steampunk jewelry is affordable, a green gift, and made by an artist. Your recipient will be the owner of a unique piece of art and history.
Watch Movement Jewelry
Cufflinks for Mens

Men's Cufflinks Steampunk

Steampunk and Victorian
Steampunk design is a reflection of the Victorian culture, and the what ifs that science fiction writers so often ask to create their novels. What if electronics were invented 100 years sooner? What if we chose a different path?
Steampunk jewelry, while reminding us of our past history, also nudges us in creative directions by reminding us to ask those questions. What if we still lived with Victorian culture in a modern era? What if things did not fit together the way we expect them to?
What if, I as an artist, create something totally new out of old parts? What will happen next? And isn't that the question that scientists, writers, and artists are always asking themselves?
Steampunk walks hand in hand with Victorian culture, but not as the Victorians would have worn it, but in a new modern way that we are still discovering.
Neo-Victorian Jewelry
Swarovski Simulated Pearl and Filigree Earrings

Flower Dangle Earrings, Handmade

"Aqua Saturn" Glass Bead Necklace

Fairy Cuff Bracelet, Handmade

Neo Victorian Necklace, Handmade

Cream Swarovski Simulated Pearl and Filigree Necklace

Giving Steampunk Jewelry as Gifts
You might think that steampunk jewelry would only appeal to geeks or science fiction fanatics, yet this is far from true. Steampunk is the kind of unique gift that appeals to art lovers, mainstream grandmothers, and your next door neighbor.
Men especially like steampunk because it is related to machines with gears. For anyone who has ever been enthralled with the past, steampunk jewelry is the perfect gift for Valentine's Day, birthdays, or Mother's Day.
Related Sites
A Blend of Victorian and Imagination
Steampunk is a sub-genre of science fiction and speculative fiction which features elements of fantasy. Steampunk genre became popular in the 1980s and early 1990s. The word steampunk stands for literature that takes place in a world where steam power is still widely used, Victorian England, for example, but with prominent elements of either science fiction or fantasy, such as fictional technological inventions, or real technological developments occurring at an earlier date than in reality.
The steampunk genre was influenced by and often adopts the style of the 19th century scientific romances of Jules Verne, H.G. Wells, Mark Twain, and Mary Shelley. Because he coined the term, K.W. Jeter's 1979 novel Morlock Night is typically considered to have established the genre.
Culture and Lifestyle
There is a growing movement towards establishing steampunk as a culture and lifestyle.
Steampunk fashion has no set guidelines, but tends to synthesize modern styles influenced by the Victorian era. This may include gowns, corsets, petticoats and bustles; suits with vests, coats and spats; or military-inspired garments. Steampunk-influenced outfits will often be accented with a mixture of technological and period accessories: timepieces, parasols, goggles and ray guns. Steampunk has also invaded the art work, most especially in jewelry and sculpture, combining modern techniques with watch parts, gears, and other clockwork movement parts.
(Visited 627 times, 1 visits today)