If you're looking for a Steampunk costume for Halloween, even if it's the last minute, you can rely on HalloweenCostumes.com. This website has a nice collection of Steampunk costumes for men, women, and kids as well as a broad selection of Steampunk costume accessories to add to your costume. These costumes are available all year for people to wear to Purim, Mardi Gras, or any other masquerade party. We've compiled the selection of the Steampunk costumes and Accessories on HalloweenCostumes.com so you can browse here, or you can view the selections directly by clicking here.
Steampunk Costumes for Men
HalloweenCostumes.com has quite a wide selection of full Steampunk costumes for men. (Women could wear most of them too. Just check measurements.) These costumes range from a Steampunk Gentleman Costume to a Dapper Steampunk Costume and to a Sherlock Holmes Costume. It's best if you click through to the costume page you're interested in so you can see everything that comes with the costume, and accessories you need to add that you see in the picture. If you already have a Steampunk costume and just need accessories, then scroll down to the last section of this page.
 Steampunk Gentleman Costume

 Adult Steampunk Adventurer Costume

 Adult Old West Bartender Costume

 Mens Dapper Steampunk Costume

 Wasteland Warrior Men's Costume

 Jack the Ripper Costume

 Adult Director Costume

 Adult Mad Scientist Costume

 Adult Sherlock Holmes Costume

 Steampunk Jack Costume

 Deluxe Badlands Gambler Men's Costume

 Steampunk General Costume

Women's Steampunk Costumes
The collection for Steampunk Costumes for Women is a bit smaller than the men's section. Of course you can make up your own costume from separate pieces. However, we think that all of these costumes look great and are perfect if you are getting ready for Halloween at the last minute. If you look at the site, you will see a delivery schedule that changes as time runs down to Halloween. Remember to check the product page to determine which accessory pieces come with the costume and which you need to add to your order.
 Steampunk Lady Costume

 Victorian Steampunk Costume

 Steampunk Sweetie

 Saloon Girl Plus Size

 Steampunk Fantasy Costume

 Steampunk Costume

 Ruffled Pirate Costume Blouse

 Madame Steampunk Costume

 Saloon Girl Costume

Kids' Steampunk Costumes
If your kids are teenagers, they can probably wear the adult sized costumes shown in the previous sections. But, for tweens and younger, you can take a look at the five child-sized costumes on HalloweenCostumes.com. Most of the costumes can be worn by girls or boys, or you can just buy the accessories and complete your child's costume at home.
 Steampunk Teen Costume

 Tween Steampunk Costume

 Plague Doctor Costume for Kids

 Steampunk Victorian Lady Costume

 Sherlock Holmes Costume

Steampunk Costume Accessories
HalloweenCostumes.com has a vast collection of Steampunk costume accessories from an aviator kit to Steampunk boots to a monocle. You don't need a lot to dress up in Steampunk for Halloween. You can keep these accessories from year to year to add to your costume wardrobe. Many can be used for multiple costume ideas. You should definitely click through to the full Steampunk accessory collection by clicking here, because there are a lot more than we could post here.
 Aviator Costume Kit

 Black Fishnet Stockings

 Train Engineer Hat

 Brown Costume Boots

 Steampunk Boots

 Plus White Petticoat

 Red Fez Hat

 Steampunk Cane

 Walking Cane Accessory

 Monocle

 Tall Brown Boots

 Adult Bullet Belt

 Steampunk Filigree Wings

 Steampunk Top Hat

 Sherlock Holmes Accessory Kit

Want to Save These Steampunk Costumes for Later?
You can easily save this page by pinning the image below to Pinterest.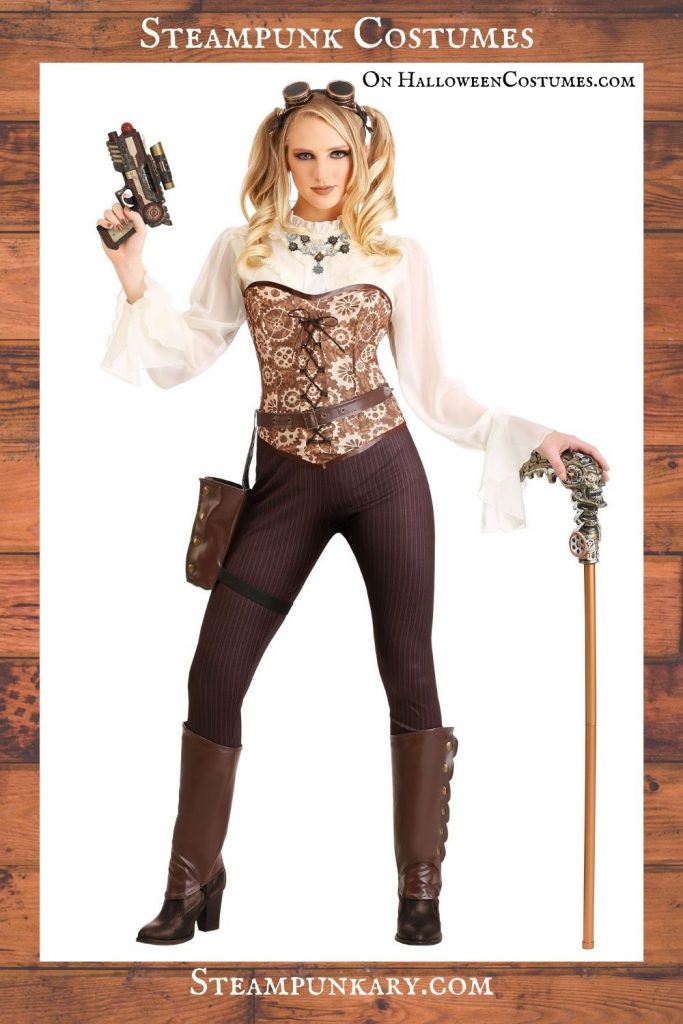 (Visited 406 times, 2 visits today)