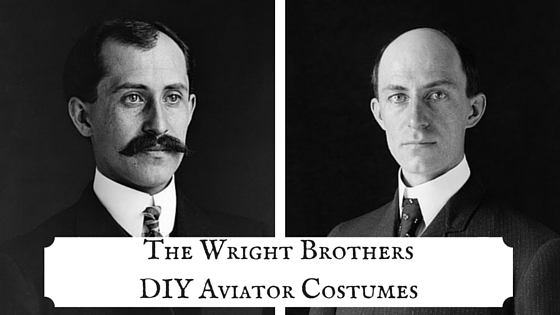 Updated for 2020
Wilbur and Orville Wright, commonly referred to as the Wright brothers, were two brothers from Ohio who were inventors as well as pioneers in the field of aviation. Their biggest aviation achievement was the invention and building of the world's first successful airplane, which they also managed to fly. While the Wright brothers were certainly not the first people to invent and attempt to fly an aircraft, they were ground breakers in their field for inventing the first aircraft controls that made it possible to achieve fixed wing powered flight.
The brothers found success using three-axis control, allowing the pilot to effectively steer and maintain the equilibrium of the aircraft. This method is still used in modern day aircraft. Today, many people are discovering the trendy genre of Steampunk fashion, and the Wright brothers, with their old-fashioned aviator outfits, would fit right in with this category. Here we take a look at some cool Steampunk DIY aviator costumes inspired by the Wright brothers as well as some ready-to-buy options.
Aviator Costume Kit
Look just like the Wright brothers with this costume kit that includes a polyester/cotton blend distressed pilot cap, goggles, and a sixty inch white scarf with fringe. Cap has flaps and faux pocket and snaps, while the goggles have brown faux leather padding around the eyes and green lenses that provide 100% UV protection. Hat is also adjustable. Pair with a weathered leather jacket for a great Steampunk aviator look.
Aviator Goggles Gold
These one size goggles are dark brown with lighter tan around the eyes and greenish colored lenses. Made with UV400 plastic, these goggles are held on with a wide elastic band. These would look great paired with an aviator hat and make a great Steampunk fashion statement. Perfect for portraying historical characters such as the Wright brothers, Charles Lindbergh, or Amelia Earhart.
Steampunk Aviator Set
This is a set of a Steampunk style aviator hat and goggles. Hat is dark brown and has flaps and buckle and metal rivet accents for an authentic look. Goggles are black. Pair this set with a leather jacket and scarf for a great vintage pilot look.
Pilot Aviator Fleece Cap with Earmuffs
Get the kids in on the cool Wright brothers look for Halloween or Cosplay fun! This is a soft hat with fleece lining and button fasteners, so it will also keep them warm. Ear-flap cap comes with aviator details and "goggles" that rest on top of the hat. Hat will fit most children from around two to five years, with head circumference of 48com to 54cm. Makes a cute cold weather hat or a great costume accessory. Available in a dark red color or brown.
Pilot Aviator Fleece Cap with Earmuffs
Scarf Aviator White
This is a white polyblend long scarf that is one size fits most. Scarf has white fringe ends and makes the perfect accessory for any Wright brothers or Steampunk aviator costume when worn with an aviator cap, goggles, and leather jacket.
Men's Vintage Leather Bomber Jacket
This jacket is available in sizes ranging from medium to XX large. Jacket is brown and made from genuine leather with 100% polyester sleeve lining. Faux fur is made from 85% acrylic and 15% polyester. Jacket has zippered front, stand up collar with buckles, and zip off hood with faux shearling lining. Open cuffs with stitched details in shoulder pads. Jacket has a vintage, weathered look, making it perfect for costumes such as the Wright brothers, Steampunk aviator, and more. Also makes a great jacket to wear in chilly weather.
Mens Aviator Flying Pilot Bomber Jacket Vintage
Pilot / Bomber Costume for Kids 8-10 Years
This costume includes jacket, hat, and trousers and would make the perfect Wright brothers costume when paired with an aviator scarf and goggles. Made from 100% polyester, costume is designed to fit children ages 8 to 10 years old. Fully washable with detailed care instructions inside of garment. Aviator hat is a dark brown and fastens under the chin with Velcro. Jacket is a dark brown color with white faux fur lining inside of jacket interior, collar, cuffs, and waistband. Trousers are a light brown color.
Put Together Your Own Wright Brothers Aviator Costume
To create a great looking aviator costume for Halloween, Cosplay, or for portraying famous people in history such as the Wright brothers, Amelia Earhart, or Charles Lindbergh, all you need is a few essential pieces. The main parts of the costume are the aviator hat and goggles. A set can be purchased from a costume site, or you could buy individual pieces.
Here is a good example of a vintage style cap, made from soft goatskin leather and soft synthetic suede lining.
WWII Replica Vintage Brown Leather Aviator
Pair the hat with Steampunk goggles such as this pair.
Steampunk Victorian Aviator Goggles
The next thing you will need is a leather bomber style jacket, which can be purchased new or used in a local thrift store to save some money. Thrift stores usually place them in the Halloween costume section if it is near that time of year, and with the coats at other times of the year. This jacket in a dark coffee color from Calvin Klein is a good example of the style. You can also find a lot of cool vintage bomber jackets on Etsy.
 Faux Lamb Leather Moto Jacket

 Vintage 70s Schott NYC Leather Flight Jacket

Top your look off with a scarf to really make you look like a vintage pilot. This white gangster scarf also works well for a pilot costume.
You could also knit or crochet, or have someone do so, a white or off-white scarf.
Some black gloves will also help to accessorize your look.
Tan pants also complete the old fashioned aviator style, such as these available from Amazon. These have an historical look, but you could also just use simple tan trousers.
 High Waist Cotton Regency Trousers
This is another item you might wish to search for at a thrift store to save a few dollars. Combine all of these items with black shoes or boots to totally complete the look. Definitely a great look for Halloween or Cosplay, and one that provides a lot of leeway as far as how much money you wish to spend.
Pin It for Later
Not ready to use this idea right now? You can save this idea by pinning the image below to Pinterest.

(Visited 6,251 times, 1 visits today)