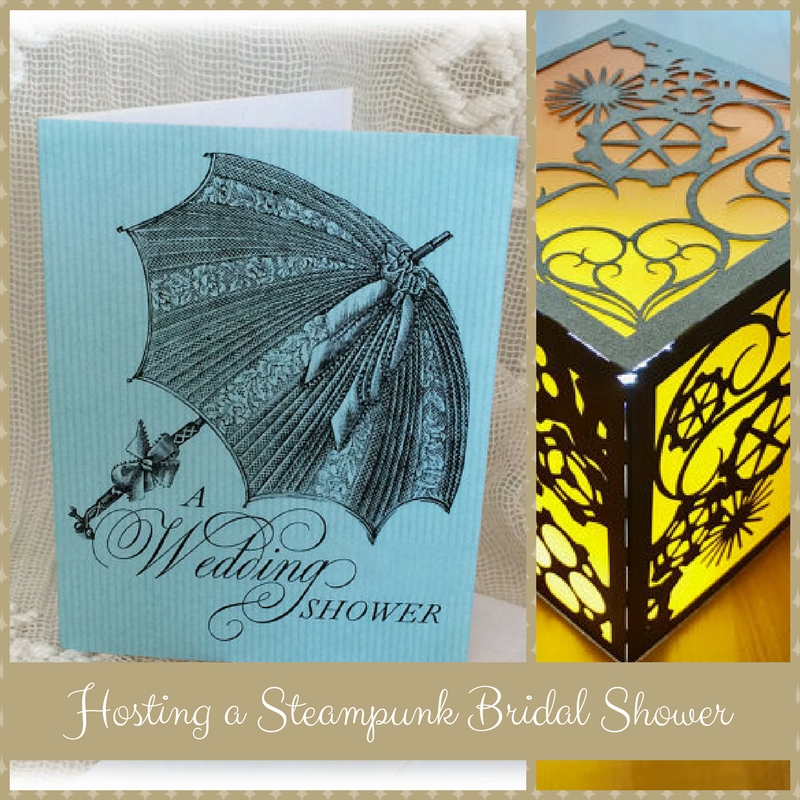 With wedding season fast approaching, it's time to start thinking about incorporating the steampunk theme into your bridal shower or wedding. Steampunk mixes the old with the new and offers a nostalgic Victorian era style to the present day. The style is both fashionable and whimsical, making it popular. Here we look at a few ideas for hosting a steampunk bridal shower that are sure to make the occasion memorable for everyone.
STEAMPUNK INVITATIONS
Etsy offers some cute steampunk invitations that will make your event a huge success. Here are some examples.
Victorian Steampunk Bridal Shower Custom Invitation with Envelopes
This design features a Victorian line art parasol along with decorative script lettering and the invitation can be ordered in almost any color to match your wedding colors. Price includes the invitation and envelope. Contact the seller to provide your specific details and place your custom order.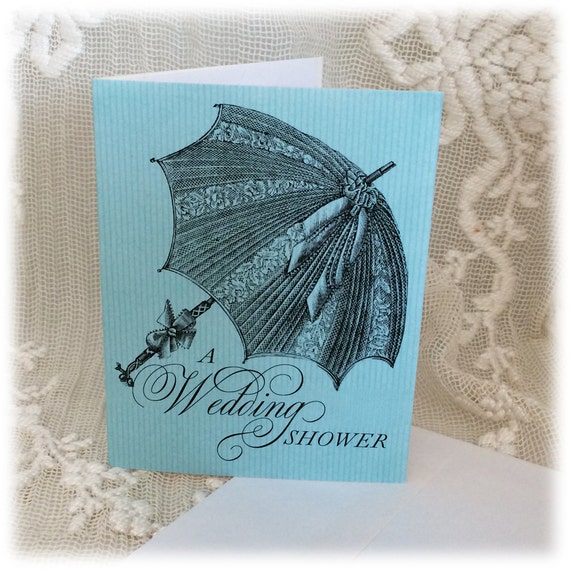 Wedding Bridal Shower Custom Invitation

Vintage Striped Steampunk Printable Shower Invitation
This design is available in two sizes, either 4 inches by 6 inches, or 5 inches by 7 inches. Delivered as a digital file in the form of a JPG file for the larger size or as a PDF file for the smaller size. Print as few or as many as you need right from home. Design in black and gray and features the lower half with stripes and the upper half with scalloped designs. Writing is within a fancy shape in the center of the invitation.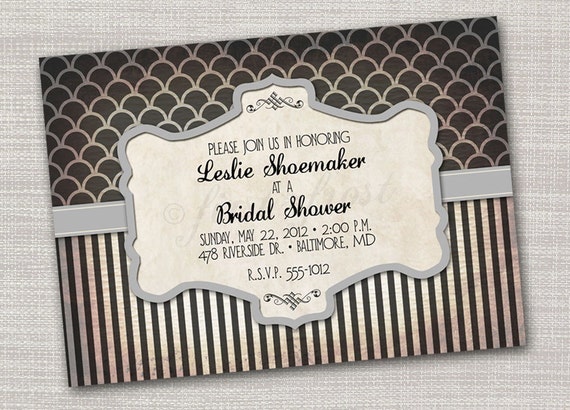 Vintage Striped Steampunk Printable Invitation

DECORATIONS
Get creative and run with the steampunk theme. Keep in mind items such as gears, old watches and clocks, antique keys and other vintage accessories. Many of these items could be found inexpensively at an antique shop or flea market. Some cute ideas might include flowers set in a vase made from a small bottle with a printed apothecary label on it, or perhaps a flower in a vase placed on top of a small mirror with vintage keys, pocket watches, gears, or compass scattered about.
Steampunk Wedding Favor Tags
These cute steampunk wedding favor tags could easily be strung together to create a banner for a steampunk bridal shower. The design features a heart in black ink with wings on each side and the word "LOVE" printed in a banner above the heart. Available in purple, red or black.
68 Bulk Lot Skeleton Keys Replica Charms
These skeleton keys could be used in many different ways to create decor for a steampunk bridal shower. Place randomly around the serving tables, take some and frame them to hang or display, add to a banner or create a banner using the keys.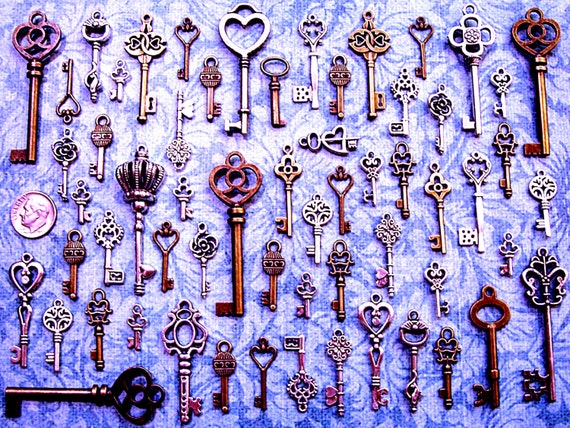 68 Bulk Lot Skeleton Keys Replicas

CENTERPIECES
If you want some inspiration for Steampunk centerpieces, check out this unique Victorian steampunk inspired wedding idea from Green Wedding Shoes for some great ideas. Etsy sellers also offer some great ideas including a few examples shown below.
Steampunk Luminary Lantern Centerpiece
This lantern is made from 100 lb black matte card stock with four laser cut side featuring gears, hearts and Victorian swirls. Backed with vellum paper to make it glow, just open the flat card stock sheet upon arrival and close the lid. Makes a terrific centerpiece or accent piece. It comes in several colors.
Steampunk Gear Candle Wrap
This is an instant download of three JPGs in small, medium and large size. Simply print them out and tape the sides and place around a flameless candle. Design features a copper metal colored background with cogs, nuts, and gears of various shapes and sizes. A great way to dress up your tables for a steampunk bridal shower.
STEAMPUNK PARTY FAVORS
Give your guests a cute little party favor that will remind them of your awesome bridal shower for years to come!
Steampunk Refrigerator Magnets
Made from metal alloy antique silver and glass, these circular magnets have great steampunk flair! Magnets come in a set of six and includes steampunk designs such as an octopus, gears and a compass. This is something useful and decorative that your guests can leave with to be reminded of your wedding shower long after it's over.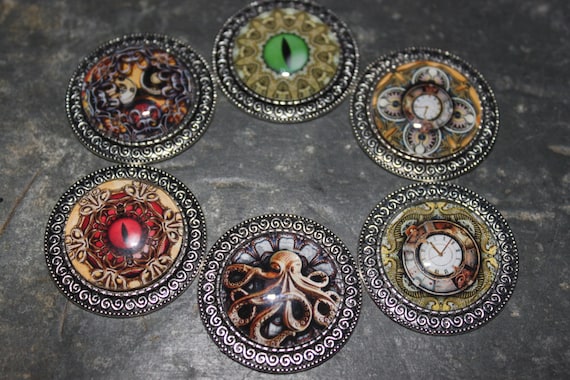 Steampunk Refrigerator Magnets

Steampunk Wine Charms
These adorable steampunk wine charms make a great parting gift for bridal shower guests. Each of the six designs features gears and charms with small blue beads. Super cute as well as functional. Make a nice memento from your special occasion.
DRESS UP AND HAVE FUN
Ask your attending guests to really get into your steampunk theme by dressing the part for your bridal shower. Imagine how cool it would be to have all of your guests wearing steampunk attire. Think of vintage style from the Victorian period including corsets, top hats, and more. Some great examples of Steampunk clothing and costumes can be found in the clothing section of this blog.
ENTERTAIN YOUR GUESTS
If you want to set the proper mood for your Steampunk, try to incorporate classic Victorian card games into your entertainment. These great card game suggestions offer a fun way for you and your guests to travel back in time for a day and really live as the Victorians did. Try your hand at Bread and Honey or Whist for a change of pace from your usual modern card games. Read here for more great gaming and entertainment ideas to make your bridal shower quite memorable.
If you really want to get into the role of playing a Victorian lady for the day, consider hosting your steampunk bridal shower in the form of a Victorian tea party. This idea will really set your bridal shower apart from probably any others that your guests have attended. Refer to this page for some great ideas.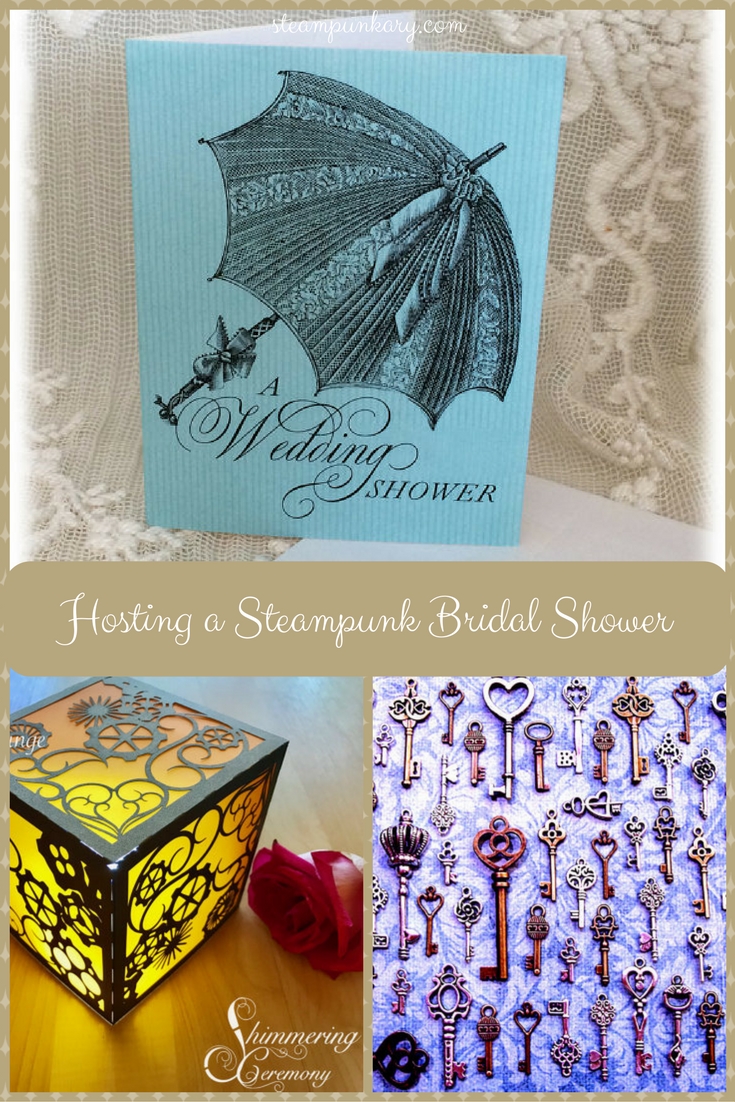 (Visited 983 times, 1 visits today)