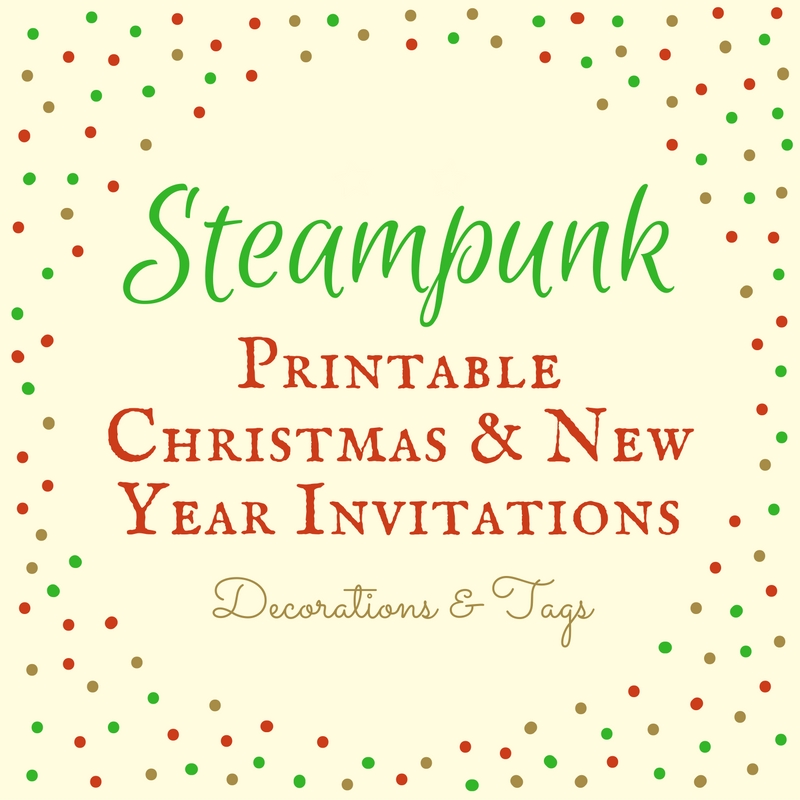 More and more people are catching onto the fun style of the steampunk genre and incorporating it into their daily lives through fashion, jewelry, decor, and more. Many printable invitations of all types now even include Steampunk themes to enhance your holiday event. Here we look at a great and economical way to bring a little steampunk style into your holidays and into the new year. These steampunk printable Christmas and New Year invitations have everything you need to let your guests know you're having a wedding, party, or some other occasion and doing it in steampunk style. Enjoy the retro look and the classic Victorian style to give your holidays that extra special something.
Printable Steampunk Christmas Invitations
Victorian Holiday Invitation for Christmas, New Year's
This image features digitally created graphics and is sent to you as a PDF file. Design features the phrase "Eat, drink, and be merry" and has holly and ivy in green and red and black lettering. Perfect for any Victorian-themed holiday gathering. Invitation provides a simple , yet elegant style that both you and your invited guests will love.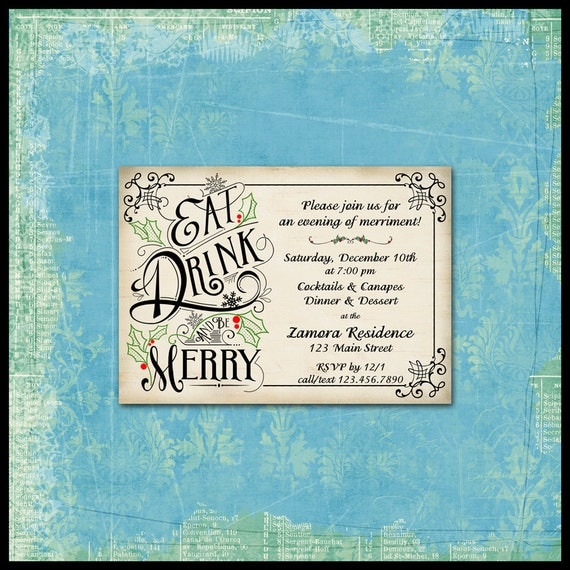 Victorian Holiday Invitation / Christmas, New Year's

1920s Art Deco Holiday Party Invitation
This invitation is offered as an instant download. Text may be edited from home using the Adobe Reader program. Design scene features a horse and buggy with two Victorian gentlemen riding in the snow past sleepy little houses. Evergreen green trees grace the skyline and snow covers the rooftops pf the houses. Great invite for expressing a vintage holiday feeling.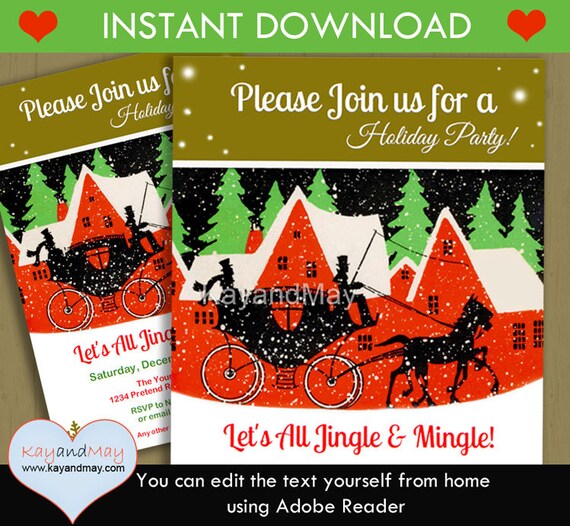 1920s Holiday Party Invitation

Nutcracker Ballet Party Invitation
What is the Christmas holiday season without an annual attendance of the Nutcracker ballet? These invitations have a great Victorian Steampunk feel and can be used to send to friends and family if your child is starring in a production of the Nutcracker. Invitation features a sepia toned background, with vintage style calligraphy,and images of nutcrackers, ballerinas and snowflakes. Make handing out these invitations part of your yearly holiday tradition. Invitation measures five inches by seven inches.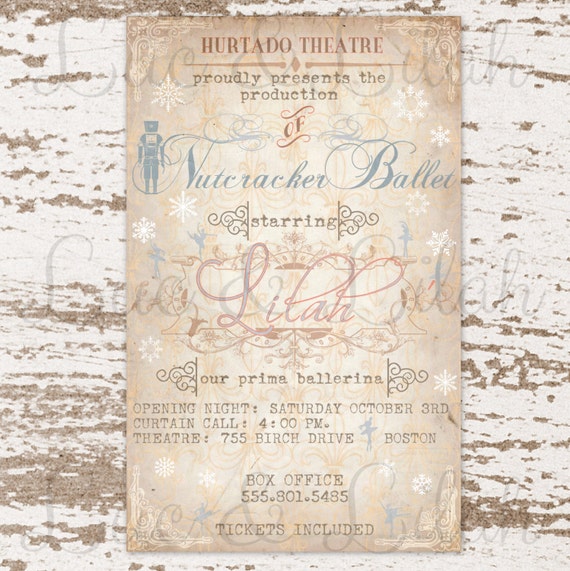 Nutcracker Ballet Party Invitation

Vintage Christmas Party Invitation
Having a holiday party with a steampunk theme? These invitations have a great retro look that any fan of the steampunk genre will love. Printable invitation comes as a PDF file. Design features a pink background with red and white candy canes with a green bow. Center of card features a large gray and black image with the phrase "Tis the holiday season" with your personal details listed in the large gray space underneath. One-sided invitation measures 5 inches by 7 inches.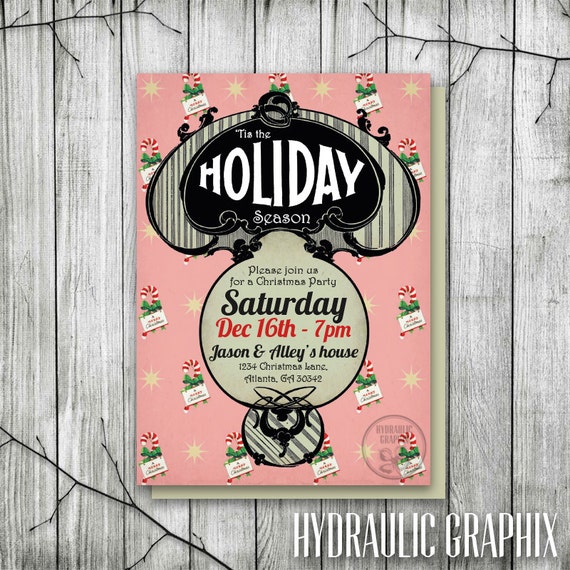 Vintage Christmas Party Invitation

Printable Snowman Winter Holiday Card
This instant download features a ZIP file of various sizes that can be used as printable Christmas and New Year invitations as well as holiday cards. All card sizes are foldable, allowing you to write your personal message and details inside. Design features a cool Victorian steampunk snowman inside a snow globe. Snowman wears a top hat and has gears for eyes. A great way to add a little steampunk flair to your holidays.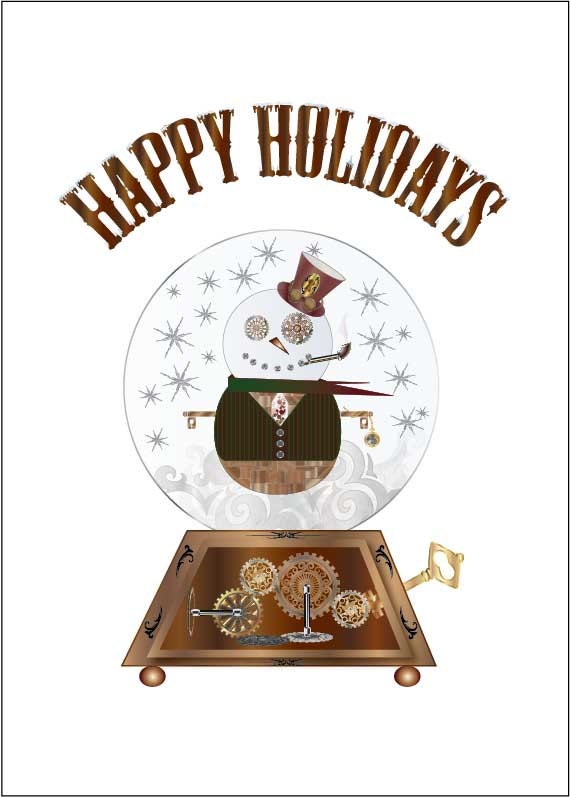 Printable Steampunk Snowman Holiday Card

Vintage Santa Printable Christmas Invitation
Celebrate the holidays with a vintage Victorian Santa invitation. Invitation measures 5 inches by 7 inches and prints two per page. Design can be modified by seller to fit your occasion. Design features a vintage Santa holding a small Christmas tree and carrying a small bag of toys. Border of invitation is trimmed in a green, red, and white plaid pattern.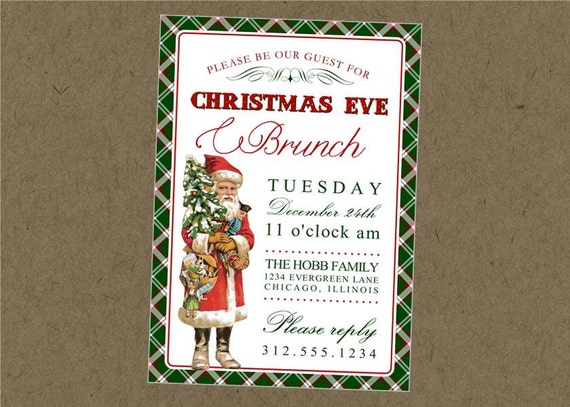 Vintage Santa Printable Christmas Invitation

Nutcracker Christmas Party Invitation
This vintage style nutcracker is here to help you celebrate the holidays in retro style. Available as a digital download or as printed invitations. Nutcracker rests against a wood grain background and is dressed up in a dapper-looking Victorian suit of green, red, gold and blue. Invitation features the phrase "Let's Go Nuts" on a green banner. Adds great steampunk flair to your holiday occasion with the convenience of being able to print it from your own home.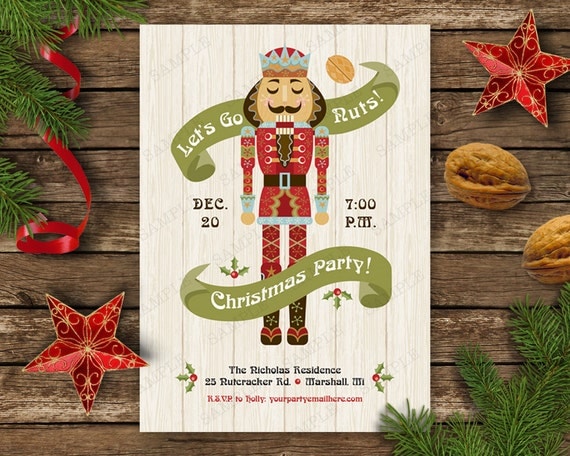 Nutcracker Christmas Party Invitation

Young Victorian Woman Printable Party Invitation
This design comes as an instant digital download of one JPG file. Design features an elegant young Victorian lady dressed in her holiday best. She wears a lovely long red gown and a very large red hat that has black feathers, along with a stole of gossamer white color. She is holding a large bouquet of white roses. Image prints on one side of the invitation, while the back side can be used to write in your own personal message and detailed information. Adds a great Victorian feel to any holiday occasion.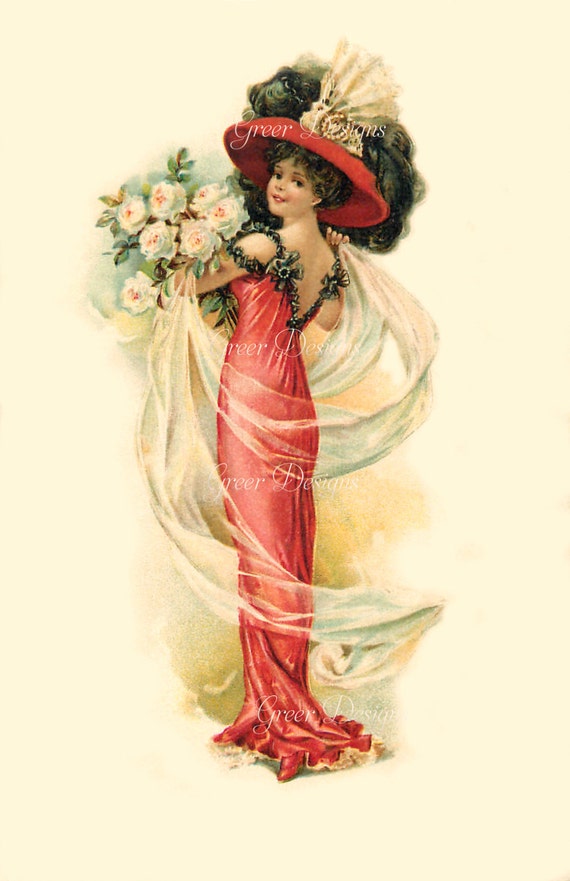 Young Victorian Woman Party Invitation

Sugar Plum Fairy Party Invitations
This is a pretty design featuring pastel colors pf pinks and blues with white. Card reads "The Sugar Plum Fairy invites you…" and features a dancing ballerina and a lovely castle scene with snow covered trees with Nutcrackers in each bottom corner. The lovely winter scene has a classic Victorian look and feel that will make you feel warm and cozy around the holidays. This invitation fits in nicely with a steampunk-themed event as well.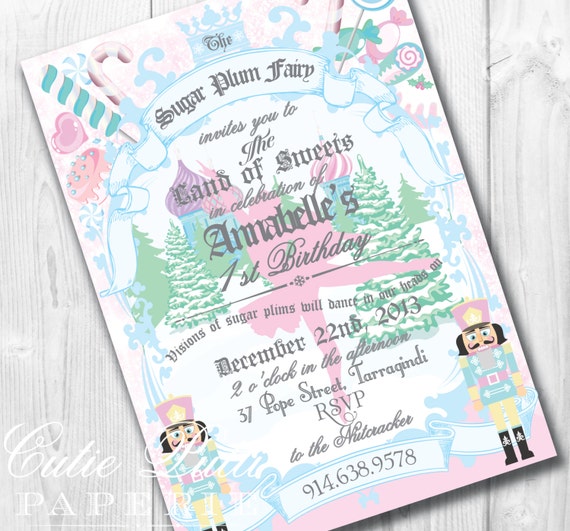 Sugar Plum Fairy Party Invitations

More Printable Christmas Invitations
 Vintage Elegance Holiday Party Invitation

 Elegant Christmas Party Invitation

 Printable Christmas Tea Party Invitation

 Classic Vintage Christmas Party Invitation

 Vintage Christmas Invitation

 Printable Christmas Party Invitations

 Winter Holly Invitation

 Personalized Printable Christmas Office Party Invitation

 Printable Christmas Tea Invitations

Printable Steampunk New Year's Invitations
Steampunk New Year's Wedding Invitation
This is a great invitation for those wanting to marry on New Years Eve. The invitation is sent as a downloadable JPEG or PDF file. Measures 5 inches by 7 inches. Design features an aged parchment looking background and the face of a clock with Roman numerals. A great timeless style that works with any wedding theme and lends itself to the Steampunk style.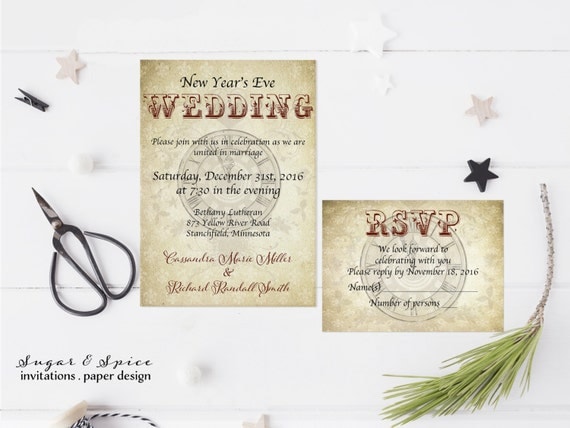 Steampunk New Years Wedding Invitation

Gold Glitter Clock New Year's Invitation
Clocks and clockwork gears are a big theme in steampunk. This invitation has a large clock for its center focus that you can see through to its gears. It is a perfect printable invitation for a steampunk New Year's celebration and has a bold holiday color scheme. The invite is designed to be 5 x 7 with two on one page in a PDF format. Click through for all of the details for your personalized version.
Steampunk Favors & Decorations
Vintage Clipart 'Common Winterberry' Printable Botanical Artwork
This design is available as an instant digital download of two JPG and two PNG files. A very simple design of a branch of red winter berries against a white background, it can be used to create a variety of craft items as well as beautiful vintage style holiday invitations that reflect a love for days gone by. Design has a nostalgic feel in it's simplicity and works well with the Steampunk genre.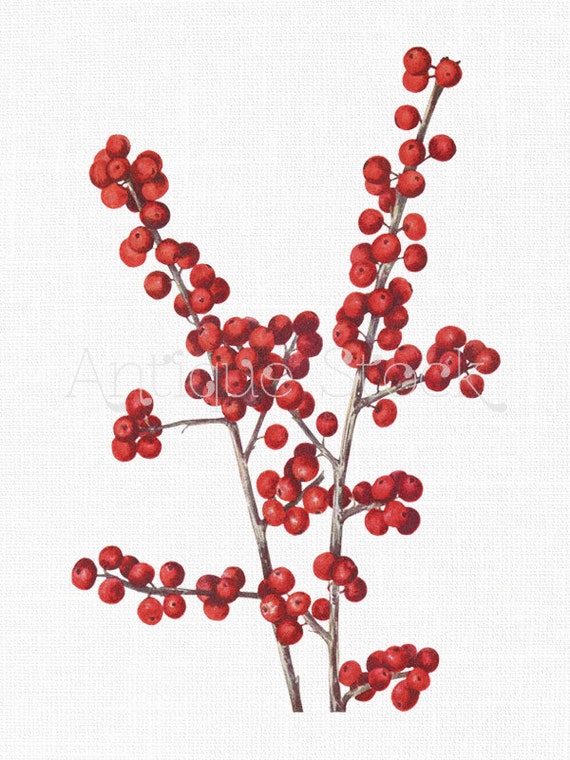 Vintage Clipart 'Common Winterberry' Printable

Hot Air Balloon Christmas Card Printable
This is a fun printable that can be a Christmas card or a DIY holiday decoration for your own family. The steampunk-style Santa is hanging from a hot air balloon and all of his arms and legs are movable. Hang from your tree or a doorway in your home.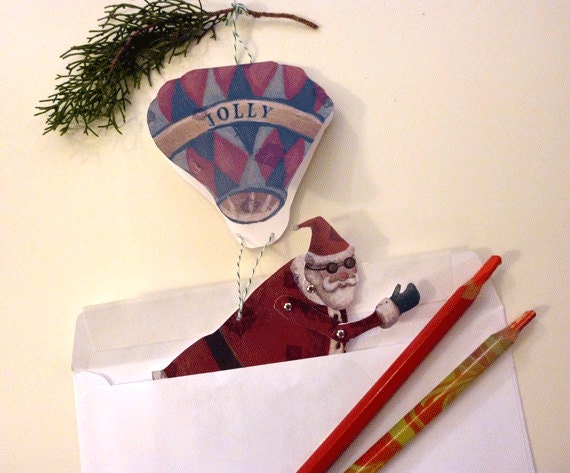 Hot Air Balloon Christmas Card Printable

Digital Printable Christmas Victorian Favor Cone Kit
Favor cones are perfect for your Christmas or New Year's party. You can fill them with candy or other small favors to give to guests before, after or during your event. This template gives you everything you need to create a Victorian favor cone.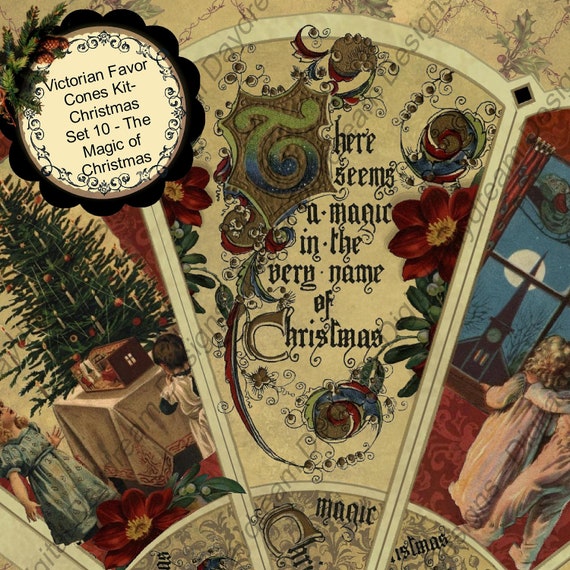 Digital Printable Christmas Victorian Favor Cone Kit

Paper DoLL CHRISTMAS ANGEL
This is one of the several paper dolls that you can download and print out at home to use a Christmas decorations on your mantel or any other place you want to create a Victorian steampunk scene. Click through the link to see all of the other paper doll patterns available.
Printable Christmas Holiday Balloon Ride Mobile
This mobile is easy to make at home with the printable file. Just print out the design, cut it out and assemble it to hang from your window or in a child's bedroom. A great addition to a vintage-style Christmas theme.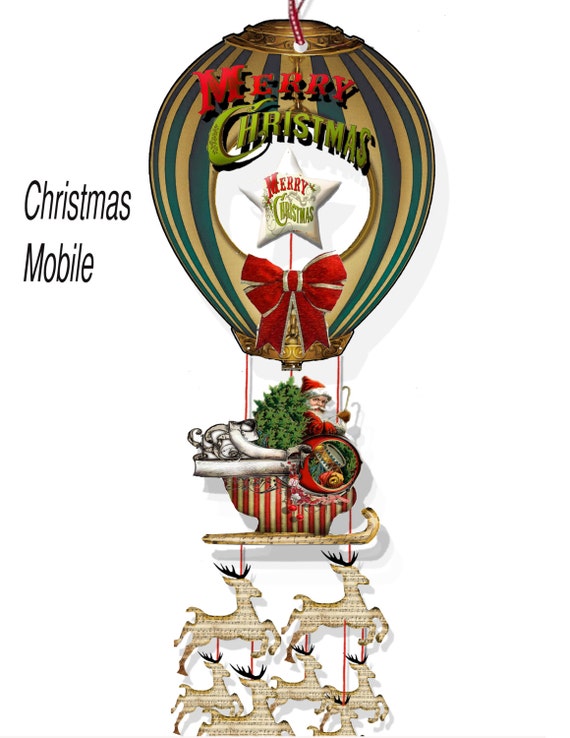 Printable Christmas Holiday Balloon Ride Mobile

Christmas Stocking Printables
These patterns can be used as decorations by themselves or you can create stockings using the patterns. This is just one of the designs available from this artist.
Printable Christmas Banners
Vintage Victorian Christmas banners or buntings can highlight a large space or fill a wall above a doorway. Laminating a banner will help it last longer from year to year. Use at home, private events or at the office.
 Steampunk Christmas Banner

 Christmas Bunting Banner

 Vintage Santa Pennant Garland Printable

Gift Tags and Labels
Gift tags and labels are simple to print out at home and use for your gifts. They are small, making them easy to maneuver and handle. You can print out as many as you need for your gifts and personalize them for each recipient. Each design is unique and will add to your steampunk decor.
 Shabby Christmas Candy Test Tube Labels

 Octopus Printable Christmas Tags

 Blank Printable Angel Gift Tags

 8 Vintage Digital Tags Christmas Songs

 Vintage Christmas Tags

 Digital Christmas Tags


(Visited 513 times, 1 visits today)