Whether you are planning a Steampunk wedding or just need a special gift for someone as a housewarming gift, these beautiful handmade soaps from The Charming Frog are the perfect fit. They are very inexpensive. You can buy just one or several as a larger gift. They are wonderful as Christmas stocking stuffers, bridesmaid gifts, holiday gift exchange gifts and more. And to top it off, they are so creative, it is almost a shame to use them (except that then you can replace them with something new). This page features soaps that make lovely additions to fall and winter events, but the shop has a wide range of designs including angels, birds, fairies, witches, chess pieces, floral and bee soaps. Click through any of these links below and browse to your heart's content. Everything ships from Colorado, so if you are overseas allow extra time. You are sure to find something to love in this collection of Victorian Steampunk Handmade Guest Soaps.
Blue and White Love Birds with Hearts
This lovely collection of romantic birds and hearts is perfect for a guest bathroom at a wedding or bridal shower. You can buy them in this blue and white color combo or ask for a different color. Each of these soaps is available in a range of scents unless otherwise marked. This collection is available in 20 scents, but if your recipient is sensitive to scents, talk to the designer.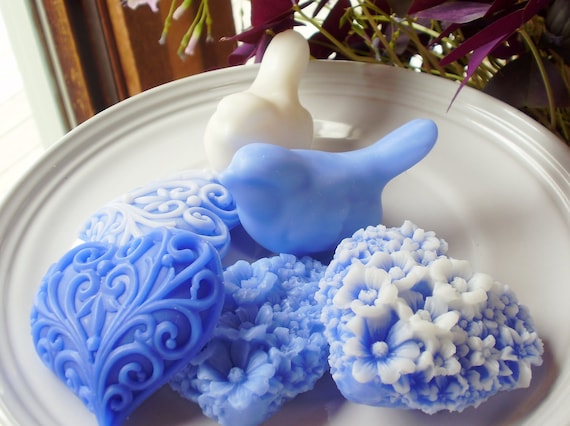 Blue and White Love Birds with Hearts

Tree of Life Soap
The Charming Frog has a few different "Tree" soaps, each with a particular scent. This one is in stock currently in Twilight Woods scent. If you want to learn more about all of the scents available from The Charming Frog, click this link, then click on "read more." The entire list of scents is listed there along with scent instructions. The shop also has allergy instructions.
Faun with Wolf Soap
This bar of soap is Victorian in style, but fantastical in design, featuring a faun and a wolf surrounded by roses and leaves. Great for a guest bathroom or for a gift for someone who has a Victorian- or fantasy-style bathroom. Love this design!
Octopus Soap
The octopus is one of our readers' favorite designs in just about every product, so we know you will love this Octopus Soap. Perfect for a beach house, seaside cabin, hotel bathrooms for a wedding or a destination wedding near a beach, this soap will also work in any nautical bathroom. Neither masculine nor feminine, this gender-neutral design works for literally anyone. Click through the link for more pictures of this soap.
Pine Cone Soap
A great Christmas, Chanukah or winter holiday soap, these Pine Cone Soaps are just adorable. They look exactly like a real pine cone and you can even put them in a dish with real pine cones for display. Having guests over during Christmas or a Christmas wedding? Add these cute soaps for the season.
Christmas Reindeer Soap
A beautiful design for Christmas, this Christmas Reindeer soap is shown here in green and white. You can order it in several color combinations other than this traditional holiday color combo. It does look great on the red dish though, doesn't it. Remember to allow time to order if you want it by Christmas. Of course, you can have The Charming Frog ship directly to your gift recipient. Click through for more information on this holiday soap.
Snowflake Soaps, Set of 4
Perfect for a holiday party or any winter gathering, this set of 4 snowflake soaps is just darling. As shown below, it comes in clear colors, but you can also buy it in solid colors if you prefer them. The clear colors would look terrific on a white or off-white soap dish. These Snowflake Soaps make a perfect stocking stuffer.
Happy Holidays Soap
These don't look Victorian, but rather Mid-Century Modern in style, but they are so cute, so we included them. Perfect for a party, these soaps will make anyone smile. If you have a Mid-Century Modern home, you can add them to your bathroom decor. Shown in bright red/white and green/white for Christmas, but you could do other color combos. Click through for scent and color information.
Snowflake Soap
This lovely snowflake soap makes a great stocking stuffer for Christmas, bridesmaid gift or hostess gift. Shown in red, it comes in several colors and scents. Order early to get them by Christmas. You can ask the designer if they have any in stock.
Santa's Sleigh Soap
Great for a guest bathroom during the winter holidays, this adorable Santa's Sleigh Soap will delight children and adults. Of course, you can buy a Santa Claus soap to complement this one. Shown here in gold and white, you can see it in other colors on the product page. Here is a link to a Santa Soap although there are more in the shop.
Christmas Bells Soap
This Christmas Bells Soap makes a lovely hostess gift, especially if you buy 2 or 3 to make a set. It is shown here in red/white and green/white combinations for Christmas. You have a range of Christmas scents or you can choose another scent that you love. Click through for more ordering information.
Snowflake Soap
This is the third Snowflake Soap we've shown you on this page. But there are so many great ones, and they are perfect for all winter long. You can order these in a color to match your wedding theme, or in traditional colors for the holidays. This design is non-denominational so it makes a perfect gift for someone who isn't religious or doesn't celebrate Christmas. You can see it in several other colors by clicking the link below.
Snowflakes Soap Set of 5
A lovely gift for someone who likes soaps, scents or has a new home, this is a set of 5 soaps for just $25. These are custom-made, so you can order whichever scent and color pleases you the best. You can also order 5 to give them to friends or family separately in groups of 1 or 2. Or keep them for yourself because they are so darned cute. This is a set of mixed snowflake designs.
Turkey Thanksgiving Soap
We've mentioned Christmas, but not Thanksgiving, a holiday that gets short shift sometimes. After Halloween ends, the Christmas ads begin, but this lovely soap is perfect for having people over on Thanksgiving. This particular soap is already made in wine and amber colors and the scent is Apple Pumpkin Strudel, great for Thanksgiving. Or you can order it here in another scent. If you have any questions or don't see something you want, you can leave a note on your order or contact the seller.
Autumn Maple Leaf Soap
Here is a lovely generic Autumn Maple Leaf Soap for a fall birthday or wedding, or for anyone who loves nature. Custom order this soap in a variety of colors and scents to send to someone in Canada, have on hand in your guest bathroom or as a gift for someone who loves fall. Click through for more pictures and color/scent options.
Dahlia Flower Soap
Just like real Dahlias, this Dahlia Flower Soap comes in a ton of colors and it looks stunning in all of them. These are ideal for a hostess gift because they can be used all year. Buy several to create a gift set or put them in friends' stockings for Christmas. Also a great gift for a wedding, they are simply multi-purpose. Click through to see all the other color possibilities. You will be amazed!
Partridge Soap Set
A partridge in a pear tree, as the song goes, can be found on this lovely Partridge Soap Set. These are mini travel soaps and they are painted with mica to get the look you see here. Great for a frequent traveler to keep a favorite scent with them as they travel.
Manly Football Soap
Need a gift for a man who has everything, or a party favor for a football party? This Manly Football Soap is right on. Choose a masculine scent for your man or just something you know he will love. Or just put these out during a football party so the men will wash their hands. You have your choice of color and scent on these soaps.
Pin It for Later
Don't need these adorable soaps right now? That's okay. Pin this image so you can remember them when you need a hostess gift or bridesmaid gift idea.

(Visited 471 times, 2 visits today)